ADVENT CALENDAR DIY GIFT-BOX SUPPLIES
Follow-up to the beauty advent calendar hack post – some inexpensive, reusable options for creating your own countdown gifts, including the 12 Days of Christmas.
A beauty advent calendar hack doesn't really need a how-to, so just some  suggestions for inexpensive boxes or drawstring bags, most with super-fast delivery. And yep, sliding this onto the site mere days before Christmas because absolutely you can still use these for an amazing countdown gift this season: The 12 Days of Christmas begins on Christmas Day, as does the countdown to New Year's of course.
ADVENT CALENDAR HACK DIY SUPPLIES
Many DIY kits have very small boxes or pouches; I found options that are a bit larger in case you need space for a full-sized or awkwardly shaped item.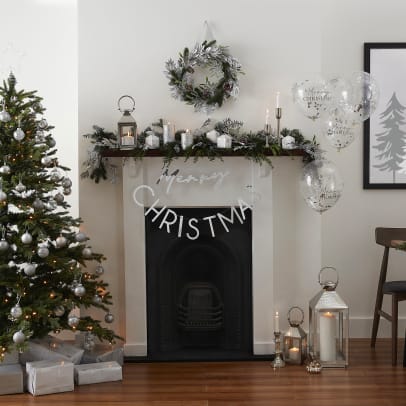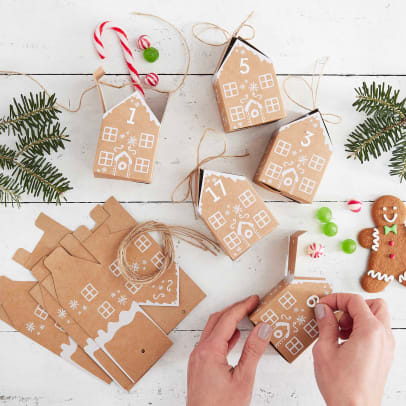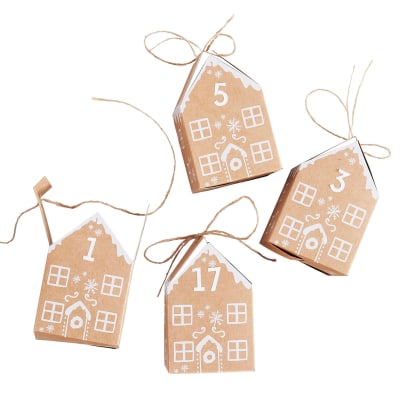 Ginger Ray Gingerbread Houses Advent Calendar DIY Kit ($12.81 CAD and $9.95 USD at etsy.com): I hope nobody from Ginger Ray reads this, because I can't not point out how easy it would be to copy the template for future use. But this kit comes pre-printed, ready for assembly plus number stickers. Approximate dimensions: 2.36" (W) x 3.54" (H) x 2.36" (D) or 6 x 9 x 6cm. Additional Ginger Ray option: Silver Snowflake Boxes ($15.60 CAD and $15.01 USD at etsy.com)
Christmas burlap gift bags (24 units, $20.99 CAD at amazon.ca): Most gift-bag kits include tiny pouches (2.7 x 3.5" or 7 x 9cm); this one includes two slightly roomier options: 7 x 5" (18 x 13cm) and 5.5 x 3.9" (14 x 10cm). Amazon.com* option here.
Christmas Advent Calendar Gift Bags Kit ($18.99 CAD at amazon.ca): Two bag sizes in this kit as well – approx 7 x 5" (18 x 13cm) and 5.5 x 3.9" (14 x 10cm).
Naler Advent Calendar Kit with Jute Gift Bags ($17.99 CAD on sale for $8.99 at amazon.ca): A kit for chromophobic types – and anyone else who loves a grey-black-and-cream colour palette (#ItMe). Bags are just under 4" or 10cm wide and 6" or 14cm tall (to above the drawstring cord; probably closer to 5" or 12cm tall.) Amazon.com* option here.
Xijuer Burlap Drawstring Gift Bags 5x7" (30 units, $22.99 CAD at amazon.ca): Roomier options at 5" x 7" (12.7 x 17.8cm), and easy to embellish as you like. Amazon.com* option here.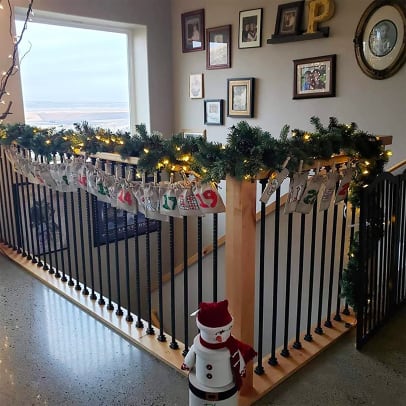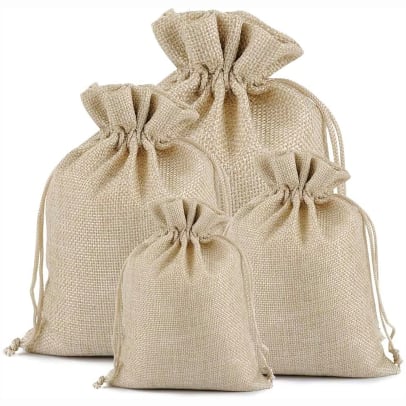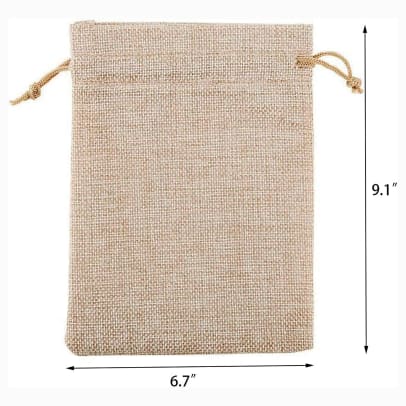 ZYYRSS Burlap Drawstring Gift Bags (50 units, $34.99 CAD at amazon.ca): In case you need some 6 x 9" (15.2 x 22.8 cm) sizes.
LEMESO Kraft Gingerbread House Advent Calendar Gift Boxes ($16.99 CAD at amazon.ca): each adorable box is large enough to hold a lipstick or lip balm, single-size eye shadow or blush, or mini eye or lip liner, even an under-eye mask duo. And more than one Ferrero Rocher chocolate. Dimensions in slideshow above. Amazon.com option here.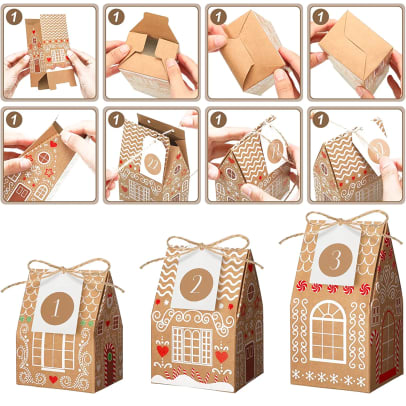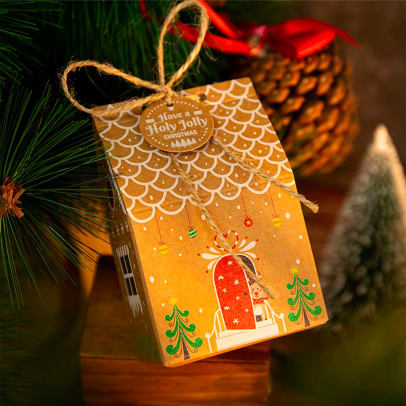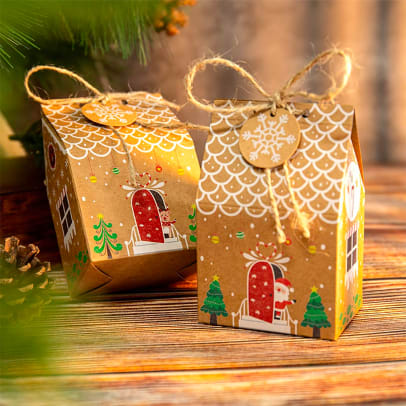 01Shirts DIY Christmas Advent Calendar Boxes Kit ($15.99 CAD at amazon.ca): These boxes are 2.76 W x 4.13 H x 1.97" D or 7 x 10.5 x 5cm, a bit roomier than the average advent calendar boxes, and would be easy to paper over for another occasion. (Amazon US option*: Woanger party favour gift boxes that come in three sizes; see slideshow for details. Wish they were available on Amazon.ca!)
Keysote Advent Calendar Gift Box Kit ($8.99 CAD at amazon.ca and $13.99 USD at amazon.com*): This cute kit includes 19 small (2.8" x 2.8" x 2.8" or 7 x 7 x 7cm) boxes and 5 slightly larger (2.8 x 6.3 x 2.8" or 7 x 16 x 7cm) house shapes. Or large enough for mini palettes, pots of lip balm or cheek colour, nail polish and skin care trial sizes – and cookies and chocolate, of course.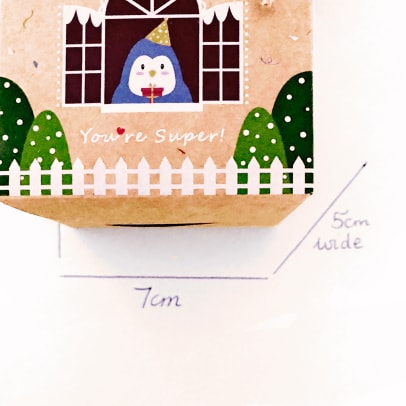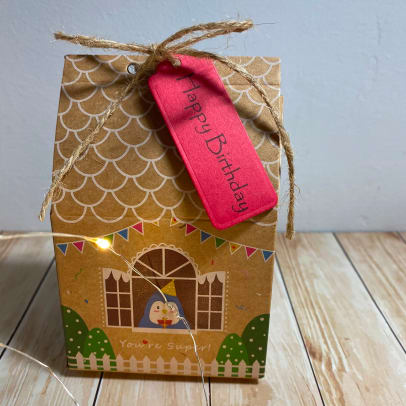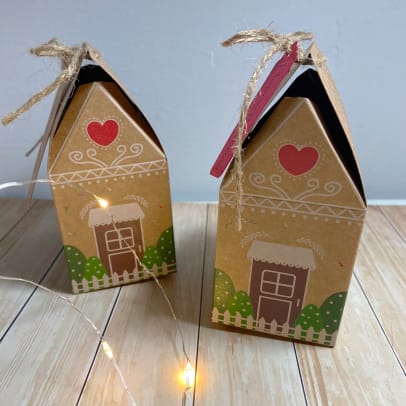 Children's Party Favour Boxes (5 units, $6.97 CAD and $5.05 USD at etsy.com) Okay, these look like Christmas gift boxes and they could be, but aren't Christmas specific. As long as your Special-Day-Countdown-Gift-recipient is down with penguins in party hats and/or multiple treat days leading up to a gift, you're gold. (Slideshow images includes dimension approximations.)
Ashley Caitlin Crafts party/wedding favour brown craft boxes (10 pk, $8.56 CAD and $6 USD at etsy.com): Available in 2-inch square sizes, as well as other slightly larger dimensions worth checking out if you think you'll toss in a full-size moisturizer or serum.
White Chinese Food Takeout Boxes with Handles 16oz capacity (50 units, $24.99 CAD at amazon.ca): Ideal little carry boxes for small gifts, and a snap to decorate for any occasion. String them up with twinkle lights for a 12 Days of Christmas countdown! Amazon.com* option here.
Avant Grub Unbleached Chinese Takeout Boxes 32 oz capacity (50 units, $37.27 CAD + potential import fee at amazon.ca): Larger options in case you need them. Dimensions approximately 3.9 x 4.5 x 4.5" (10 x 11.5 x 11.5 cm) – see above slides. Also available in a pack of 25 for $27.34 + potential import fee. Amazon.com* option here.
MORE DIY ADVENT CALENDAR IDEAS
When I googled "Chinese takeout advent calendar" because I knew I couldn't have been the first person ever to think of those containers as gift boxes, I eventually wound up at studiodiy.com. Kelly has a gazillion DIY advent calendar ideas to inspire for next year and beyond. Enjoy!
OVER TO YOU
What do you think about this 12-Days-of-Christmas style of gifting?
Would you create a multiple-day gift for any other celebration? Birthday? Mother's Day? Father's Day? Getting Through February?
SHOPPITY SHOP-SHOP 🛒 🛒
Unless specified, shopping images and links are affiliate links; thank you so much for your support if you decide to use one. An asterix* indicates an unaffiliated link. If you don't see a mentioned item in the thumbnails below, the link you want is in the body of the post. xoxo
CANADIAN 🛒 LINKS
USA 🛒 LINKS
Amazon.com* links included in text; no clickable image links available.
©2022BEAUTYGEEKS
imabeautygeek.com