LISA ELDRIDGE EYESHADOW PALETTES O.M.G
If you haven't splurged on an eyeshadow palette in a while – or even if you bought one yesterday – you need to see these stunners.
Lisa Eldridge eyeshadow palettes are my wallet's new kryptonite, and might be yours too, at least in the makeup and skincare arena. (Everything feels kryptonite-y to so many wallets these days.) Even if you have no plans to add to your makeup bag, you at least want to peek at these five gorgeous palettes.
Celebrity and editorial makeup artist (also author of Face Paint: The History of Makeup) Lisa Eldridge has exquisite taste; her artistic eye and deep appreciation of historical context colour her work from makeup looks to jewelry design to her own beauty brand.
In fact, she's so well known for that historical context as well as her skill with colour that "quite a lot of makeup artists in films and television often contact me, say about lip colours and which ones would be good for different eras and things," she says in the video below (35:00 mark). "I think it was The Crown and a few other shows were asking, okay, send your reds," she says as she demonstrates a new, deep, "true, clean red garnet" (called Velvet Duchess) that she'd "felt was missing" from all of her reds. 
Lisa's career includes covers for top fashion magazines including Vogue, Bazaar and Vanity Fair, and a client list that includes celebrities such as Kate Winslet, Kiera Knightley, Emma Watson and Dua Lipa. On YouTube she regularly shares tips with more than two million subscribers – and donates the resulting ad revenue to charities that focus on female education and health. 
LISA ELDRIDGE EYESHADOW PALETTES
Lisa Eldridge's much lauded makeup collection started with lipstick and has grown to include gloss, highlighter, foundation, brushes and now eyeshadow palettes. Collectible-worthy refillable compacts, rich and complex shade stories, sublime textures – Lisa Eldridge Eyeshadow Palettes aren't your average 6-pan shadow set-ups. Launching on November 11th at 4pm, each array features six shades in finishes that range from creamy matte to high-shine metallic and retails for £49 (about $75 CAD, or $68 USD). 
Neutrals, cool and warm, as well as rich jewel tones and rosy hues – they're all here in versatile combinations whether you're into subtle enhancement or dramatic statements. Vega is cool and neutral with a side of smoke; Cinnabar is all about the warmth. Myth and Sorcery bring the jewel tones and a little magic; Muse is all rosy romance.
The slim, magnetic, mirrored compacts are themselves works of art, soft gold with curved edges that whisper "hold me." Six pinholes in the underside serve as a means of pushing each shadow pan up for easy replacement with a refill (or a different shade if customizing is your game).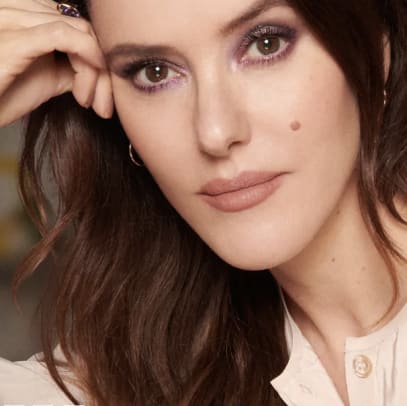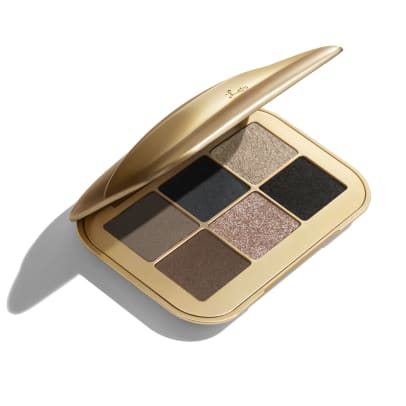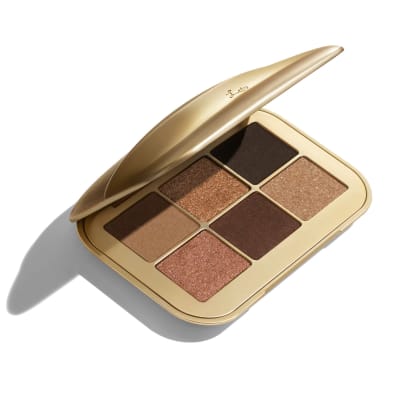 Each individual or refill eyeshadow is £11, just over $17 CAD or $16 USD, and comes in one of six textures: seamless matte, velvet, luminous, lustre, metallic and top coat. Lisa swatches every single shade in the following video so you can see each finish and how the pigment performs, and she demonstrates a look with each palette – yep, all in the one video. You can just watch all in one go or pop around to specific spots of interest, including five new Lisa Eldridge True Velvet Lip Colour shades. I've listed the time stamps below and linked back to lisaeldridge.com for each item. (Links to lisaeldridge.com are not affiliates.)
There's still a school of makeup that steers faces better than 50 years old away from shimmers and metallics, but these Lisa Eldridge lustres, metallics and toppers look beautifully wearable for any age. Here's how those shades in the Vega palette look on a model with more life experience.
Many women with textured lids prefer matte shadows to avoid emphasizing any fine lines and wrinkles. Poorly considered formulas, though, can seem to suck the light from the skin and look a bit deadening on mature faces. That said, over the last several years it's become easier to find smoother mattes with more of a suede finish than powdery, hasn't it? I'm very curious about Lisa Eldridge's mattes; the Vega palette has four (three seamless mattes and one velvet), and they look soft and emollient as she swatches them in the above video. If you try them, please let me know your verdict!
I favour a more neutral, natural makeup look (come to Mama, Vega) rather than colourful or dramatic, yet have major grabby hands for the Lisa Eldridge eyeshadow palettes in Myth and Sorcery in particular. Oh who am I kidding? Of course I want them all. (I can hear Wallet freaking out. *grin*)
Have you splurged on a new eyeshadow palette recently? What do you think of the new Lisa Eldridge eyeshadow palettes? Is there one (or three) that calls to you most?
NOTsponsored✓
©2022BEAUTYGEEKS
imabeautygeek.com