I'VE WALKED A MILE IN MARTHA STEWART'S SHOES
Grab a green smoothie or cup of tea and settle in; lemme tell you all about my experience in Martha's shoes, and what came before it.
When Martha Stewart lends her face and reputation to casual footwear, you might think two things: 1) It has to have arch and sole support – Martha is 81 and hella active (she's just opened a restaurant in Las Vegas), so she's got to know the value of decent, shock-absorbing, fatigue-fighting footwear; and 2) It should have the kind of quality and profile that benefits an association with the Martha Stewart and Martha Stewart Living Omnimedia Inc. brand. Thus, as an ambassador for Skechers, Martha Stewart made me reconsider a brand I'd dismissed, then made me walk a mile in her shoes.
Oh! Why am I talking about shoes on a "beauty" blog? Most of you already know this, but "beauty" is more than skincare, makeup and haircare. I'm not a fan of the word "beauty," actually – it's an incredibly exclusive and limiting term. Vitality, I've literally just realized, is the better word. Vitality is the thing worth investment. And, although I struggle with regular physical activity like many people, it's essential to vitality. Comfortable, supportive shoes are a key component, yes?
SKECHERS, SHMECHERS
Yep I'd dismissed Skechers, on the strength of a pair of GoWalk slip-ons purchased eons ago on impulse to replace new-ish shoes I'd been wearing that had unexpectedly revealed themselves as hell on feet to walk in.

Zero recollection of the offending footwear, although I remember the acute pain, but I do recall spotting a Skechers promotion in a shoe-store window as I limped by, then leaving the shop shod a pair of dark grey GoWalks. (When 65,000+ photos on your iPhone pays off: found a snap from June 2015.)

The pain relief was immediate, but I soon assessed the soles of my new Skechers as a tad too thin for outdoor walking – they didn't have quite the bounce or arch support I'd expected. "Must be made for youngsters who don't know how important sole support will become later in life," I thought. 
However, that little bit of cushioning was great on my apartment's parquet floors, so I soon relegated the shoes to indoor-wear (with socks, always) and "converted" them to slides by folding the backs down under my heels as a little extra support as well as a hackneyed sort of arch comfort. Fun fact: they became my favourite "slippers," so much so that several years later I bought another pair to wear exactly the same way because I couldn't find actual slippers that measured up comfort-wise.

Anyway, for-younger-feet was my defining thought about Skechers for years, unshaken by campaigns featuring Christina Aguilera, Britney Spears, Brooke Burke, Demi Lovato, Meghan Trainor (who once tweeted me a lovely thank you for this All About That Bass post) and Camilla Cabello. So other than getting that second pair of what I already knew, I didn't give the brand another thought. (First impressions can really stick sometimes, huh?)

Grabbing my attention took an always-in-motion 81-year-old Living Well mogul and icon, plus two words: "arch fit."
MARTHA STEWART AND SKECHERS
"It all starts with your feet, and nobody helps us feel better than Skechers," says Martha Stewart according to the press material that announced she wears Skechers' Memory Foam and Arch Fit footwear.
"They have to be comfortable," she says of her shoes. "I have to be able to walk, run, go up and down stairs, go around the block, chase the dog, take care of the chickens and horses—the list goes on. I have a lot of responsibilities so it's important the shoes I'm in are comfortable. Your feet take you everywhere—you have to make sure your feet move in the best possible way, and Skechers helps."
And last month on her personal IG account @marthastewart48, the Lifestyle Queen posted, "Staying comfortable is so important, especially here at my busy farm. Thanks to @Skechers for providing footwear style and support that makes gardening, harvesting produce, and tending to the animals so much more enjoyable."
SKECHERS REVISITED
Thanks to the association with Martha, I've taken another look at Skechers, and a long-ish one. I now know the company has been around for 30 years, since 1992 – and GoWalks are in their 6th generation. Of course I'm most interested in the Arch Fit collection that launched in 2021 with podiatrist-certified arch support via a cushiony removable insole based on "over 20 years of data and 120,000 unweighted foot scans."
And now, in 2022, the brand offers a dizzying number of technology options, such as Electrical Hazard, Electrostatic Dissipative, Goodyear Rubber, Safety Toe, Slip Resistant and Waterproof. Shoes come in half-sizes (👍🏻👍🏻👍🏻 for anyone who wears one), and many in Narrow and Wide as well as the standard Medium.
Also notable are Skechers Arch Fit Max Cushioning options (from $120 CAD at skechers.ca and $75 USD at skechers.com). Turns out there are even Arch Fit Lounge slides and shoes (from $90 CAD at skechers.ca and from $60 USD at skechers.com) designed specifically for indoor wear – and at the moment they're on sale starting from from $38.99 CAD/$29.99 USD.
I received a media-sample pair of shoes, the same style Martha wears in the brand videos and stills. To test them, I really have walked a mile in them – much more, actually. I've worn them almost daily for months. My detailed review of Skechers GoWalk Arch Fit - Iconic sneakers ($125 CAD at skechers.ca and $90 USD at skechers.com) is up next.
SKECHERS MARTHA STEWART WEARS: THE DETAILED REVIEW
In her campaign for Skechers, Martha Stewart wears GoWalk Arch Fit- Iconic sneakers. The media sample pair I received is the same style, in a good-looking grey I knew on sight I could not handle getting dirty, despite knowing I can just throw them in the wash if I need to. 

While there are a couple of items to note, my new GoWalk Arch Fit-Iconic sneakers have been on my feet near constantly over the last few months, mostly around the house. 😏

The specs: Skechers GoWalk shoes come in a variety of styles; the Arch Fit-Iconic sneaks are lightweight stretch slip-ons with a to-the-ankle breathable-mesh vamp, removable "podiatrist-certified insole," a cushioned midsole and a 1¾" heel.
Note 1: First, GoWalk Arch Fit Iconic shoes fit accurately. That means if you wear a size 8.5 or 9 depending on the shoes, you probably take an 8.5 in these. Second, a stretch-mesh upper to the ankle might be a little tricky for anyone with ankles that lean toward skinny, like mine. Perhaps also because I often wear an 8.5 and these are 9 (I didn't realize the brand had half-sizes when the PR agency asked for my size 🤦🏻‍♀️), I need to wear them with socks that hit higher than the top edges of the upper to avoid a chafing situation. If you've got ankles you'd classify as thin, even with the correct size you might be more comfortable with a lower-cut upper, as per Skechers GoWalk Arch Fit-Grateful slip-ons ($130 CAD at skechers.ca and $90 USD at skechers.com).
Note 2: Again, probably because they're a half-size larger than I normally wear, the high stretch-mesh vamp is a touch loose on my feet, which isn't terrible because my shoes have maintained their shape exceedingly well as a result. But that slightly loose fit is another detail that makes socks a necessity for me with these shoes. I'm more comfortable wearing socks anyway, but they do have to be socks of substance – thin types don't do the trick. If these details resonate with you, you might be more interested in a shoes with laces, such as the Skechers GoWalk Arch Fit Unify lace-ups ($135 CAD at skechers.ca and $95 USD at skechers.com).
The insole: That the podiatrist-certified insole is removable is a bonus; popped into another pair of shoes, they can provide a nice measure of support as long as they fit the interior comfortably. My old Skechers are a half size smaller, so the arch doesn't hit quite the right place when I put them in those. But in another pair of sneaker-style shoes, they're pretty good. In fact, they should work well in just about any other pair of sneaker-style Skechers that isn't Arch Fit. For instance, a relative bought my mum a pair of stretch-fit, machine-washable Skechers from Costco for $39 CAD (see slideshow).... It's just occurred to me to try the insoles in my winter boots, too; making a note.
I'VE WALKED A MILE IN MARTHA STEWART'S SHOES (DETAIL SNAPSHOTS)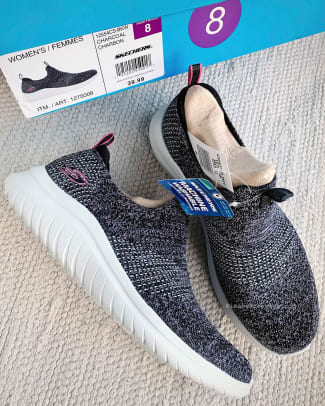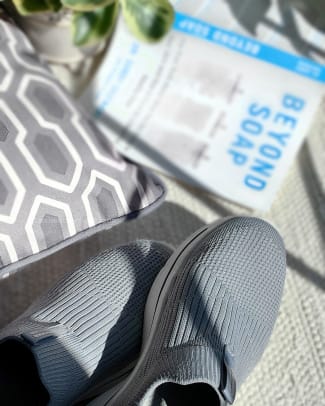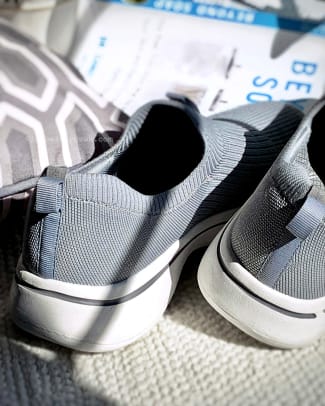 The verdict: Walking in Martha Stewart's shoes, Skechers GoWalk Arch Fit Icon sneakers, has been great. I love them, and wear them pretty much all day every day. That means that although I've gone for walks in them to see how they are on outdoor ground surfaces (👍🏻), I actually wear these sneaks most around the house. I've always hated walking barefoot or in no-support slippers, even when I was younger and lighter on my feet. At the moment I'm 5'8" and wear a size 18, so in a two-storey-plus-basement house without carpeting, I really appreciate the arch support and satisfyingly bouncy midsole cushioning. Plus, because I work from home, they get more wear than my outdoor shoes. Bonus: the grey colour, which I think might have been a seasonal shade in this style, stays pristine.
So now I officially wear sneakers in the house and I blame Martha Stewart. Besides, it's not like there's a law against wearing sneakers as house slippers.
FUN FACTS ABOUT A COUPLE OF OTHER SKECHERS CELEBRITY AMBASSADORS
Although the company is American, Skechers does have a made-in-Canada connection: the brand has sponsored Canadian pro golfer Brooke Henderson since 2016. Originally from Smith Falls, Ontario, Brooke is "the winningest professional in Canadian golf history – regardless of gender" according to sportsnet.ca.
In July, the 25-year-old Skechers ambassador finished first in France's Evian Championship for her second tournament win of 2022, and her twelfth career LGPA Tour title. Brooke Henderson is in fact the first Canadian to win a second major title. Did I mention she's only 25? Here's what she says about Skechers Arch Fit Balance Golf Shoes in this brand video.
And talk about literal come-backs: actor Rob Lowe has been a celebrity ambassador twice, first in 2002 and again in 2017.
I'd put my 2012 selfie with Rob here but he gave such a good interview (one of my favourites) in just seven minutes (yes, it was timed!), that I'll link to Rob Lowe on Skincare, Haircuts and Eyeing Your Best Friend in case you'd like to read it. 😉
OVER TO YOU
Are you familiar with Skechers? If yes, how was your experience?
Are cushioning and arch support important walking-shoe details for you?
Do you have a favourite shoe for walking? Why is it your fave?
SHOPPITY SHOP-SHOP 🛒 🛒 🛒
Unless specified, shopping images and links are affiliate links; thank you so much for your support if you decide to use one. An asterix* indicates an unaffiliated link. xoxo
CANADIAN LINKS 🛒*
www.skechers.ca 
(Decided against Amazon.ca affiliate links; pricing is ridiculous and includes import charges in some cases. Better to shop directly from the Canadian Skechers site, which is not affiliate-supported.)
USA LINKS 🛒
www.skechers.com 
(If the US links take you to the Canadian site, they aren't affiliate links either.)
NOTsponsored✓ PRsample✓ affiliate links✓
©2022BEAUTYGEEKS
imabeautygeek.com