MENOPAUSAL SKINCARE: WITH ADVICE FROM DERMATOLOGIST DR. AEGEAN CHAN
What happens to skin during peri-menopause and menopause, plus the best skincare options for mature skin.
Menopausal skincare is about what "mature," "experienced," or "better-than-50" skin needs: More of All the Things. More hydration, more emollients, more actives – yet, and perhaps most importantly because our natural healing process slows as we age, more Gentle. (Yep, used gentle as a noun here.)
A version of this post originally appeared on Instagram as a collaboration with and suggested by one of my favourite Insta myth-buster skin-experts, dermatologist (and dermatopathologist) Dr. Aegean Chan. Based in Santa Barbara, California, she focusses on evidence-based information and is a trusted source for media such as Allure, Vogue, Huffington Post, The Kit, The Globe and Mail and The Eco Well.
In her post "Skincare During Menopause," Dr. Chan covers what happens to skin as we go through The Change, and offers advice on how to cope with dryness, acne, crepey texture, and hair loss. I've embedded her post below so you can swipe easily through her slides. If you're on Instagram, follow her via @draegeanchan if you don't already; she's one of a brilliant group of experts who make social media a better, worthwhile virtual place. Her blog also has lots of great skin info.
menopause and skin: advice from dr. aegean chan
menopausal skincare: ingredients you need
We can now get many essentials in single-ingredient formulas, however the most efficient regimen for menopausal skin will include elements that combine multiple hardworking elements in a hydration-boosting base. Key worker ingredients include:
water (the. only. ingredient. on. the. planet. that. hydrates.) because well-hydrated skin does everything better
antioxidants such as Vitamin A, C, and E (there are many more; these just come readily to mind)
ceramides (to keep skin's natural moisture barrier strong) and niacinamide (skin's well-rounded MVP)
humectants such as glycerin, hyaluronic acid (HA), polyglutamic acid (PGA), polysaccharides (i.e. cassia angustifolia extract), and lanolin
emollients such as butters, oils (squalane,marula, argan, hemp), and dimethicone
occlusives such as waxes, petrolatum and mineral oil
peptides to boost skin firmness, thickness, strength, and bounce
gentle yet effective levels of exfoliating actives such as lactic acid (also a humectant), salicylic acid, glycolic acid, polyhydroxy acid (PHA ie gluconolactone and lactobionic acid, both also humectants) and retinol to keep cell turnover operating at optimal levels
high-SPF sunscreen daily, about a quarter-to-half-teaspoon or three-fingers-worth for face, ears, neck and decollete) 
I know, that looks like a daunting list! The slideshow of product recommendations is coming up below. But note: although more experienced skin needs a bit more attention than it did in its earlier years, it doesn't need every last antioxidant or every last humectant or every last acid to look its best. In an an overall-healthy-lifestyle way, skin needs a mix of some good things in rotation, good hydration, regular physical activity, and good sleep habits.
skincare for menopausal skin
The following slideshow offers a range of mature-skin care suggestions that range from cleanser to slugging alternatives. 
MENOPAUSAL SKINCARE: BEST OPTIONS FOR MATURE SKIN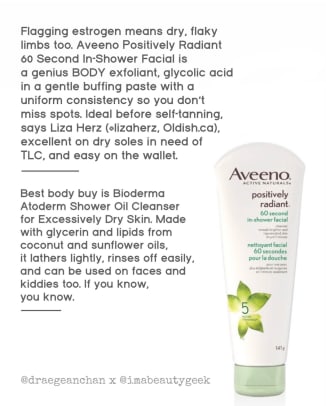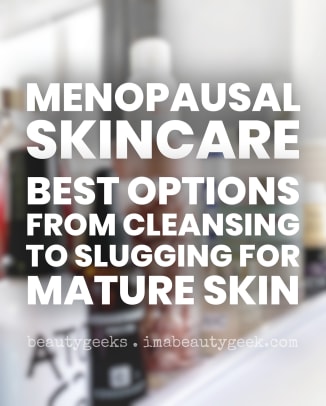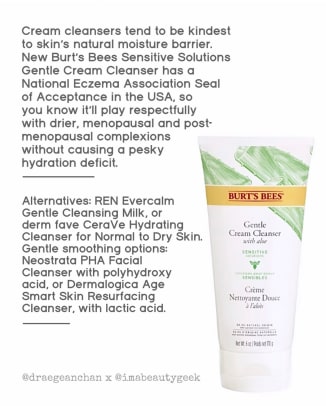 Sunscreen is non-negotiable, but you'll note there isn't a sunscreen slide; that's actually because Instagram has a slides-limit per post. I can tell you that my current ride-or-die hydrating, emollient formula is Vichy Ideal Soleil Sport Ultra Light Refreshing Lotion SPF 60; stay tuned for details on that and others I've been testing.
Additional mature-skin stories are in the works for Beautygeeks as well; as you may or may not know, I'm in the same menopausal boat.
Our lovely Liza Herz is a wonderful friend on this journey as well. Her website, Oldish.ca, is a must-visit; Liza (pronounced Leeza) knows lots of things in addition to how great that Aveeno 60-Second In Shower Facial is (see here and here), and she won't overwhelm your inbox with a gazillion emails.
Many, many thanks to the always-inspiring Dr. Chan for her invitation to collaborate and for the education and expertise she offers via social media. 
shoppity shop-shop
The images below are affiliate links that connect to 🇨🇦 and 🇺🇸  or 🇨🇦/🇺🇸 online retailers; thank you for your support if you choose to use them!
CLEANSERS FOR MENOPAUSAL SKIN
COOLING FACIAL MISTS FOR MENOPAUSAL SKIN
Non-affiliate links: Indeed Labs Me-No-Pause Cooling Mist is available at its best price via indeedlabs.com (North America). XO Treatment Room Rocket Mist is available via xotreatmentroom.com (North America).
HYDRATING SERUMS FOR MENOPAUSAL SKIN
Non-affiliate links: Uriage Bariéderm-Cica Daily Serum is available in the USA via us.uriage.com but sold out; try us.feelunique.com or caretobeauty.com. Consonant Hydrextreme Serum is available in various sizes starting at $30 via consonantskincare.com (Canada/USA)
MOISTURIZERS FOR MENOPAUSAL SKIN
Non-affiliate links: Vichy Neovadiol Peri-Menopause and Post-Menopause moisturizers aren't on the US brand website; find them at sweetcare.com. Marcelle Revival+ Ultra Nutrition Day and Night creams are available in the US via us.marcelle.com.
NON-IRRITATING RETINOL FOR MENOPAUSAL SKIN
SLUGGING OPTIONS FOR MENOPAUSAL SKIN
SOOTHING BALMS FOR MENOPAUSAL SKIN
Non-affiliate link: in Canada, find SkinCeuticals Phyto Corrective Mask at beautysense.ca.
BODY CARE FOR MENOPAUSAL SKIN
NOTsponsored✓ affiliate links✓ media samples✓ iBought✓
©2022BEAUTYGEEKS
imabeautygeek.com