AT-HOME PEDICURE HACK TO FIX ROUGH, DRY, UNCOMFORTABLE FEET
How to have happy feet and a happy wallet: fixing sandpaper-rough soles without spending on a professional pedicure. Also: no pumice stone required.
The Aveeno Positively Radiant 60 Second In-Shower Facial and Aveeno Cica Repair Foot Mask are a perfect pairing if you've got rough, uncomfortably dry feet so abrasive that you worry they'll make holes in your socks. In fact, this duo is my new favourite sole-soothing treatment – and, I confess, something of an obsession. 
Yep, obsession. My feet feel so darned happy afterward! You know that bliss when you find relief from intense discomfort? THAT. And I actually look forward to doing it again and again! Problem is that this hack is so effective that my feet don't need treating as often as I'd like. 🤦🏻‍♀️ Bonus: I don't have to fuss with a pumice stone to get my feet from sandpaper to smooth, and the results look and feel like I've had a salon pedicure (without the ticklish part).
Before I get into the beyond-easy steps to fix rough, dry, uncomfortable feet, a few words about my own. Although they're uncomfortably dry and prone to sandpaper-like roughness, they're only slightly cracked. Rather than photograph my own feet, I've included an image (see above) I found online; mine were worse than this in terms of rough texture, and a bit more cracked, but not horrifically so. After the first time I tried this pedi hack, the "cracks" merely looked like a few little wrinkles.
how to fix rough, dry feet
One of the things I like so much about this pedi hack is that you can do the first bit before a shower, or just do it while sitting on the side of the tub. Once you rinse and pat dry, you can pad off to the couch or even bed for the second part. The other thing I like a whole lot is that I don't need to buff with a pumice stone.

STEP 1: Massage a somewhat generous amount of the glycolic-dosed Aveeno Positively Radiant 60 Second In-Shower Facial ($10.98 CAD at amazon.ca and $6.79 USD at target.com) over dry or damp feet, paying particular attention to heels. Work the scrub over skin in circular motions for several seconds and leave on for at least a minute to give the glycolic acid time to begin evicting the dead cells that are too lazy to jump off by themselves.

STEP 2: Rinse thoroughly with warm water, then pat dry.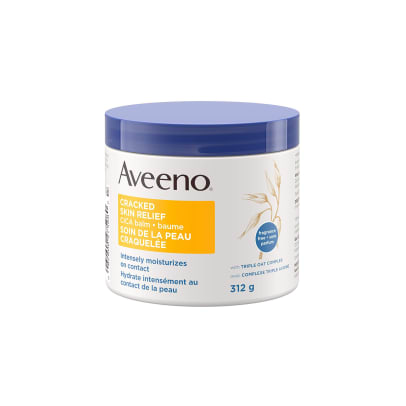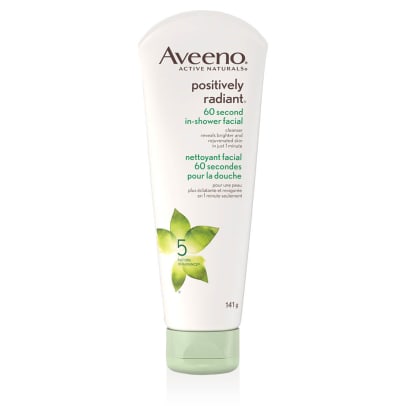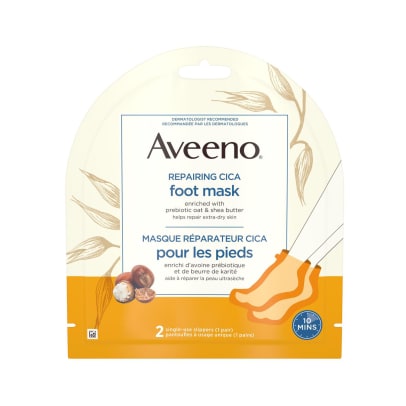 STEP 3: Once you're seated on your couch or bed, open the fragrance-free Aveeno Repairing Cica Foot Mask ($4 CAD at amazon.ca and $3.99 USD at ulta.com) package, separate the components, then pop each foot into one as per the instructions on the back of the packet. I put on a pair of socks over the booties, too.

STEP 4: After at least 10 minutes, remove the mask booties and massage the excess product into skin. Swooning over your newly softened feet is optional.

STEP 5: This part is also optional, but I do it for extra insurance: massage a little fragrance-free, super-emollient Aveeno Cracked Skin Relief Cica Balm ($16.47 CAD at amazon.ca and $12.99 USD at target.com) over now-smooth feet.
That's it. And now I know that for me, Happy Feet = Aveeno Positively Radiant 60 Second In-Shower Facial + Aveeno Repairing Cica Foot Mask. Or, since having done the first treatment and following it three weeks later with another even though my feet didn't really need the scrub part again, just Aveeno Cracked Skin Relief Cica Balm.
The only minor downside of my new obsession is that, in Canada, the Aveeno Repairing Cica Foot Mask is not in every Shoppers Drug Mart* and Rexall pharmacy, which I know from fruitlessly hunting around for it. #grrr. It's best ordered in quantity from Amazon because it's an Add-On item. (Full disclosure: I received one as a PR sample before I stocked up via amazon.ca. I purchased the one that appears in the opening photo.) Happily for Canadians, the Aveeno 60 Second In-Shower Facial and Aveeno Cracked Skin Relief Cica Balm are also available from amazon.ca, so adding on a couple or six foot masks is a snap.

I would be remiss if I didn't give credit to our clever Liza (LEEZA) Herz for inspiring this pedicure hack. Her use of the Aveeno In-Shower Facial pre-self-tanner is genius, and made me think the glycolic + soft scrub might be good on dry feet. If you don't already follow Liza on Instagram, you should. Her Insta-stories in particular are great, entertaining and full of useful info!
For brand info on the items featured in this post, visit aveeno.ca and aveeno.com.
over to you
Do you cope with rough, dry feet? Is this hack something you'd try?
What's your go-to for uncomfortably dry feet in winter?
How often do you give your feet some TLC?
shoppity shop-shop
AVEENO POSITIVELY RADIANT 60 SECOND IN-SHOWER FACIAL ingredients: Water (eau), Cetearyl Alcohol, PPG-15 Stearyl Ether, Cellulose, Glycolic Acid, Glycerin, Polysorbate 60, Steareth-21, Magnesium Aluminum Silicate, Kaolin, Potassium Cetyl Phosphate, Sodium Hydroxide, Xanthan Gum, Phenoxyethanol, Caprylyl Glycol, Parfum, Glycine Soja (Soybean) Seed Extract, Citrus Limon (Lemon) Peel Extract.
AVEENO REPAIRING CICA FOOT MASK ingredients: Water (eau), Glycerin, Distearyldimonium Chloride, Petrolatum, Isopropyl Palmitate, Cetyl Alcohol, Dimethicone, Avena Sativa (Oat) Kernel Flour, Benzyl Alcohol, Avena Sativa (Oat) Kernel Oil, Steareth-20, Sodium Chloride, Butyrospermum Parkii (Shea) Butter Extract, Avena Sativa (Oat) Kernel Extract.
AVEENO CRACKED SKIN RELIEF CICA BALM ingredients: Glycerin, Water (eau), Cetearyl Alcohol, Isocetyl Alcohol, Dimethicone, Cetyl Alcohol, Avena Sativa (Oat) Kernel Flour, Benzyl Alcohol, Ethylhexylglycerin, Sodium Cetearyl Sulfate, Benzoic Acid, Stearic Acid, Dipotassium Phosphate, Potassium Phosphate, Caprylic/Capric Triglyceride, p-Anisic Acid, Sodium Hydroxide, Avena Sativa (Oat) Kernel Oil, Citric Acid, Avena Sativa (Oat) Kernel Extract
iBought✓ PRsamples✓ affiliatelinks✓
*shoppersdrugmart.ca is a non-affiliate link
©2020BEAUTYGEEKS
imabeautygeek.com