ENTER TO WIN OUR LAURA MERCIER "LIP-LOCK" GIVEAWAY! 🇨🇦
Yep, calling this our "Lip Lock" Giveaway, although it has nothing to do with actually locking lips with Chris Hemsworth.
I think we can all agree that NOT kissing Chris Hemsworth is just one of many ways to make lipstick stay on longer. *sigh*

Sorry, what?

Oh, right. Obviously we don't have the Hemsworth to give away (not that we would give him away if we did have him #greedythatway), so how about a handful of lovely satin-finish Laura Mercier Rouge Essentiel lipsticks, the famed Laura Mercier translucent setting powder, and a Laura Mercier makeup brush you can use for concealer or for an old-school makeup technique for getting lipstick to stay put? At least they'll all fit in your bag than more easily than Chris Hemsworth would, so there's that... *grin*
laura mercier "lip lock" giveaway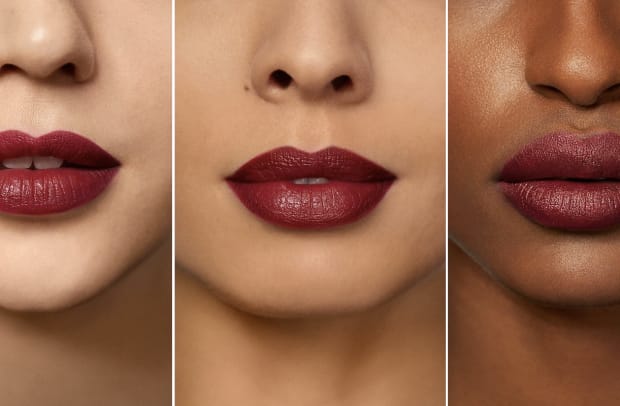 In (non-sponsored) association with Laura Mercier Canada, we're thrilled to be offering an amazing Laura Mercier prize worth $318.50 CAD/$243 USD for one lucky winner in Canada! Here's what's included:
•  Rouge Essentiel Silky Crème Lipstick in Rouge Profond (brick red)
•  Rouge Essentiel Silky Crème Lipstick in Mauve Plum (deep dusty rose)
•  Rouge Essentiel Silky Crème Lipstick in Mocha (soft brown)
•  Rouge Essentiel Silky Crème Lipstick in Plum Fatale (vibrant, blackened plum)
•  Rouge Essential Silky Crème Lipstick in Firecracker (vibrant flame red)
•  Translucent Loose Setting Powder
•  Velour Puff
•  Camouflage Powder Brush
The Laura Mercier Rouge Essential Silky Crème Lipstick ($42 CAD and $32 USD at sephora.com) formula includes camellia seed and jojoba oils as well as a Mediterranean Algae extract, and micronized coated pigments to ensure even colour coverage and wear. It promises six hours of smooth, stay-put intensity that won't feather, fade or dry out. The shades in our giveaway are all fairly intense, the kind of colour that looks best locked down to withstand coffee breaks and/or cocktail hour.
If you haven't already heard lots about the Laura Mercier Translucent Loose Powder ($51 CAD and $39 USD at sephora.com), it's one of the most popular on the market. Finely milled and smooth, with the most restrained application it delivers a sheer, matte, soft-focus finish without changing the texture or colour of what's underneath, and it won't rudely flash back when confronted with flash photography. We're giving away Translucent, which works for light to medium and tan skintones, but it also comes in a Translucent Medium Deep for medium-deep to deep complexions.

Generously sized and satisfyingly soft, the Laura Mercier Velour Puff ($21.50 CAD and $16 USD at sephora.com) is sturdily constructed to allow you to work the loose powder into it then press and roll it onto skin so you don't wind up in a dust cloud. Unlike lesser puffs, it also holds up to washing.

Rather than a powder brush, we've included the Laura Mercier Camouflage Powder Brush ($36 CAD at thebay.com and $28 USD at lauramercier.com) so you can try all the make-lipstick-stay-on-longer techniques in our earlier post, the inspiration for this giveaway.
enter to win
To qualify for our Laura Mercier Lip Lock Giveaway, you must be a resident of Canada and 18 years of age or better. Enter via the widget below; the first few options must be completed to validate your entries and unlock more options for additional entries.

We're accepting entries until Thursday February 20th at 11:59pm. Enter as many times as you like! The winner will receive notification via email on Friday February 21st and have 24 hours to respond, so please check your emails. If we don't hear back within that time frame, we'll have to choose another winner. We feel really, really bad if we have to do that, so don't make us, 'k?

Good luck, everyone, and thank you, thank you for reading, entering and commenting! xoxoxoxo
PRsamples✓ affiliatelinks✓
©2020BEAUTYGEEKS
imabeautygeek.com