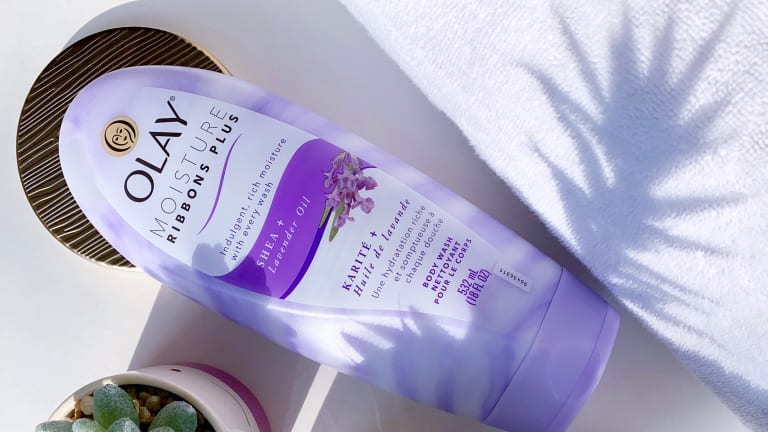 BODY CARE TO HELP US FEEL LIKE KIDS IN COLD WEATHER
If we want our skin to tolerate the chill like it did when we were children, we've got to get started now – and here's how Olay Ribbons Moisture Plus (the "plus" is shea butter) can help.
In partnership with Olay; thoughts, opinions and interviews with dermatologists and scientists are my own. What does Olay Moisture Ribbons Plus have to do with feeling young again when the deep freeze hits? You'll see, but first: when you were a kid, do you remember being annoyed that it was winter time? As you trotted down snowy sidewalks, practicing kung-fu kicks on snowbanks (oh, just me?), did you feel the cold the way you do now?
6 mostly body-care steps to feeling like a kid again in winter
Yep, blame aging for feeling subzero temperatures more keenly as adults. According to a science program I saw a while back, little kids are full of lipids and moisture to make them bouncy to protect their soft bones. All that also contributes to a healthy, protective, skin moisture barrier that helps them weather cold more comfortably. 
In adults, however, that moisture barrier is less efficient because our natural stores of water and lipids have decreased. Drier skin = *shiver.* However, the following steps, including Olay Ribbons Moisture Plus, can help pick up the slack.

1. ACT NOW. Change your body care routine before temperatures nosedive. "Fall is when people should start moisturizing," said Dr. Ian Landells, dermatologist and medical director at the Landells Clinic in St. John's, NL. Maintaining a healthy moisture level is easier than trying to build it back up from negative.

2. TEMPER THAT TEMPERATURE. Hot water makes dryness worse by forcing skin into an uncomfortable natural-oils-and-moisture deficit that's difficult to come back from. A steamy shower might deliver instant gratification, but skin that withstands winter comfortably is a long game, so be a grown-up and stick to warm water.

3. BUFF OFF. Make body exfoliation a daily part of your regimen to get that layer of "snowflakes" off, so skin can absorb moisture better.
4. CHOOSE BODY WASH WISELY. A gentle, efficient cleanser with effective emollients is essential. The first one that I ever felt actually cleansed and moisturized was Olay Ribbons, way back in 2006. Now in 2019, I'm using Olay Moisture Ribbons Plus Shea + Lavender Oil, a satisfyingly rich, creamy body wash. The surfactant, sodium trideceth sulfate, is mild and conditioning, too, even as it contributes to the cleanser's lush foaming action. Skin-softening ingredients include petrolatum and mineral oil as heavy lifters, plus newly added shea butter and soybean oil. There's lavender oil as well, and a hit of eucalyptus; the scent is subtle in the shower, and doesn't linger.
5. LOCK IT IN. The combination of shea butter (an emollient) and petrolatum (an occlusive, or barrier) in Olay Moisture Ribbons Plus' moisturizing ribbon helps keep some of that shower moisture in the skin, so you're already ahead – and without feeling like there's any kind of film or residue left behind. For extra insurance if needed (when it's -20º C, for instance), apply lotion within three minutes of patting dry.
6. PLAY, PLAY, PLAY. Cold weather is more bearable when your skin retains warmth better, and even more so when you've got fun things to do. Book tobogganing, skating, snowman-building or winter-walk times (to the local coffee house counts) with your favourite people! Kung-fu kicks into snowbanks are optional.
olay moisture ribbons plus: an interview with an olay body senior scientist
When it launched, Olay Ribbons was ground-breaking in its ability to boost skin's moisture levels as well as in its appearance. Below are additional geeky details on the 2019 Olay Ribbons Moisture Plus formula from Dr. Maiysha D. Jones, Senior Scientist, Personal Care at Procter & Gamble.
Has Olay Ribbons body wash changed since 2006? Over time we've tweaked the formula to optimize skin feel and moisture deposition and to introduce new fragrances and ingredients in line with beauty trends. Earlier this year we upgraded the formula to include skin-identical natural emollients as well as petrolatum. 
How is the overall Ribbons formula different from non-ribbon body cleansers? Ribbons contains petrolatum, the #1 dermatologist recommended moisturizing ingredient, as its primary moisturizing ingredient and a proprietary ingredient that helps deliver petrolatum to the skin. In addition, because the cleansing and moisturizing ingredients are separate, Ribbons is able to deliver the highest level of moisturizing ingredients without compromising skin-cleansing performance.
So the ribbon formation really matters? While the ribbon pattern does provide a unique visual aesthetic, each ribbon is actually different. One ribbon contains primarily cleansers, and the other ribbon contains primarily moisturizers – the surfactants and the emollients are actually separate. This plays an important role in delivering enhanced skin moisturization without compromising the cleansing performance.
How does the formula prevent its emollients from compromising cleansing? This is due to the proprietary Ribbons dual-stream product design where the cleansers and the moisturizers stay separated during the cleansing process. The unique blend of cleansers in the Ribbons product are able to generate creamy foam for deep cleaning even in the presence of a high level of emollients.
How does the formula prevent the emollients from being washed away before they can actually soften the skin? Olay Ribbons contains a proprietary ingredient that allows the emollients to have a stronger affinity to skin than to water. In this way, moisture stays with your skin instead of going down the drain.
Does ingredient molecule size contribute to how the cleanser and emollients perform together? Molecule size is important when it comes to the cleansing ribbon. When combined with water, the cleansing ribbon forms large lamellar structures instead of small micelles. Lamellar cleansers stay at skin's surface and are rinsed away (micellar cleansers can penetrate surface layers of the skin leading to dryness and irritation). 
How does water "activate" the formula? In Olay Ribbons, the emollients are suspended in a stable surfactant network structure. When water is added, the lamellar surfactant will quickly dissolve in the aqueous phase for skin cleansing. At the same time, the surfactant network structure breaks down to release emollients from the products. The emollients have high adhesion to the skin. Therefore, water is the trigger for both the cleansing performance and deposition of emollients to the skin.
How can Olay make a claim of visible transformation of the skin in 14 days? Through clinical testing of our moisturizing body wash, we have shown that visible skin dryness decreases with continued product use.

Is that 14 days of using just Olay Ribbons? No body lotion afterward? Correct. Our clinical study protocol prohibits participants from using any moisturizing products for the duration of the study.
over to you
If you have to deal with icy weather, when do you switch up your body-care products?
Have you ever tried an Olay Ribbons formula?
What's your favourite chilly-weather activity?
shoppity shop-shop
Olay Moisture Ribbons Plus Shea ($7.99 to $9.49 CAD and $5.47 USD) is available in Canada in four scents: Lavender, Pink Peony, Manuka Honey and Blue Lotus. Find it at mass retailers such as Walmart and Shoppers Drug Mart.
PRsample✓
This post contains NO affiliate links.
©2019BEAUTYGEEKS
imabeautygeek.com