THE BODY SHOP HOLIDAY 2019 + WHAT ITS "B CORP" STATUS MEANS
Girl power, #grabbyhands-worthy beauty advent calendars, new holiday body-care scents, and a renewed, meaningful commitment to putting people and the planet on par with profits.
Amidst the fossil fuels vs planet conflict news stories lately – we're all awed by fierce, 16-year-old climate activist Greta Thunberg, are we not? – The Body Shop announced that it's received something called "B Corp certification," which recognizes its long commitment to the planet and to people, as well as to its bottom line. Ben & Jerry's is B Corp certified, by the way, as is apparel label Eileen Fisher and Natura, the Brazilian company that has owned The Body Shop since 2017.
A quick Internet search reveals that B Corp certification originates from a non-profit organization called B Lab, a private company that issues said certification to for-profit businesses whose prime directive is about an ethical approach to more than profit. (The "B" stands for "beneficial.") At the moment there are about 3,000 B Corp-certified companies worldwide.
The Body Shop started the B Corp vetting journey in 2017, likely soon after it was acquired by Natura. Frankly, the process sounds daunting, as per the B Corp website:
B Corp certification is the only certification that measures a company's entire social and environmental performance. The B Impact Assessment evaluates how your company's operations and business model impact your workers, community, environment, and customers. From your supply chain and input materials to your charitable giving and employee benefits, B Corp Certification proves your business is meeting the highest standards of verified performance.

Positive impact is supported by transparency and accountability requirements. B Corp Certification doesn't just prove where your company excels now—it commits you to consider stakeholder impact for the long term by building it into your company's legal structure.
On top of that, it seems companies have to get re-certified every three years, and if you want even more details, according to this 2017 post, there's an annual fee based on revenue. This is serious business.
I'm less eloquent than I would have liked to been in the beginning of the not-sponsored video clip below, but no matter. In the current climate, I think it's important to highlight companies who are making real efforts in fair business practices and sustainability.
Speaking of sustainability, aside from its long-standing Community Fair Trade program (more than 30 years), in the last year The Body Shop has reduced its packaging footprint, switching to the use of uncoated boards, kraft wrapping elements and jute ribbon to avoid using what would have added up to more than an estimated 300 tons of plastics. (For reference, apparently 1 ton = 1 giraffe.) As you'll see in video from the holiday preview presentation, the brand has also removed the plastic windows from its gift boxes for holiday 2019.
the body shop holiday 2019
And ANOTHER thing: the holiday collection is seasoned with a welcome dose of girl power. As part of a "Dream Big" theme designed to empower girls, illustrated images include a female astronaut, female nutcracker – even the holiday-edition shower puff is a coy Miss Santa rather than Saint Nick.
The Body Shop's wonderful holiday artwork is by Helena Perez Garcia, a Spanish illustrator based in London, England.
Below is a little slideshow of some of the gift items at The Body Shop this coming holiday season. The selection at the preview seemed like an edited collection, but there are many, many more options coming in the next couple of months. The advent calendars, depending on which you choose, contain a mix of regular, mini-size and single-use items. They're available right now via thebodyshop.com and in stores (the Ultimate is online only), so you can be ready for December 1st if you've got a recipient in mind. (Zero judgement if that recipient is you.)
a selection of the body shop holiday gifts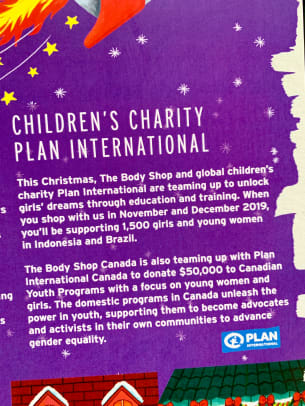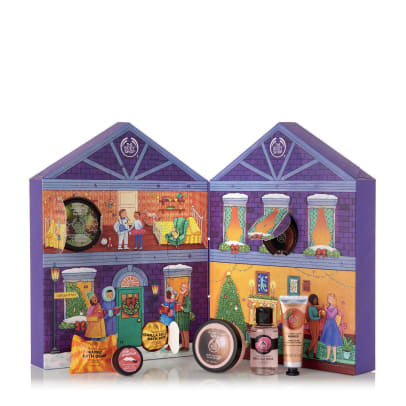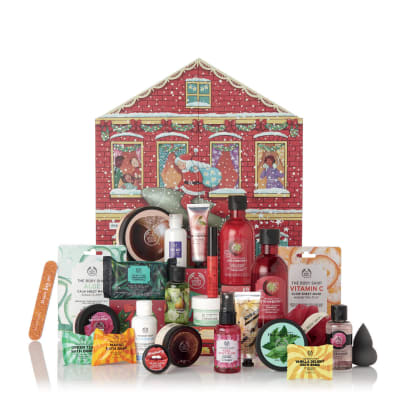 Holiday-edition purchases in November and December will direct a portion of the proceeds toward empowering girls and young women too. The Body Shop has partnered with Plan International to support education and training of 1500 girls and women in Indonesia and Brazil, as well as with Plan International Canada to donate $50,000 to Canadian youth programs that focus on girls and young women. "We know gender equality has not been achieved in any country around the world," said Sarah Burnell, director of corporate partnerships at Plan. "It's so important for us to stand up and provide opportunities for inclusion, particularly for young women."
now you
What do you think of all this B Corp stuff?
Are you a beauty advent calendar fan?
What was the last item you bought from The Body Shop?
Do any of the gifts in the slideshow or video appeal to you, or, do you think, to anyone on your holiday-gift list?
shoppity shop-shop
PRsamples✓affiliatelinks✓
©2019BEAUTYGEEKS
imabeautygeek.com