QUO'S NEW MAKEUP BRUSHES: NEW SHAPES + HOW TO USE
Shoppers Drug Mart's house brand Quo has launched an entirely new and extensive collection of makeup brushes; celeb artist and consultant Stephen Moleski shares tips on how to use the new shapes.
Although Instagram would have you believe everyone else buys new makeup brushes every time a brand debuts a collection, common cents (see what I did there?) tells me that most of us just use what we have. That's partly because we're – thrifty! – and partly because we just can't be bothered if what we already own is still in decent enough shape (see: thrifty! and feel proud).
I have another reason: I do just fine with what I've got; I don't want to deal with a learning curve with some new-fangled thing. Frankly, it's part of why I don't do makeup videos. You'd see me using brushes I've had for 20 years that you can't buy any more.
Of course the reason behind that reason is that I all-too-often do my makeup in the back of an Uber, so there's no time for a learning curve. But I'm (still) working on that. And the brushes that make me want to sit down and play have just been launched.
Quo Cosmetics has created an entirely new and extensive collection of makeup brushes that just hit Shoppers Drug Mart and shoppersdrugmart.ca.
I've always liked Quo makeup brushes; some of my faves in my kit and personal stash are Quo brushes from way back. Sure, they're a drugstore brand, Shoppers Drug Mart's private label, so they're reasonably priced. And they're nice quality too, better than Sonia Kashuk's (sorry Sonia!). Along the lines of Sephora Pro.
Anyway, the brand has discontinued its previous brushes and launched an extensive – 61 in total – new collection that includes accessories, trendy options, double-ended brushes, classic staples, and an artistry range. Most of the brushes (41 of them) are available as individual purchases; a selection is available in convenient sets. All the brushes (some insaaaaanely soft – I nicknamed a big fluffy one "Kitty Cat") consist of cruelty-free synthetic bristles.  Pricing starts at $14 CAD each and goes up to $50 CAD; sets go from $32 to $50 CAD. See details in following slideshow.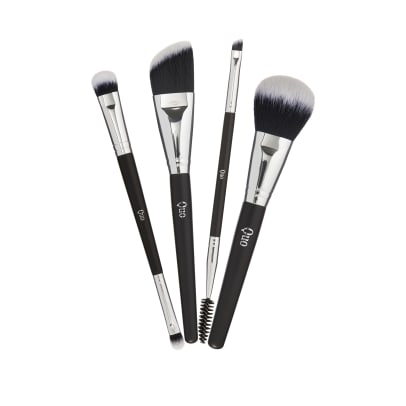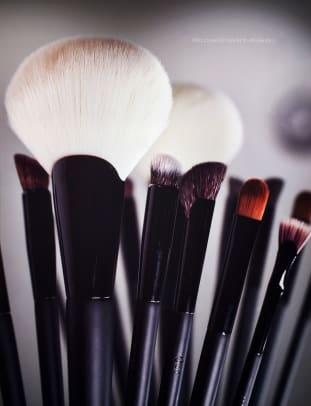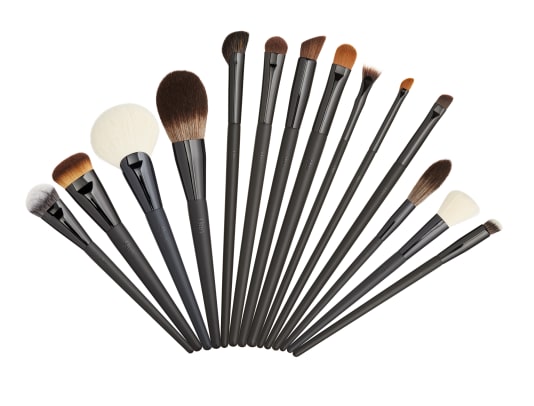 Makeup artist Stephen Moleski consulted with Quo on their Artistry collection in particular. I popped by the media preview to have a chat with him on the new brush shapes and how they make the tools more versatile and more efficient for you. (The video is vertical; you might find it more comfortable to watch on IGTV if you have an Instagram account. 😘)
The brushes I'm most interested in include the HD Foundation brush #14 ($40 CAD), Liquid Multitasker #15 ($43 CAD), Detail Highlighter brush #19 ($35 CAD), the Conceal & Buff #10 ($35 CAD), and of course the "Kitty Cat" aka Ultimate Powder #16 ($50 CAD). But that's just to start – there are so many in this launch that it's almost hard to focus. The mini sponges would be great for my nieces, and for nooks and crannies. The sets are practical and gift-worthy. And the classic brushes are tempting too. Sheesh.
Fun fact: at shoppersdrugmart.ca, Quo has included quick how-to-use vids for brushes that feature new shapes – look for a start-video arrow icon to play.
So. How often do you buy new makeup brushes? Are you all about what's new, new shapes and new technology? Or do you go for the classics? Or trendy?
P.S. July 1st was Canada Day, so this month Beautygeeks is spotlighting some Canadian beauty brands. Quo is just such a brand. If you're one of our lovely beautygeeks friends who lives outside of Canada, these brushes are worth a look if you're visiting our fair country and happen to be near a Shoppers Drug Mart location!
prsamples✓ mediapreview✓
*beautyboutique.ca/shoppersdrugmart.ca is a non-affiliate link
©2019BEAUTYGEEKS
imabeautygeek.com