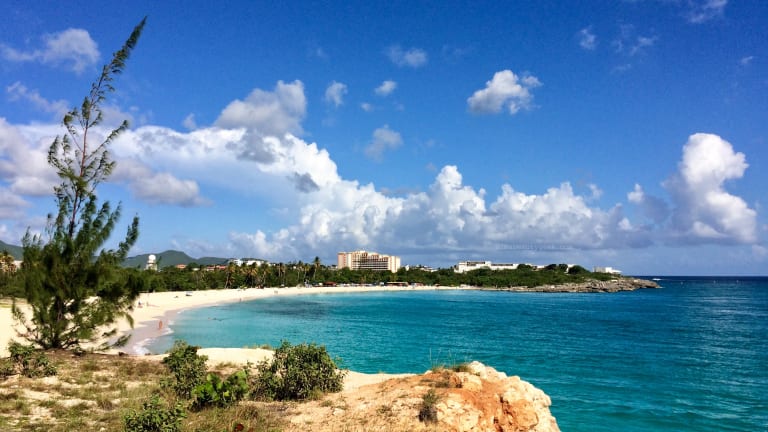 THE BEST SUNSCREEN YOU HAVEN'T TRIED
Want a non-sticky, easy-to-apply SPF 50 that leaves your skin feeling clean on the hottest, hideously humid days? Read on for details, plus an I-miss-St-Maarten slideshow 😎.
If you're about to head off to on a lovely beach vacation for March Break, you need to know about one of my favourite sunscreens first. If you don't know it already, be prepared: it's one of the best sunscreens you haven't tried.
What's the worst thing about sunscreen? For most of us, it's the texture – some leave skin feeling greasy, or sticky, or strangely both. Sometimes it's hard to rub into the skin, and sometimes there's that unfortunate ghostly cast. And at the end of the day, we can't wait to get the stuff off – that it's been protecting us from UVB and stealth UVA for hours doesn't even register at that point.
But you might feel better about sunscreen if you try Coppertone Clearly Sheer Whipped Sunscreen SPF 50. Truly, it's one of the most comfortable sunscreens I've ever used.
All the geeky details about formulation and packaging are in this Fart Can post, so named after one of the prototypes that made an amusing but rude noise whenever the chemists tried it. (Rather than a spray, the sunscreen is dispensed as a foam, which makes it super easy to distribute on skin. The version on the shelves, though, does not sound like a fart.)
In the US, the names of these UV repellants are slightly different: they're Coppertone Defend & Care Ultra Hydrate SPF 50 and Coppertone Water Babies Pure & Simple Whipped SPF 50.
My love for Coppertone Clearly Sheer Whipped Sunscreen SPF 50 comes from having used it on the steamiest, drippiest, stinking-hot days of last summer. One of those days, I was trapped outdoors at a sweltering long-week barbeque. Fun times, except for trying to breathe in the extreme heat and humidity. 
But no matter how much sweating I did, and how many times I re-applied my Clearly Sheer Whipped SPF 50, later that night I could cheerfully have fallen into bed for a lovely sleep without having showered first. My skin still felt as fresh and soft and clean as it did after my morning ablutions! How many sunscreens can do that? (FYI, I did shower before bed, but first spent ages exclaiming out loud about how impressed I was about the Whipped formula.)
Also worth noting: the Clearly Sheer Whipped formula leaves not a trace of oiliness to smear on sunglasses or tablet, nor stickiness to attract a coating of sand. As well, each pump dispenses a generous amount, so it's hard to skimp on application.
To test the no-sand-sticks finish in real life, just recently I made my brother Simon take Coppertone Clearly Sheer Whipped Sunscreen with him to the Dominican Republic. Poor guy, he's got a terrible case of sciatica, which made the trip itself quite difficult and resulted in a vacation that was all about resting, either in the shade on the beach or in the hotel room. On beach days, other than simply being in a warm, breezy environment in which he didn't have to cook, clean, fix something around the house, or sit painfully for work, there was a bonus: sand absolutely did NOT stick to his sunscreen-covered skin, not even a little.
In fact, although Simon didn't think to snap a photo of the can under the palm trees (my bad, I should have requested such a photo), he did pronounce Coppertone Clearly Sheer Whipped Sunscreen a favourite, and an excellent suggestion on my part. #bigsistertriumph
To reiterate, Coppertone Clearly Sheer Whipped Sunscreen SPF 50 melts easily into skin and moisturizes, yet within moments the finish leaves skin feeling powder-fresh and clean. It comes in a fragrance-free Water Babies Whipped SPF 50 version as well; I actually prefer the scented version, believe it or not. And both versions are water-resistant for up to 80 minutes. I wish these antioxidant-enriched whipped formulas had existed when I spent all that time in St. Maarten...
st maarten snaps
I will forever have a soft spot for St. Maarten because of the time I spent with my nieces in the two years my sister-in-law was at medical school there. Although I was there for several weeks at a time, I didn't see a ton of the island because I don't drive. Didn't bother me though because the Cupecoy Beach Club property (on the Dutch side) has easy access to two beautiful beaches, one alongside the cliff and Mullet Beach next door. We also got to Simpson Bay, which is sort of around the corner from Mullet, and pretty Pinel Island at the northeast end of the island. 
I've posted a whole lot of SXM snaps on my personal Instagram feed; thought you might enjoy a slideshow here. 😎 And happy news to anyone worried whether St. Maarten has recovered since Hurricane Irma: via Instagram I found someone who is at the Cupecoy Beach Club right now; she says the repairs there are complete and all is well.
st. maarten snaps (pre-irma)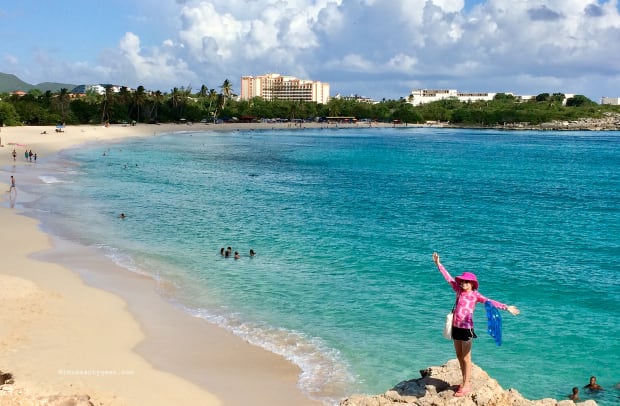 Have you tried Coppertone's Whipped Sunscreens SPF 50? If not, do you have a favourite sunscreen that leaves your skin moisturized yet fresh and clean even hours later after multiple reapplications?
shoppity shop-shop
COPPERTONE CLEARLY SHEER WHIPPED SUNSCREEN SPF 50 ingredients: UVA/UVB filters – Avobenzone 3%, Homosalate 10%, Octisalate 4.5%, Octocrylene 4%, Oxybenzone 6%. Other ingredients – Water, Aluminum Starch Octenylsuccinate, Behenyl Alcohol, Glycerin, Styrene/Acrylates Copolymer, Dicaprylyl Ether, Microcrystalline Cellulose, Glyceryl Stearate, Cetyl Alcohol, Benzyl Alcohol, Butylated PVP, Palmitic Acid, Stearic Acid, Myristyl Alcohol, Chlorphenesin, Tocopherol (Vitamin E), Cellulose Gum, Lecithin, Disodium EDTA, Lauryl Alcohol, Sodium Ascorbyl Phosphate, Fragrance, Nitrous Oxide.
iBought✓ prsamples✓ affiliatelinks✓
©2019BEAUTYGEEKS
imabeautygeek.com