BEST BEAUTY DEALS VIA PRIME DAY AT AMAZON.CA (THERE'S STILL TIME)
Amazon Prime Day sales are more scavenger hunt than easy savings, so I've done a little beauty-deals pre-stalking for you at Amazon.ca.
Amazon Prime Day at amazon.ca started sometime yesterday and continues until midnight tonight. Frankly, although I use Amazon.ca enough to make my Prime membership (iBought) worth it in fast, free delivery, I'm not entirely comfortable with the way Amazon retail works. The wild differences in pricing for one product makes my eyes cross sometimes, and then you might have shipping issues or return issues after that. (One of my orders actually never showed up although the tracker showed a delivery. Getting a refund was easy, but oy.) 
Even worse is that whole add-on thing for little products that you can add to qualifying orders to save on shipping. Okay, it's good because I can snag my favourite drugstore mascara for a crazy, crazy steal, but it's annoying because now I have to figure out what Amazon-fulfilment stuff to buy so I can get my handful of add-ons shipped.
And Prime Day itself actually drives me nuts. I'm not that person who loves digging for deals. I can barely stand to shop at Winners/Marshalls because I'm not a luck-of-the-draw retail hunter. I like a great sale, but sorting through possible saving opportunities takes forever, at least for me, as evidenced by the timing of this post. 😬
best prime day beauty deals at amazon.ca
Rats. I bought my 23 & Me kit at a 30% discount. But if I'd just waited a couple of months, I could have saved 48% on Prime Day at amazon.ca. So you better finally pull the trigger so I can enjoy the extra savings vicariously, 'k? Until the end of the day, purchasing a 23 & Me DNA-testing kit ($129 CAD at amazon.ca, regularly $249) will save you more than $119, and includes genetic health risks info as well as ancestry details. 
Bioderma Sensibio Micellar Cleanser (500mL, $12.50 CAD at amazon.ca, regularly $19.89) bought right now will save you $7. (That's still enough for lunch, isn't it?)
L'Oreal brands such as Maybelline, L'Oreal Paris, Essie, Garnier, and Ombrelle, are 30% off with a caveat: you've gotta spend $30 to get the discount. If you're a Prime member, you get an additional 30% off too. The Body Shop, Marcelle and Annabelle are also offering up to 30% discounts on a select range of items.
Maybelline New York Tattoo Studio Brow Tint Pen ($14.99 CAD at amazon.ca) You know, that four-pronged deal-io that everyone freaked out over on Instagram when some random vender used sections of YouTuber Tina Yong's tutorial (embedded below) to sell an unidentified brow product that looked like this, but wasn't this?
As you can see in the video, Tina is actually using this very brow pen from Maybelline. The Tattoo Studio Brow Tint Pen is finally available in Canada and from amazon.ca (out of stock at the moment, but they'll ship to you when they re-up). 
The available Tattoo Studio Brow Tint shades in Canada are different from what was available to Tina – we don't have that grey brown, and waaaah! I'm dying to try it myself! (If you have sparse or too-thin brows like me, watch the video to find out why. Tina's technique is the best I've seen from what's out there, btw.)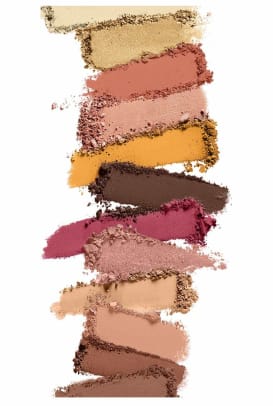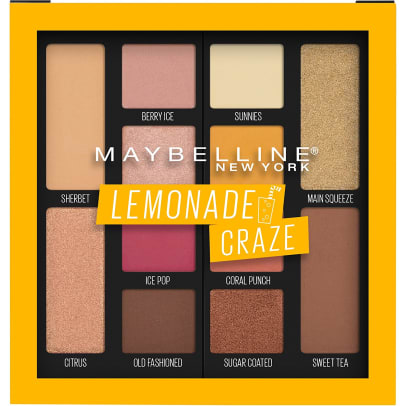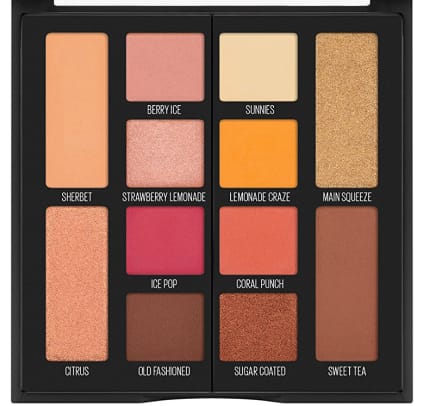 Also quite new is the colourful, summer-happy Maybelline Lemonade Craze eyeshadow palette ($17.99 CAD at amazon.ca) in a larger square format than we're used to seeing from the brand. And the powder is lemon scented. (And L'Oreal just released a nectarine-scented palette this size – sensing a Too-Faced after-the-Peach trend?
Maybelline New York Canada makeup pro Grace Lee used the Lemonade Craze palette on the model in the above snap. The Prime Day deal only discounts by 30% if you spend $30 on L'Oreal-owned brands like this one – and if you have a Prime membership, you'll get another 30% off from already reduced L'Oreal pricing.
Johnson & Johnson has a Spend $40 and Save $10 deal on all kinds of their brands, such as Aveeno, Neutrogena, Listerine, Le Petit Marseillais (I wrote about that brand here), Band-Aid, Lubriderm, Reactine – ohmygoshsomany. I just discovered this, so I can't tell you what to expect. I'll get back there to check once I've finally posted this thing. *grin* 
Foreo Luna cleansing units have been around for about five or six years now, and they're genius for sensitive skin, more gentle than a brush cleansing device. Made of non-porous medical-grade silicone, they cleanse deeply with 8,000 "pulsations" per minute, which feels like a lovely, micro-circulation-boosting massage. Use the more textured side to cleanse and the smoother side to massage moisturizer into skin. Over time, that daily 2-minute increase in micro-circulation shows in your complexion as improved brightness and glow. And right now, a Foreo Luna 2 ($160 CAD at amazon.ca, regularly $229) comes at a 30% discount – you'll save $68.70. 
Looking for a round-head electric toothbrush? You'll save 36% – that's $63.25 – on the Oral-B 7000 SmartSeries Rechargeable Electric Toothbrush ($119 CAD at amazon.ca; regularly $179.44); it comes with three (3) brush heads, bluetooth capability and a travel case. https://amzn.to/2Lj08ub
Or how about the Philips Sonicare DiamondClean ($124.99 at amazon.ca) in sexy black? I've got this one myself. Buying it during Amazon Prime time will save you about $100 – that's 45% off the regular price, $225.53.
A few hair tools are on sale as well, like the Conair Infinity Pro Curl Secret ($64.99 CAD at amazon.ca, regular price $79.98.). I have a PR sample that I actually do use occasionally to curl a few random sections when my 'do has to look especially good, and my 12-year-old niece Lauren has one as well that she uses all the time. It's weird but easy.
I'm contemplating buying a replacement Nutribullet 900 ($69.99 CAD at amazon.ca) for my regular Greens Plus Extra Energy smoothies because right now I'd save 36% ($40) on the price. But although my current Nutribullet (purchased in Nov 2016, apparently) sounds like it's slowed down a little motor-wise, and smoothies don't stay fully blended for as long, I'm gonna hold out until maybe next year...
Amazon Prime Day ends at midnight tonight (July 17). More new deals are scheduled to hit between now and then, so you might get a chance to save on something amazing that I haven't included here – yay you! (I hate the manipulation to return to the site and spend more cash you might not have planned on spending, so I'm not. going. to. look. Aside from at the J&J section.)
If you're looking to re-stock essentials and want to know if there's a related deal, click on the "shop all deals" hotlink, then search your item in the search bar (at the left it should say "Prime Day").
Are you a regular Amazon shopper? Prime member? Have you shopped? How do you navigate these Prime days??