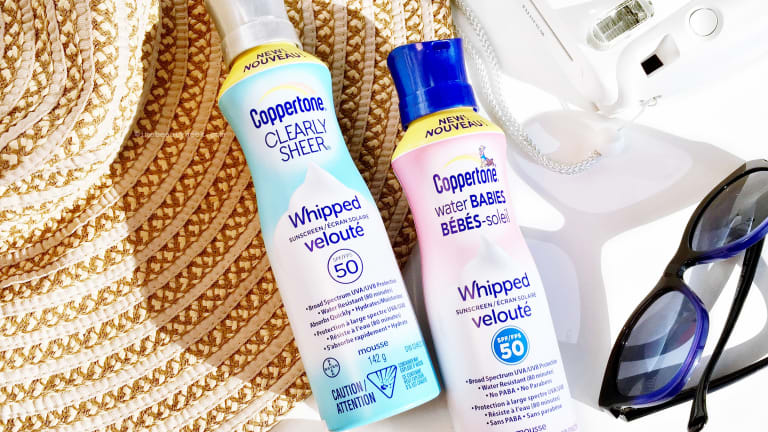 FART CAN, FART CAN! GEEKY FACTS BEHIND NEW COPPERTONE WHIPPED SUNSCREENS SPF 50
Prototypes, nuclear reactors and a bunch more nerdery with a sunscreen scientist.

In partnership with Coppertone; thoughts and opinions are my own. Before we get to the Fart Can story and other nerdy stuff behind Coppertone's new whipped sunscreens, I have to geek out about my own experience with this formula. On a drippy, sticky, sweltering heatwave day, I wore Coppertone Clearly Sheer Whipped Sunscreen at a backyard bbq – outside – for hours and sweaty hours. And when I got home late that evening, my skin still felt soft and clean. Clean! Okay, carry on...
The biggest issue with sunscreen is compliance, getting everyone to use the stuff daily and apply it properly, generously and repeatedly. So brands strive to create a variety of textures to appeal to a variety of consumers. This season, Coppertone has expanded their selection of broad-spectrum sticks, mists, sprays, lotions and dry oil with a new silky, moisturizing mousse format. Coppertone Clearly Sheer Whipped Sunscreen SPF 50 ($9.97 CAD at walmart.ca and $9.97 USD at walmart.com) was designed to spread luxuriously, easily and evenly, and hold up in water for 80 minutes. The kids' version is Coppertone Water Babies Whipped Sunscreen SPF 50 ($9.97 CAD at walmart.ca and $9.97 USD at walmart.com); the difference is that it's fragrance-free.
Now for those geeky details about prototypes, preservatives, and more* from sunscreen R&D-guy Stephen Baldwin, Senior Associate Director of Global Suncare Formulation Development at Bayer, the company that makes Coppertone.
on the whipped sunscreen challenge
According to Stephen Baldwin, Coppertone Clearly Sheer Whipped Sunscreen was "an on-again-off-again about eight years in the making. It became a real, solid project about four years ago. People loved the concept and the look, but the formula needed to finish dry to the touch.
"Think about sunscreen as a kind of skin paint, made to protect you from that giant fusion reactor eight light minutes away from here. To do that, it needs to be a very even layer on the skin. But skin is tricky (read here to find out why), so getting that easy even layer often results in a greasy, heavy sunscreen finish.
"One formulating solution is to add starch. When you apply the whipped sunscreen, the bubbles help it collapse and spread rapidly as you rub it in. It goes through a tacky stage, but that's the emollient part, the materials that help set up the moisturizing film. After that, the starch rises to the top to give you that powder-dry feel."
on the preservative challenge
"From a strict scientific standpoint, parabens seem fine. But they do have a bad rap, so we're moving away from them – the whole industry has. Instead we've used benzyl alcohol and chlorphenesin.
"You don't want a product without good preservatives. At another company – not Coppertone – a story circulated about a conditioner that wasn't adequately preserved. (Shampoo and conditioner ingredients are highly digestible for micro-organisms, by the way. They like living in there, so a good preservative is essential.) One micro-organism developed a resistance to the preservative system they were using. As it digested the conditioner ingredients, the micro-organism gave off gas – conditioner bottles were literally blowing up on store shelves.
"Testing and evaluating other preservatives is very difficult. Right now we're looking at some non-traditional options that have a degree of emolliency, but before we go to market, there is a United States Pharmacopeia (USP) standard the product has to meet. It has to be sent for a 30-day test in which micro-organisms are introduced then tested for in days following to ensure they are eliminated. Regardless of the preservative used, reputable brands are going to put their formulas through that test to make sure they're safe. But it's a challenge now that we've lost parabens, which were the preservatives of choice. The toolbox we can use is getting smaller."
on whipped sunscreen in a bag
"We're using bag-on-valve technology. With aerosols, you put the lotion in a can with a liquid propellent – you can tell it's an aerosol set-up because shaking the container makes the product slosh inside. 
"With bag-on-valve, if you were to open the can, you'd see what looks like a Capri Sun packet, with a stem coming up to the top. We pressurize the outside and put the lid on, then shoot the propellant – nitrous oxide – in between the walls of the can and the bag. Pressing the spray button compresses the gas and squeezes the product out from the stem in the bag."
on fart can, fart can, fart can!
"We even worked on the sound of Clearly Sheer Whipped Sunscreen as it's dispensed. The product in the bag already has air bubbles in it. When you press the button on top, it creates a pressure in the can that compresses the bag to push the product up and out. The bubbles hit the nozzle and burst, making that noise.
"Early on, when we liked a loud sound, it sputtered really badly – we referred to that prototype as the Fart Can. And we covered a couple of executive vice presidents in product before we got the pressure right. That was not a 'consumer-preferred experience.' Although if we were to sell it to kids…

"By the way I've tasted the whipped sunscreen – it's terrible. We made sure kids wouldn't be tempted to eat it."
on leaving coppertone clearly sheer whipped sunscreen in the car
"It's okay to keep it in the car for a bit because we test for that. We use ovens at all different temperatures to assess response to heat. We put the product in there overnight then test the formula.
"With early Clearly Sheer Whipped Sunscreen prototypes, the foam would kind of sag and collapse. In the final version, the character of the whip is consistent in high temperatures as well as low.
"That said, in summer a car's interior can get really really hot. Would you leave food in a hot car for hours then try to eat it? Leaving sunscreen in a vehicle for a month when it's steamy outside is a torture test. I can't recommend that."
on locking it if you pack it
Twisting the nozzle to the right opens Coppertone Clearly Sheer Whipped Sunscreen for use. If you're packing it for a trip, remember to twist it back to the left, into the locked position. 
Stephen's story: "I was in a hurry to catch a flight to Bayer's offices in Switzerland, so I just threw six cans into my luggage without double-checking. One tin was unlocked, and in transit, the air pressure dispensed the entire contents all over everything in my suitcase." (Obviously, don't let that happen to you!)
on how to apply coppertone clearly sheer whipped sunscreen and how much to use
"The tin is set up to dispense approximately the amount you need to apply to a limb – arm or leg. For face we recommend dispensing into one hand to apply to face, neck, chest and backs of both hands.
"Whatever your technique, whether it's straight from the bottle or tin, or dispensed into the hand before application, it's important to get the product on. It's a simple as that."
• • • • •
the beautygeeks verdict
Luscious. That's a fitting description of the Coppertone Clearly Sheer Whipped Sunscreen texture. It's richer and creamier than, say, styling mousse, or shaving foam, and it's really easy to smooth into the skin. Feels silky, too. Then, as Stephen told us somewhere in the above text, there's a fleeting tackiness after that, soon followed by a soft, powdery finish that feels quite nice and fresh without making skin feel dry.
A favourite detail is the amount the can dispenses. It's on the generous side, which makes skimping next to impossible. One quick pump delivers enough at least for an entire average-sized adult arm.
Another favourite detail: one 142g tin rings in at less than $10 before tax. That's a lot easier on the wallet than a 50mL bottle with an almost $30 price tag, right?
UPDATE: Even more impressive is that even after hours spent outside in sticky, sweaty, drippy, sweltering weather, when I got home at 10pm my skin still felt soft and clean. No icky, gummy residue at all. I liked this sunscreen before that day, now it's set as one of my favourite formulas.
Coppertone Clearly Sheer and Water Babies Whipped Sunscreens SPF 50 ($9.97 CAD at walmart.ca and $9.97 USD at walmart.com) are also available at canadiantire.ca, londondrugs.com, walgreens.com and target.com.
What do you think? Do you have a preferred sunscreen texture? You thinking about trying Coppertone Clearly Sheer or Water Babies Whipped Sunscreen SPF 50? The American version launched in the US last year; if you've already tried it, what are your thoughts?
shoppity shop-shop
COPPERTONE CLEARLY SHEER WHIPPED SUNSCREEN SPF 50 ingredients: UVA/UVB filters – Avobenzone 3%, Homosalate 10%, Octisalate 4.5%, Octocrylene 4%, Oxybenzone 6%. Other ingredients – Water, Aluminum Starch Octenylsuccinate, Behenyl Alcohol, Glycerin, Styrene/Acrylates Copolymer, Dicaprylyl Ether, Microcrystalline Cellulose, Glyceryl Stearate, Cetyl Alcohol, Benzyl Alcohol, Butylated PVP, Palmitic Acid, Stearic Acid, Myristyl Alcohol, Chlorphenesin, Tocopherol (Vitamin E), Cellulose Gum, Lecithin, Disodium EDTA, Lauryl Alcohol, Sodium Ascorbyl Phosphate, Fragrance, Nitrous Oxide.
*edited for clarity and style
prsamples✓ affiliatelinks✓
canadiantire.ca and londondrugs.com are non-affiliate links.
©2018BEAUTYGEEKS
imabeautygeek.com