VICHY AQUALIA THERMAL SKINCARE: THE BIG REVAMP
See ya, silicone! Hiya, scaled-back ingredient lists and '97% natural origin.'
Vichy Aqualia Thermal has been reformulated in a major way for 2018, and I think you're going to like it. I also think it's rather a big deal: at least a couple of the changes are exactly the updates I'd like to see from some other mass skincare companies.
Incidentally, hydrating skincare – more about water than emollients – is important right now because summer stealth-siphons the skin's natural moisture whether we're out in the heat or revelling in the A/C.
The sun is the top cause of dehydrated skin, says dermatologist Sonya Abdulla, a doctor with Dermatology on Bloor in Toronto. "With my patients, we use phototherapy or light-based treatments to help conditions like psoriasis or eczema, and the biggest side effect of that ultraviolet light exposure is dehydrated skin."
Other factors include age – skin retains less and less water as we get older, blah blah – as well as smoking, alcohol, and air-conditioning or central heating. Washing in too-hot water dehydrates as well, as does washing in hard water, says Dr. Abdulla.
an aqualia thermal flashback
I've used Vichy skincare on and off since the mid-2000s when I was at Canadian Living and tried the original Aqualia Thermal line. One application of the night cream changed my skincare life. I'd just got my breakouts under control and my skin smooth via twice-daily applications of Neostrata's 8% glycolic-acid toner. On top of that, I used only a light moisturizer AM and PM. My complexion looked decent, clear of acne, and oily. But when I looked in the bathroom mirror the first morning after trying Vichy Aqualia Thermal Night Cream, I couldn't stop staring: my skin just glowed.
That was the instant I realized that for me too-oily skin goes hand-in-hand with dehydration and that I needed to take hydrating care seriously. (According to Dr. Abdulla, dehydration is a skin state rather than a skin type – yet it's the norm for my complexion... *shrug*) As well as switching on a magic light under my skin, considerably boosting the moisture level tempered the oil slick too, giving me a luminous complexion I'd never thought I'd have, a luminous complexion I'd longed for throughout my blemished 20s.
Would just any night cream have had the same result? Maybe, but I chose Aqualia Thermal back then because it was a fairly basic formula, focussed only on giving thirsty skin a drink – it had no exfoliating ingredients (such as retinol) that would be too much on top of my potent glycolic toner. In fact Aqualia Thermal became the skincare recommendation I made most often to my mostly Asian-with-oily-skin bridal clients in the years I was a freelance makeup artist.
Right now I'm actually using Minéral 89 (adore) and Vichy LiftActiv, which my skin really likes (in fact, I'm a Vichy LiftActiv 'Ambassador'). But I'm a bit obsessed with the reformulated Aqualia Thermal serum, and will absolutely be dipping into the lighter moisturizers this summer. Let me tell you why.
vichy aqualia thermal reformulated
Thus far the revamped Vichy Aqualia Thermal lineup includes the following: 
The new formulas are paraben-free, and different from previous versions in several ways. Hyaluronic acid is a key ingredient, as are glycerin, sodium PCA and mannose, a sugar that functions as a humectant. Here's what's new:
more thermal water: with a stable, 89% thermal water emulsion ticked off their To-Do list, it's like Vichy looked around thinking, "what else can we stuff more of our thermal water into?" They've boosted the thermal water content in the Vichy Aqualia moisturizing creams from 10% to 15%. (Thermal water from the brand's source in Vichy, France, contains 15 trace minerals, including potassium, calcium, magnesium, sodium and iron, that skin likes.)
zero silicone: yep, sayonara cyclohexasiloxane and dimethicone. Does anyone else feel as though removing the silicone modernizes the formula? I'm not an all-natural devotée, but I do prefer silicone-free skincare because I like to layer serums under my moisturizer and pull from different lines. In that situation, silicone sometimes results in product pilling up on the skin. NOTE: the newly silicone-free products are easily identified from the rest of the existing collection via new packaging (cute shape, but a major pain in the carry-on because the broad bases make them an awkward fit in TSA baggies, fyi).
fewer ingredients: the revamped Vichy Aqualia Serum and Gel Cream each contains 14 ingredients (the previous serum had 17); the Light Cream has 20 (down from 25). Smaller ingredient lists are good if you subscribe to the philosophy that fewer lowers risk of reaction. (Stay tuned for the Rich Cream's ingredient list.)
salicylic acid: both the new Vichy Aqualia Thermal Serum and Gel Cream contain a hit of salicylic acid. According to Vichy, it's been added only to the formulas that are particularly attractive to oily skin in order to help keep pores clear, but in such a mild concentration that it won't irritate dry and sensitive skin types.
97% natural origin: to me this is a bit more of a marketing thing, buzz-wordy. Heck, I used it in the hed for this post. But most of us understand that "natural origin" doesn't mean natural, right? You know how an iPhone photo can go through what seems like 19 filters before being posted to Instagram? Natural ingredients can undergo all kinds of processing before they land in a jar, at which point they might be as close to their natural origins as some Instagram-makeup snaps are to the original images.
VICHY AQUALIA THERMAL 2018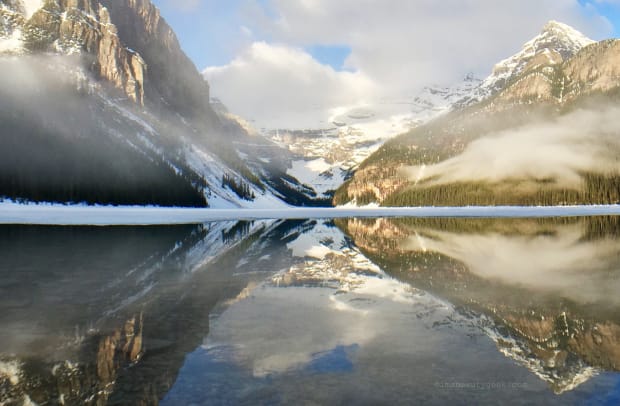 You'll also see the Vichy Aqualia Thermal line referred to on the new boxes as "isotonic." That's another marketing thing meant to convey that the formulas contain a complex of sugar, salt and other minerals similar to our natural moisture, and are thus ostensibly easier for the skin to absorb and use.
Yes, the updated Vichy Aqualia Thermal formulas contain fragrance, although I'm relieved it's not terribly strong. As a concession to sensitive skin, though, Vichy's gone with "hypoallergenic" – reduced allergy – scent. As I understand it, that means an uncomplicated blend, made with components less likely to cause reaction. 
reformulated vichy aqualia thermal review stuff
Obviously I have a nostalgic fondness for Vichy Aqualia Thermal. But this new version is better. I dig all the formula changes, in particular the silicone subtraction and the increase in thermal water content. The serum and Light Cream both sink easily into skin to hydrate effectively without feeling heavy and without creating a film that makes everything else on top of it ball up. (I haven't tried the Gel Cream yet, but it's on deck for sweltering days.) 
If I were to find myself in need of skincare replenishment, I'd buy the serum and moisturizer in a snap. I'd also pick up another Mineral 89 and give serious thought to buying the existing Vichy Aqualia Essence because I haven't tried it yet...
The new Vichy Aqualia Thermal formulas are available now via vichy.ca and non-affiliate londondrugs.com, which delivers across Canada. They should soon also be available at target.com, walgreens.com, ulta.com, escentual.com, and these non-affiliate retailers: beautyboutique.ca and vichyusa.com.
So what do you think of all this? Has any of you ever tried anything from the Vichy Aqualia Thermal range? If you hadn't considered it before, would any of the changes make it something you'd consider now?
•  •  •  •  •
shoppity shop-shop
VICHY AQUALIA THERMAL SERUM ingredients: aqua, glycerin, alcohol denat, caprylic/capric triglyceride, mannose, carbomer, sodium PCA, sodium hyaluronate, salicylic acid, sodium hydroxide, limnanthes alba (meadowfoam) seed oil, caprylyl glycol, acrylates/c10-30 alkyl acrylate crosspolymer, parfum. Code F.I.L.: C212958/1
VICHY AQUALIA THERMAL REHYDRATING GEL ingredients: aqua, glycerin, alcohol denat, caprylic/capric triglyceride, mannose, carbomer, sodium PCA, salicylic acid, sodium hydroxide, sodium hyaluronate, limnanthes alba (meadowfoam) seed oil, caprylyl glycol, acrylates/c10-30 alkyl acrylate crosspolymer, parfum. Code F.I.L.: B212348/1
VICHY AQUALIA THERMAL REHYDRATING CREAM LIGHT ingredients: aqua, glycerin, alcohol denat, propanediol, isopropyl palmitate, butyrospermum parkii (shea butter), ammonium polyacryloyldimethyl taurate, zea mays starch, mannose, glyceryl isostearate, cetearyl alcohol, cetearyl glucoside, sodium PCA, sodium hyaluronate, sodium hydroxide, p-anisic acid, caprylyl glycol, citric acid, acrylates/c10-30 alkyl acrylate crosspolymer, parfum. Code F.I.L.: C214347/1
prsamples✓ affiliatelinks✓
©2018BEAUTYGEEKS
imabeautygeek.com