YEAR OF THE DOG STYLE TIPS & BEAUTY
Look your most fetching – see what I did there? – in lunar-new-year gear, whatever your personal style + limited-edition beauty stuff worth coveting.
More is more when it comes to good fortune, and that's double-happiness true if you celebrate Chinese New Year. It's not over, by the way – the lunar new year spans 15 days of feasting and spending time with family and friends.
My mum's Chinese, but we didn't grow up celebrating it, so for more info I turned to my friend Wendy Lee, a specialist when it comes to blending Chinese and Occidental cultural elements for weddings and special events. (She owns Asian Fusion Weddings and Formosa Events in Toronto.)
"The lunar new year is about welcoming fresh energy," explains Wendy. "Many Chinese began housecleaning rituals weeks ago to clean out the old, banish negative energy, and make room for the new and positive," she says. "Wearing new clothes and new shoes is an important part of those traditions."

(I love that you have 15 days of concentrated focus on attracting good luck to start the year!)

Attracting prosperity and joy with colour is a key element of Chinese culture – feng shui – and it's especially easily achieved via limited-edition lunar new year commemorative clothing and accessories collections, or individual, non-merchandise pieces from your favourite haunts.

Vivid red and gold are traditional auspicious shades, but, says Wendy, this particular Year of the Dog is actually the Year of the Brown Earth Dog. Along with purple, pink, orange and magenta, earth tones such as terracotta, beige, sand and yellow are lucky Feng-Shui colours for the year too. Floral prints featuring roses and orchids are also lucky, and dog motifs adorn everything from sneakers to socks to ball caps to backpacks to key chains to headbands to bowties – you get the idea.
year of the dog style tips
But how do you put all that together without veering into costume-party territory? Our style-expert friend Afiya Francisco, who appears regularly on programs such as Global's "The Morning Show," says it's really about owning your personal style, whether it's over-the-top fabulous or sleek and understated.
If you're all about making an unabashed, whimsical statement, you might pair a roomy dog-decal sweatshirt with a good-luck floral skirt the way Gucci has in the campaign for their lush 63-piece Year of the Dog collection.

A vivacious red frock is a one-and-done option; red splashed with a graphic pattern ups the interest factor and currency. For a more relaxed look, "a vibrant red blouse with a floral print would look fantastic with jeans," notes Afiya.

"But if one bold statement piece feels excessive, go with an accessory instead – an embroidered handbag, for instance," says Afiya. "My personal preference is not so literal. I think it's best to be inspired by the theme and collections."

You don't have to match the lucky shades exactly either. "You want what's going to look good on you and work with what you already have. For example, if that traditional red isn't your colour, look for a deeper version as a nod."
A bonus of looking outside limited-edition collections for pieces at different price points that incorporate some of this year's lucky Feng Shui colours: your find won't look dated as soon as the Year of the Pig rolls in, notes Afiya.

For those who want it, however, a literal statement can also be relatively subtle – and small. Like Zodiac-charm small. Afiya says Links of London does a full collection every year; this year includes a Chinese New Year bulldog charm as well. "Something like that would make a really beautiful keepsake gift for a new mother this year, or for someone who was born in the Year of the Dog."

Danish company Skagen tucked a dog motif out of sight, on the watch back. Swiss watchmaker Rado is even more discreet with two new timepieces that have no visible Zodiac connection. "Instead the back of each watch is inscribed with the number 1314, which in Chinese culture is associated with love," says Afiya. (Rado produced only 1,314 of each piece, which, along with a $3000+ price tag, makes them all the more special).
chinese new year accents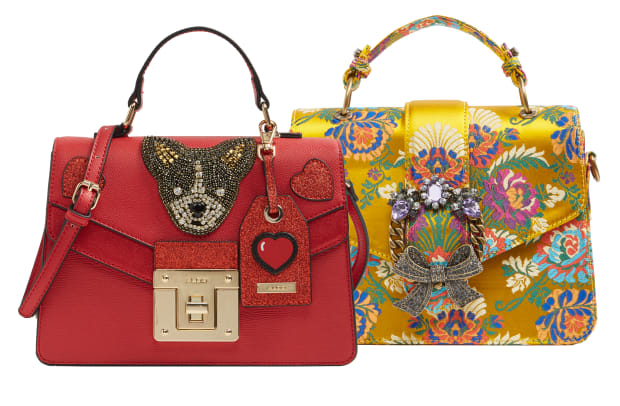 lunar new year beauty
In terms of cosmetics and skincare for Chinese New Year, aside from fiery red lip colour, it's mostly about beautiful collectable and display-worthy packaging I can't help having big heart eyes over. (You too, right? Even if the lunar new year isn't a tradition for you?)

You'll see all this in the slideshow below, but some highlights: Along with an extra-large golden bottle of their legendary Advanced Night Repair serum, Estée Lauder released a sparkling Year of the Dog Powder Compact by Monica Rich Kosann; Clinique went the Marimekko-floral route for their Chinese New Year Moisture Surge Hydrating Supercharged Concentrate; and Canadian company Nudestix just launched a Chinese New Year 2018 Lip Kit in a limited-edition tin.
chinese new year beauty 2018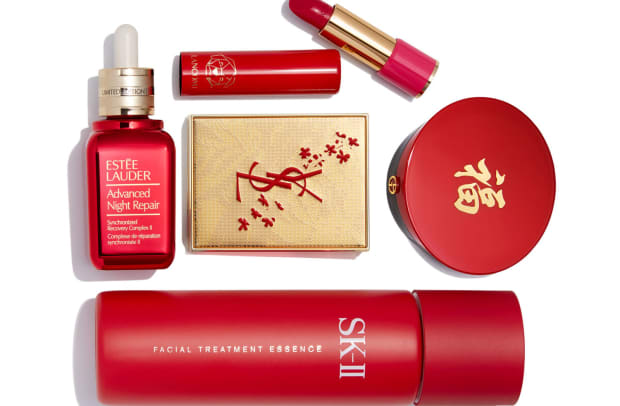 How you incorporate fashion and beauty elements this Year of the Dog is completely up to you, of course. "Don't over-think – there's always a way to make it work," advises Afiya – she's mom to two energetic young boys; her own style is an easy mix of practical and chic. 
"It depends on just how superstitious you are," adds Wendy Lee. "I'll wear winter white because I love it, although some Chinese associate it with mourning. I have family and friends who are more traditional than I am, though, so in general I'm careful about what I wear at least during Chinese New Year."
I love the idea of a collection of these limited editions on display for the 15 days of Chinese New Year festivities and beyond as the start of a new good-luck year. 
But really, do you have to celebrate Lunar New Year to acquire beauty stuff in lucky red-and-gold? And if you have a dog, are you taking advantage of the surge of related merch this year?
shoppity shop-shop style
shoppity shop-shop beauty
(aldoshoes.com, pandora.net and linksoflondon.com are not affiliate links)
prsamples✓ affiliatelinks✓
©2018BEAUTYGEEKS
imabeautygeek.com