CHANEL CRUISE COLLECTION SUMMER 2017
In which Chanel releases a bronzer that ultra pale girls can wear, and three or four other shades.
The Chanel Cruise Collection for summer 2017 seems so... uncomplicated. At first I wondered where the "star" product was. You know, the must-have, too-pretty-to-use collectible compact? Sure, the Les Beiges compact is nice, but it's no Chanel Lumière d'Eté Illuminating Powder.
The more I look at this summer collection, though, the more I dig it. No flashy stuff, just warm, glowing skin in a range of tones, juicy nail and lip shades, and stealth accents of sophisticated yet playful colour.
Five – yep, 5 – shades of Chanel Les Beiges Healthy Glow Luminous Colour ($68 CAD at thebay.com and $58 USD at nordstrom.com) are at the core of the collection. Canada might have just the first four – *eye roll* – in the US at least, they're Light, Medium Light, Medium, Medium Deep and Deep. Subtle pearlescent pigments provide luminosity without obvious shimmer. (I have to add a snap of the ingredient list on the back of the box; in the meantime, it's worth noting there isn't any bismuth oxychloride in the formula.)
The Les Beiges Luminous Colour shade in the above snapshot is Light. More golden-sand than bronze (Chanel calls it a "pinky beige"), it'll be great for really pale-complexion types for whom finding a flattering bronzer shade – read: isn't too dark – is a struggle.
When given an option, I generally go for the lightest shade of bronzer myself, but this I think might match my complexion. In foundation, I tend toward light/medium. That means this Les Beiges Luminous Colour in Light should look like a sun-warmed glow on ultra-fair skin.
I love the unexpected colour in the Cruise Collection limited-edition waterproof liners ($35 CAD and $33 USD at nordstrom.com) and limited-edition waterproof mascaras ($41 CAD and $32 USD at nordstrom.com). For the most part, it's stealth colour, with a playful side that sneaks a wink here and there. (I think in the US there's also a lemon shade called Zest – fun, and not so stealth.)
Green! But easy-for-most-of-us green: Chanel Waterproof Long Lasting Eyeliner in Horizon is a black-green, and Chanel Inimitable Waterproof Mascara in Vert Profond, a young hunter green. (Chanel has done coloured mascara before, of course, vibrant and subtle, too.) 
See the above photo of Chanel model Anna Ewars? This is a grown-up green mascara that adds look-again interest, especially with the Horizon eye pencil to define the lash line – the liner is a dark enough green to anchor the mascara shade without looking harsh, like black. Also note: that's a nice example of eye makeup for hooded lids. #worksforme (Wish I had lower lashes like Anna's, though.)
You'll see in the slideshow later in this post that the Cruise Collection includes a Waterproof Long Lasting Eyeliner in Terra Rossa, a deep eggplant brown, and Waterproof Inimitable Multi-Dimensional Mascara in Brun Profond, a dark reddish brown. They'll look amaaazing with blue and green eyes.
The lip shades in the Chanel Cruise Collection are exactly the kind of sunny, juicy shades you'd expect in a summer lineup. I'd dab them on cheeks, too, to change up the look. (Cheek colour isn't part of the range.)
This is Chanel Rouge Coco Stylo ($45 CAD at thebay.com and $37 USD at nordstrom.com) in Panorama, a limited-edition colour, and Esquisse. Other lippies in the collection show up in the slideshow near the end of this post.
You've seen our Manigeek's Cruise Collection nail polish swatches, right? Love Sargasso, that dark grey with blue-green shimmer.
And here's that slideshow of the collection in brand product images.
CHANEL Cruise Collection Summer 2017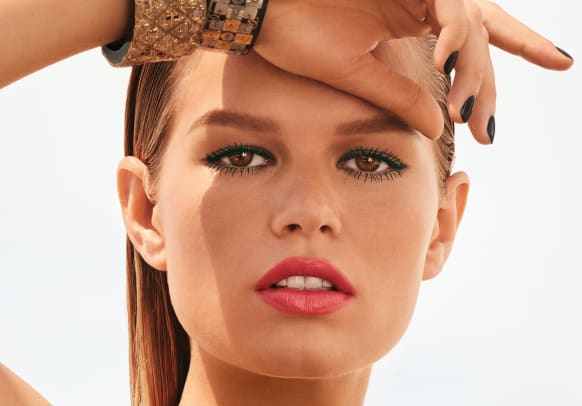 The Chanel Cruise Collection hit counters earlier this month. Have you picked anything up? Thinkin' 'bout it?
shoppity shop-shop
prsamples✓affiliatelinks✓
©2017BEAUTYGEEKS
imabeautygeek.com