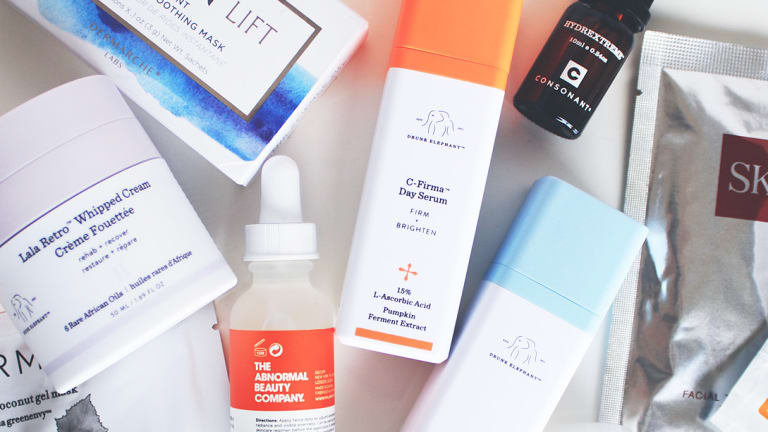 SEPHORA SKINCARE FAVES: BRING IT, 49
Hydrating, smoothing and lifting skincare that delivers results, plus a side of natural and fragrance-free care suitable for sensitive skin.

In partnership with Sephora Canada. Nope, I'm not 49. Not yet. But I will be, in just a few months. Other fun facts about me include the following preferences for keeping my skin smooth and bright:
I like an occasional derm-office chemical or laser treatment, but I've never tried fillers or Botox.
Right now, I'm all about hydrating skincare, mostly in sheet-mask form.
I'm just now crushing on Vitamin C.
I have an enduring love for glycolic acid, always as a separate step from moisturizer.
I don't mind faint, clean skincare scent, but I prefer fragrance-free.
I have little tolerance for natural brands that blithely misuse the word "toxic" and promote a naive belief that natural is always best.
And my sephora.com shopping habits fully support these revelations. *grin*
sheet masks galore
Good hydration is one of the most important things for all skin types. I know my oily/combo skin looks most radiant and feels it calmest when I hydrate it properly. And by hydrate, I don't mean via shea butter, or jojoba, or some kind of oil – those things do not hydrate. They're good ingredients, but they help skin hold onto hydration, which isn't the same thing. By hydrate, I mean give my skin water. Actual moisture. I get that most easily with sheet masks.
I like versions with some heft to the mask material itself. A too-thin sheet paired with a thin serum, and more moisture seems to evaporate through the surface of the mask than gets absorbed by the top layer of skin. A thick, goopy formula, though, like that of one of my favourites, the Too Cool For School Egg Cream Sheet Mask ($8 CAD), can compensate, because it won't evaporate so quickly.
Dr. Jart+ Water Replenishment ($9 CAD) is great. I've bought fair number of these – they're a nice just-because gift, btw. The serum isn't as goopy as the TCFS Egg Cream mask, but it's just as effective and soothing. 
I've also tried Dr. Jart+ Dermask Water Jet Soothing Hydra ($7.50 CAD) and Vital Hydra ($7.50 CAD) and liked them just as much. These two feature a cellulose mask material that prevents serum evaporation from the surface, and they're just a bit less expensive than Water Replenishment, so I'd say start with one of them if you've not tried a Dr. Jart+ sheet mask yet.
The awesomely weird Dr. Jart+ Hydration Lover Rubber Mask ($17 CAD) experience was a little weird too – more details in this review – but my skin looked really calm, even-toned, smooth and glowy afterward, so I'm glad I bought more than one. A little pricey though; buy on sale if you can... you know by this Sunday, or Monday if you're VIB Rouge.
Farmacy Hydrating Coconut Gel Masks ($12 CAD or $32/box of 3) are amazing. The bio-cellulose mask material has a plasticized gel texture that keeps moisture trapped against the skin and prevents it from evaporating through the surface. I keep buying Deep Moisture and Soothing, but have also purchased the Clear Day Mask Medley 3-pack that includes Brightening; that one is as satisfyingly hydrating as well (frankly, skin brightens with good hydration). Out of curiosity I bought an Oil-Control trio as well, but haven't tried them yet. For me, lots of moisture functions as oil-control, but I'm curious as to whether the carotene in the formula will make any difference.
Hurrah! SK-II is finally properly available at Sephora Canada! And SK-II Facial Treatment Masks ($22 CAD each, $170 CAD for 10) are expensive, I know, but they're such a treat; my skin loves them. (Another nice little gift idea, btw.) Famed for their skin-softening Pitera component (aka Galactomyces Ferment Filtrate), they also contain salicylic, lactic and malic acids, which make my skin happy and smooth. The mask fabric is sturdy; I've been known to lift it after 15 minutes, apply some of the remaining serum from the package, and mask for a little longer. (Note: if you avoid parabens, this mask isn't for you.)
I splurged on an SK-II Pitera Essence Set ($125 CAD), which includes a mask and travel size Facial Treatment Clear Lotion and Essence – but it sold out super-fast on the first day of the VIB Sale (which goes until Sunday April 23rd for Beauty Insiders, and Monday April 24th for VIB and VIB Rouge). I love hydrating essences. Applied before serum, they kick skin's moisture level up a notch.
murad hydro-dynamic skincare
I bought a wee Murad Ultimate Hydrating Duo set ($15 CAD) and fell in love. Not only do the Hydro-Dynamic Quenching Essence and Hydro-Dynamic Ultimate Moisture cream make my skin happy, the textures are silky and refreshing and the 5mL and 7mL sizes are ideal for travel. 
I've actually stocked right up on the duo sets; the price makes them a great little deal (used to be $20 CAD, and they're a $27 CAD-value). Oh wait – maybe don't buy those; I don't want them to run out!
consonant hydrextreme
Sephora Canada carries Consonant now! This Canadian company is one of the few natural-formula brands I like, even if they do throw the word "toxic" around sometimes. Launched in the early days of natural skincare, from the outset Consonant's crisp packaging (and its clever text) set them apart. Their fragrance-free options also stood out, and continue to do so – too many natural brands think that only synthetic scents can irritate skin. I dig the Consonant Organic Body Lotion ($27 CAD) in Pure Unscented. Formulated with grapeseed oil, shea butter, cocoa butter, and olive, sunflower and tamanu oils, it sinks into skin quickly with a clean, fresh finish. Great for warm-weather days.
I'm newly obsessed with the Consonant Come Clean Cleansing Sheets ($21 CAD for 3 packs) because they don't sting my skin – I actually bought a package in support and celebration of the brand's Sephora presence. *grin* And I've been a longtime fan of Consonant HydrExtreme ($149 CAD), their award-winning two-ingredient serum that brilliantly boosts skin's ability to hang onto water. I picked up the Consonant HydrGasm Kit ($99 CAD) for oily to normal skin so I could get hands on a travel-size bottle as well as a mini Face Cream and their popular SPF 30 mineral sunscreen. *clappy hands*
drunk elephant
I know, this post is already way long, but I have to geek out about Drunk Elephant. Thanks to our Liza (LEEZA) Herz, who told me about it, I'm a fan of Drunk Elephant C-Firma Day Serum ($100 CAD). We bought it from Sephora in NYC before it became available at Sephora Canada. But I really became interested in the brand when I read this WMagazine interview with founder Tiffany Masterson. This is a woman who understands that natural doesn't always = safe, and how fragrant essential oils might affect skin. Plus, although she uses it in her own marketing, she's questioning the fear-mongering term, "non-toxic."
I've been using Drunk Elephant B-Hydra Intensive Hydration Gel ($65 CAD), which I bought when I spotted it on the Sephora Canada site. Especially for warmer weather, I like the idea of gel moisturizer for oilier skin types, but I don't really enjoy the silicone feel that seems to be a common characteristic. There's no silicone in Drunk Elephant's formula, obvi. It feels great on thirsty skin, sinks in without leaving a can't-breathe film on the face, and it's fragrance-free. Thumbs up!
Drunk Elephant LaLa Retro Whipped Cream ($75 CAD) is a richer formulation meant for dry skin. Like the Hydration Gel, it's expensive, but worth it if you're looking for a comforting, substantial cream that relieves dryness without feeling sticky. I like it as night cream in a really air-conditioned room, but I'll use it much more when winter re-invades.
more vitamin c
I'm on a skin-brightening-and-firming Vitamin-C serum kick right now, so I've been trying all kinds of formulas – I'll leave those details for another post. One of them, though, is Deciem Hylamide Booster C25 ($38 CAD). It boasts a 25% Vitamin C concentration, and is so reasonably priced. Also: fragrance-free! Yay!
Important to note about Deciem Hylamide Booster C25: it has an oily-ish texture, so apply on freshly cleansed and patted-dry skin to facilitate easy absorbtion and for comfort. (Oil on really dry skin tends to sit on top and feel icky, at least to me.)
murad rapid resurfacing peel
Glycolic acid saved my skin during its breakout years in my 20s. It kept my skin clear of acne and smoothed away all rough, flaky textures, too. I used it in a toner form that fit easily into my regimen, after cleansing and before serum. I still find it easiest to use glycolic acid this way. Enter Murad Rapid Resurfacing Peel 10% Glycolic Acid wipes ($52 CAD), which I first received as a sample, then purchased. I know, expensive, but hang on: as well as a potent dose of glycolic acid, the formula also contains ascorbic acid – Vitamin C.
The real deal, however, is that the pre-soaked sheets are so large that after you do your face, you can do neck, chest, upper arms – wherever you might have bumpies that need smoothing away. I like to travel with these because a) zero spillage, and b) I can get more than one use out of a a single sheet.
dermarché labs roloxin lift
I'm mad about these Dermarché Labs Roloxin Lift Instant Wrinkle Smoothing Masks ($59 CAD box of 5); you may remember that I geeked out large about them here. They're so not inexpensive, but they're so. worth. the. splurge. In just seven minutes, one Roloxin Lift mask really does give the skin a discernible lift and firmness that lasts pretty much the whole day, until you remove your makeup. I bought another small box this week to catch a price break via the current Sephora sale.
While my wallet is giving me side-eye – it's (justifiably?) afraid I'll suddenly attain VIB Rouge status through 2019 – my skin's happy and comfortable. Bring it, 49. I'm ready.
Have you tried any of these skincare items? Have you shopped the sale? (Confession: I have, more than once. Oops.) What's your favourite hydrating mask or skincare?
shoppity shop-shop
iBought✓affiliatelinks✓
©2017BEAUTYGEEKS
imabeautygeek.com