DYSON SUPERSONIC HAIR DRYER: A DATING STORY
After testing the Dyson hair dryer once, I thought about it a lot in the months following, much like one might think about a good first date. Was it as good as I remembered? Could that nozzle issue be a deal-breaker? What would a second date reveal?
About a decade ago, maybe more, I stopped blowdrying my naturally wavy hair. When I realized that instead of spending 50 minutes with a salon-strength blowdryer + 10 more minutes with a professional flat iron I could just throw some curl-enhancing mousse or gel in my wet hair and leave the house, that was it. Until I tried the Dyson Supersonic, I hadn't blow dried my hair myself more than three times in about 10 years. That's changing because after a serious courtship, I'm about to throw down on the $499 CAD dryer.
our first date – not perfect
I first tried the Dyson Supersonic months ago, a borrowed unit and just once. I have no idea how long the session took me; it was around 3am and I forgot to time it. Instead, I got wrapped up in how comfortable it felt in my hand, the technique tweaks I needed to make, how beautifully it smoothed my hair, and that when I finished, I had one of my best blowouts ever, better even than 99% of the salon and blowdry-bar blowouts I've had in the last 10 years. I got a lot of compliments on my 'do in the days afterward.
That Dyson blowdry experience wasn't perfect though. I'm used to using a standard hair dryer the way a pro does, draping hot lengths of hair over the long nose and nozzle as I remove my round brush to repeat the smoothing-while-drying action section by section. That technique didn't work with the Dyson Supersonic: 1) there is no nose and the nozzle alone isn't quite long enough, so 2) I kept knocking the nozzle off the dryer with my brush.
After I returned the loaner unit, I thought about the Dyson Supersonic a lot, the way one thinks about a good first date. Was it as good as I remembered? Sure there was that nozzle hiccup, but was it a deal-breaker? Maybe my memory is flawed and I'm just influenced by my date's social profile and very good looks (not the hottest date ever, though – the Dyson Supersonic hits a max of 212ºF). How will I know without at least a second date?
our second date...
So I borrowed the Dyson Canada tester dryer again, and this time gave it a good workout with all the attachments, and timed the sessions.
With a Dyson Supersonic, I can get my quite thick, just-past-shoulders wavy hair from sopping wet to fully dry in 10 minutes if I'm doing a sleek blown-out look. I need another 5 or 10 minutes to finesse the style. And even with just the concentrator nozzle (vs the narrower smoothing nozzle; see the brand info video a little later in this post), I don't need a flat iron at all. (If you have less thick hair with frizz, you could be done in 5 minutes like Brooke at BlushingNoir.com, or less, like the woman in the video below!)
To wear my hair wavy, I need only 3 or 4 minutes with the diffuser for good texture before I leave the house (that's a major improvement on the still-wet hair everyone has had to see at events over the last bunch of years).
As for that nose-and-nozzle issue, turns out it isn't a deal-breaker. I just don't use that technique – I don't have to.
While on my second Dyson Supersonic date, I stayed with my brother and eldest niece Erin, the one with the hair of 10 very lucky women. Her hair is much shorter now, but still a huge pain to blowdry straight because it's so. very. very. thick. Of course I had her give the Supersonic a whirl. The dryer cut her drying + flat-iron time (two or more hours!) in half, including time spent with me finessing the ends. No flat iron required. 
Erin had one suggestion for Dyson as well, though: they might want to re-think the placement of the on/off switch. On account of how she was holding the dryer, she accidentally turned the dryer off a couple of times while using it. (I've done that with standard dryers; could just be about adjusting to using a somewhat unfamiliar tool.)
it's not about the heat
Oh you know I want to quip that it's about the quality of the blow job vs how hot things get. But that would be lacking in decorum, as my mum would say, and she might well already be hyperventilating over the damage I'm about to do to my wallet with this thing.
All the tech details are in my previous Dyson post, but it's worth reiterating here that the Dyson's precious gift of time comes not from heat, but from the incredible airflow the Supersonic can generate. The brand's signature air-multiplier technology draws 13 litres of air through the back and the base and propels it through the barrel at three times the force at which it pulled it in.
Dyson Supersonic Hair Dryer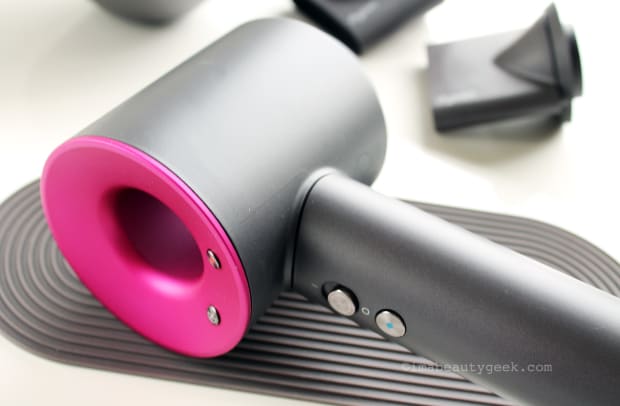 The Supersonic's ability to dry so quickly without scorching heat makes it a good friend to all hair, particularly fragile types. If you have delicate hair, and you must blow dry, the Dyson is one to consider, especially if your stylist has advised you to turn down the heat when you style. You'll eliminate the risk of frying your hair, and certainly the super-fast dry time will lessen the overall tugging stress of styling.
NOTE: the airflow will blow stuff around your bathroom countertop if you wave that thing around. (It's so powerful that if I aim the nozzle at my terrycloth shower curtain, I have to push back to keep the dryer steady and maintain the starting blow distance from the fabric.)
So yeah, the Dyson Supersonic and I had a damned good second date. In fact, I'm ready to hook up for life. Yep, to a blowdryer. After 10 years of not bothering to blow dry my hair myself at all. Now I want to blow dry my hair. A lot. Whenever I want.
Now about that price tag. Already we know this hair dryer is seriously different from all others on the market. As I mentioned in that other post, the company put 103 engineers and scientists to work developing unit, produced 600 prototypes and invested four years and the equivalent of $100 million CAD in research. You can do that when you're planning to recoup that cost once the product hits the market and you're unconcerned with general industry pricing.
That said, pulling the spend trigger on a $499 CAD hair dryer is still a risk when said dryer has only been around for about a year. It seems super sturdy, apparently went through major durability testing, and comes with a two-year warranty, but still – what if it breaks down in 25 months?
Love is a risk, baby.
The Dyson Supersonic is $499 CAD at thebay.com and Sephora Canada (online too), and $399 USD at sephora.com.
Have you tried a Supersonic yet? Thinking about it? Or have you bought one already? Tell us everything!
shoppity shop-shop
borrowedsample✓ affiliatelinks✓
©2017BEAUTYGEEKS
imabeautygeek.com