KATE BECKINSALE'S MAKEUP CHALLENGES IN "UNDERWORLD: BLOOD WARS"
Geeking out with veteran beauty-pro Chase Aston on vampire makeup vs red-carpet makeup, exactly what he used on set, and the most challenging part of Kate Beckinsale's makeup as Selene.
One of the very best parts of Beautygeeks is that I get to maintain contact with favourite experts met while I was a magazine beauty editor. British celebrity makeup pro Chase Aston (his long career includes working with supermodels Kate, Claudia, Cindy, Naomi and more) is one of my favourites of my favourites, a hugely engaging personality and truly a delight to chat with as well as to interview. He always has the most amazing time-saving technique tips. He's endlessly creative (glitter winged liner and KY Jelly here), practical (see this wet-eyeshadow tip), a genius with in-a-pinch tricks, and he's got a smokey eye down to two (2!) minutes – there's a glossy smokey eye here, too. (Some of these clips date back to our early website days; now I'm wondering about Wow Air fares to London just so I can shoot new Chase videos.)
Chase has been working with actress Kate Beckinsale, most recently on her US talk-show tour promoting her just-opened movie Underworld: Blood Wars (it's the fifth in the successful film franchise, her fourth as kick-ass vampire Selene). 
And here's the coolest thing: as well as her makeup for red carpets and interviews, Chase did Kate's character makeup for Underworld: Blood Wars. Here's our completely geeky chat on creating Selene's look, the blue-light issue, water and snow scenes, and (what would be for me) the most challenging part of Kate's character makeup.
kate beckinsale's makeup as selene in underworld: blood wars
Beautygeeks: we know you as an editorial and celebrity makeup artist, Chase. And here you are doing that plus movie-character makeup with Kate Beckinsale. How was makeup for Underworld: Blood Wars different from Kate's makeup for her appearances?
Chase: In movies, makeup is all about the character, and this one, Selene, is a kick-arse Death Dealer warrior vampire. She's a strong woman, fierce, cool and a bit sexy in that outfit, but she's not about glamour.
In fashion and beauty, the goal is to get you looking at the makeup, the styling, the jewelry. In this movie about a vampire killing werewolves, you don't want to be all 'look at those smokey eyes,' or anything that distracts from the character development. [Laughs] It's not like working on a Tom Ford movie, you know? A Single Man was all about the styling and Julianne Moore's hair and makeup. With Selene, it was about making her look ageless, but at the same time, believable and edgy as the character evolves. We enhanced what Kate already has, but in relation to her role, without calling attention to the makeup itself. This is also a continuation of the last Underworld film, so we had to be sensitive to that too.
And then there's the "look" of the movie.
Chase: The moody, toned-down, blue-grey cast of the film is a big part of the makeup in this movie. It's a bit grainy, and it's 3D, too. Any kind of heavy-handed makeup would end up looking really, really dark and harsh, and magnified on screen. For example, a normal smokey eye would turn out like a big black panda eye, and mascara on the bottom lashes would create unwanted shadows and look like spider legs. So overall, I kept the application very delicate and used a palette of mostly cool browns and greys.
Okay, what did you use, how and where?
Chase: Foundation was very, very sheer, barely there, and I didn't use powder. Instead I prepped Kate's skin with one of three primers, depending on the scenes. When we wanted her to look a bit more radiant, I used Laura Mercier Hydrating Foundation Primer. For a more matte effect, I used Laura Mercier Oil-Free Foundation Primer. And for scenes that involved snow or water – a makeup artist's worst nightmare, to be honest – I used Vincent Longo Water Canvas Primer.
I used Armani Luminous Silk Foundation just to even out the skin tone a little. Kate's got amazing bone structure and cheekbones already, so I emphasized that a bit with a very light application of matte contouring powder in taupe just under the hollows of the cheeks, nowhere else, and a little bit of highlighter on her cheekbones and by her eyes. She needed hardly any concealer, just a tiny dot under the eyes and in the corners. Kevyn Aucoin Sensual Skin Enhancer is my favourite because it looks amazing on film, never waxy or cakey or heavy.
To enhance Kate's eyes as Selene, I used a really rich burgundy liner; with that blue cast, it looks a bit smokey, but not as hard or harsh as a dark brown or black would appear. The mascara is Max Factor Masterpiece Waterproof in Black, my favourite. It makes the lashes really black and it does. not. budge. It's like, whoa. And there's a bit of Benefit Precisely, My Brow Pencil for definition – but it's not a fashion brow.
What did you use on Kate's lips?
Chase: That's a fun detail. Obviously in a film franchise like this, continuity is important, especially when this film picks up from where the last one ended. But you want to put your mark on it as well, while staying true to the character. I did that with the lip.
When the makeup designer (Davina Lamont), the director (Anna Foerster), Kate and I first talked about it, we decided we wanted a lip colour that would look pink and shimmery, but matte at the same time. We didn't want a stain because it would look too solid in the moodier parts of the movie, and lip gloss was out because when you're going for fierce-and-edgy vampire, and she's sporting a glossy lip in the middle of killing werewolves, it's a bit silly, really. Magnified on the big screen, shiny lips would completely distract you from the story, wouldn't it.
When you see Underworld: Blood Wars, you'll notice that as the lighting changes throughout, Selene's lips go from a sort of rosebud pink to quite a rich garnet and back. That's all just one product, no special effects. I created it with a powder blush, Bourjois Paris Rose de Jaspe, a soft pink shot through with shimmering gold. I just used a fingertip to smudge the blush all over the lips, then a brush to put a little foundation around the edges to give them subtle definition – I didn't want it to look sharp or fashion-y.
I don't want to spoil the movie for you, but there's a rebirthing scene, and in that her lips look a really soft rosy pink, with a little shimmer. But when the film goes all moody and dark, Selene's lips change colour – it's the gold shimmer, and it looks a little bit metallic and edgy. And it stays put really, really well, even in snow and water scenes, because the warmth of the lip won't break the powder down.
Did Kate's lips never get dry? I'd be freaking because I'm not wearing lip balm.    
Chase: Kate was amazing, because I said, 'The lips will feel dry, but it'll really work to give us the effect we want,' and she was like, 'Yeah, okay. Cool.' So between takes and when Kate had breaks, we'd take the blush off the lips. We got around that in the end when I started using MAC Prep + Prime Lip Primer underneath to add a bit of moisture while keeping the lips matte.
How did you know it was going to work? Had you used this particular product before, on another job?
Chase: Well, we knew we wanted a stain, but not a standard lip stain formula, and we didn't want gloss. And we needed it to work with the grading of the film, to be consistent throughout, and we wanted that bit of metallic finish too. About 10 or 12 years ago, I did a beauty shoot that involved cross-processing with the film. I thought, 'Oh my God, I remember that blusher looked amazing,' so I went tottering down to the local drugstore and bought about 50 of them. The man at the counter thought I was mad, but I knew it was going to work. Plus it's really cheap, not even £10, and as you know, Bourjois blush has been around for more than 100 years! And throughout the whole movie, through every lighting change and with the grading of the film, it was great – like a little bit of stain, a little bit of colour, and now and then you get that shot of colour poking through the metallic finish. Fabulous.
And Kate was willing to deal with the dryness to get the payoff.
Chase: Exactly. Her character is a vampire Death Dealer, and although Kate has perfect lips anyway, you can't have a perfect finish. It's about keeping everything as believable as possible, like dirt on her face when she had to fight. You see in some movies when the character has a big fight and comes away with a tiny little cut on an otherwise flawless face, and it's like, 'No, no, no, no, we need to go for the full-on you've-been-slapped-about-by-a-werewolf. You need to have a few bruises and dirt on the face.'
Did you do the special-effects makeup on Kate as well?
Chase: I did all the blood in Kate's mouth, but any sort of cuts and bruises were handled by Davina Lamont, the head of makeup. She's fabulous. When we shot the fight scenes, she'd come in to design and do the first application of cuts and bruises, and I maintained it during the day, minimal touch ups.
One of the other amazing things about Kate is that she's one of those perfect models of an actress. Makeup just doesn't budge on her. You do it properly, you take your time, and it stays put. For continuity and for re-applying, it's an absolute joy.
Now what about skin prep on Kate? What did you use before starting her character look?
Chase: Kate does all her own skincare. She has her favourite products, and she'd come to the make-up van completely cleansed, toned, moisturized, ready for action, and then I would start the prep with matte primers, et cetera, et cetera. The moment we stopped shooting, Kate would take her make-up off. She looks after her skin. She has an amazing complexion.
One of the things I love most about your work is that you're so FAST. Were you that quick with Kate's movie makeup too?
Chase: At the start you have a week of doing make-up tests and lighting tests and whatever, and once everything's approved, there are only little, slight variations for different scenes. Of course when the scene is all ice glaciers, fighting werewolves and getting covered in fake snow, then you've got to get all of that off in five minutes to redo a scene, oh yeah, that's really good fun.
But everything else flies because you know exactly what you're doing. And when you've got someone who has such an amazing face, and you don't have to do any kind of prosthetics or age the character, it's great. Kate's done tons of movies, she's a major professional. She has her preferred team that knows her face and the character. By the time you're getting into the second week, you're getting that makeup down to 30 minutes, sometimes even less.
Movie Makeup in Underworld: Blood Wars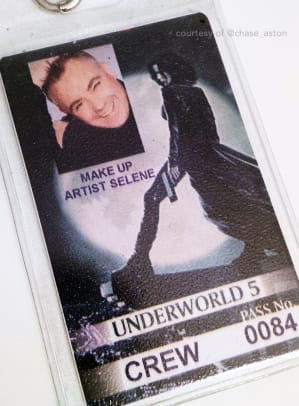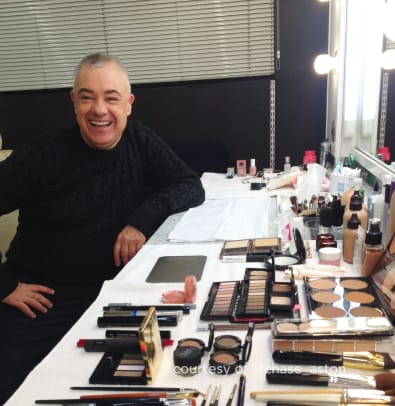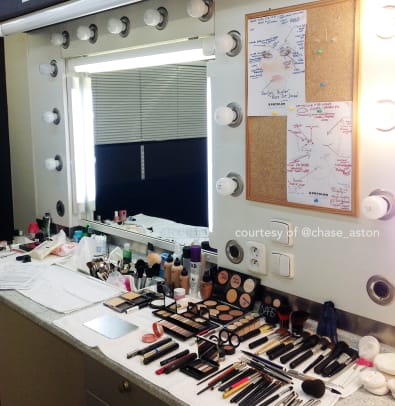 Was this the first movie set you've worked on? How was the experience in comparison with beauty and fashion?
Chase: I've done lots of TV and a million beauty commercials and whatever, but it was my first ever big feature film, and that came along from working with Kate. We just hit it off, and she was just like, 'Oh my god, you get my face.' We did the make-up tests, and it was like, 'Yeah, you're on the movie.'
You hear all these nightmare stories from people about film crews, but this isn't one of those. Underworld was sort of like a dream. There was no drama. There was team camaraderie in the makeup van. You're the first person to see the artist come in in the morning, and you're the last one to see them in the evening. Sometimes it's a really long day, and the artist just wants to come in and just close her eyes and have her hair and make-up done, look and feel fabulous, and then go. Then other days, you're just laughing and laughing, and you've got your sides just splitting. It's just like having your mates at school around you. You know exactly what to do, you get the project done, but at the same time, you enjoy it. That's what makes it really enjoyable, when you have such a connection with your artist.
For me it was also fantastic to see just how different it is from the editorial and advertising world. In fashion and beauty, you're so used to totally enhancing a model to a whole different level each time you do a shoot. On a film, it's more about bringing that person's character to life without overpowering her. That's a challenge I loved about doing the movie because it was so different from my comfort zone. It was fantastic.
•  •  •  •  •
Whew! I know this was a long one, lovelies, but I was so geeking interested in Chase's makeup process for this movie. Plus, the Underworld film franchise is right up my alley – I've seen all the instalments leading up to this one. I've yet to see Blood Wars; hope to get a chance soon – bonuses include Theo James (Divergent) and the incredible Tobias Menzies (Outlander).
Have you seen any of the Underworld movies? Are you a Kate Beckinsale fan? What did you think of the details on the factors that influenced Chase's product choices and application decisions? And how about the quirky choice of a blush from a 154-year-old brand to colour the lips of a movie vampire born in the 14th Century?
shoppity shop-shop
affiliatelinks✓
©2017BEAUTYGEEKS
imabeautygeek.com