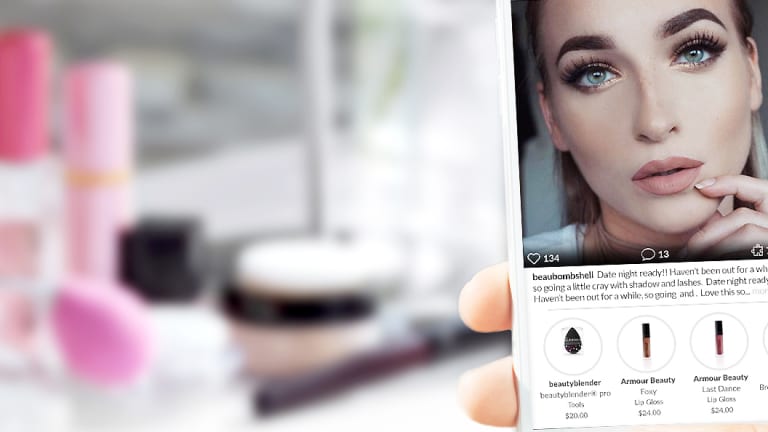 BEAUBYTE CHANGES FACE OF ONLINE BEAUTY BUYS
A new Instagram + Facebook + Sephora + Tinder + RewardStyle mash-up facilitates informed beauty purchases without leaving the app.
In partnership with BeauByte; thoughts and opinions are my own.
When it comes to making online beauty purchasing decisions, what's more helpful than arm swatches of makeup? Faces with colouring similar to yours actually wearing the makeup, of course! And lo, there's a new shopping-community app called BeauByte that's set up to show you exactly what you need, and you can make your purchase right away without leaving the app.
Before we get further into the BeauByte details, know this: it's b'yoo-bite. Yes, "Beau" as in "Beauty." Any time you see "Beau," read b'yoo, as in new-b'yoo, bae-b'yoo, b'yoo-babe, glam-b'yoo, chic-b'yoo...
Of course if you're French, bo still makes sense. *le grin*
what is beaubyte (b'yoo-bite)?
BeauByte is a free, comprehensive beauty-focussed shopping app that encourages users to post face-of-the-day selfies, like other member photos, tag and review favourite products, buy directly from the e-store within the environment, and, on every sale they've influenced, earn BeauBux (b'yoo-bucks) to put toward their own future purchases.
how does beaubyte work?
Think of BeauByte as a mash-up of Instagram, Facebook, Sephora, Tinder and RewardStyle:
Create a profile, post photos, tag the makeup and tools used, and mark products as favourites.
Scroll through member photos and rate them by swiping right to like or left to move on. Photos you like are arranged in a grid in your profile so you can go back to them to check out product tags. Photos you swiped left disappear from your feed forever (and no-one but you and the app knows).
Use BeauByte often so it can get to know your likes and dislikes, i.e. member posts that feature similar hair colour and skin tone to yours, or products that interest you most often.
Accumulate points that move you up the shopping ranks to achieve perks, such as free shipping on your first order, site-wide discounts, free samples, promotions, events, limited-editions and more.
beaubyte brands and products
Makeup and skincare brands in the BeauByte store include big names, cult favourites and niche brands too, many of them hard to find at local shops. Pricing is set by the cosmetics companies and is on par with other retailers.
how to earn points and beaubux
Earn points right away by posting a profile photo, rating member posts and favouriting products. You'll also get points when you review any BeauByte-available items you've used, and by making purchases.
Earn BeauBux when another member looks at your posts and clicks on one of the products you've tagged underneath it, and then eventually buys it. When that product is purchased, 10% of the price goes into a BeauBux kitty.
If yours was the only post that influenced that member's purchase, the BeauBux kitty goes to you.
If that member clicked on the product under three other member posts as well as yours before she bought it, you and the three other members share the BeauBux kitty.
And of course the more purchases you influence, the more BeauBux you make, and the more BeauBux you have, the more you can use toward your own purchases. Save up a bunch to use at once and you could get stuff free!
how to get started on beaubyte
This looks like a lot, but it's really, really easy and takes very little time, I promise! Here's what to do:    
Download BeauByte free from the App store via this link. (Psst! Our link automatically gives you $5 in BeauBux to use in the BeauByte shop.)
If asked for an invitation code when you start the set-up process, use BEAUTYGEEK.
Select the face shape that matches yours, along with skin tone, eye colour and hair colour.
Immediately post a profile photo – you get points for that.
Then post a face-of-the-day photo – you get points for that. Tag a product or products that you used for your look.
Rate member photos. You get points for every left or right swipe.
You get points for buying stuff too, but don't buy anything until you get 1000 points! That's because your first 1000 points = free shipping on your first order! (The next free-shipping level is 5000 points, and you get free shipping on all orders.)
At the moment, BeauByte is available only on the App store in the US and for the iPhone. An Android version is expected soon; stay tuned for news of BeauByte's launch in Canada.
One of the concepts I particularly appreciate is the intuitive nature of the app that eventually streamlines the content for you based on your taste. I also like that BeauByte isn't about accumulating followers. It's like shopping at a site like Sephora, except the key influences are photos of other people wearing products in shades that would work for your colouring.
BeauByte launched officially just a couple of days ago. If you download it now (free via the US App Store), you'll be among the first users.
What do you think so far? Intrigued? Leave us a comment below! If you download BeauByte, please share your feedback with us too!