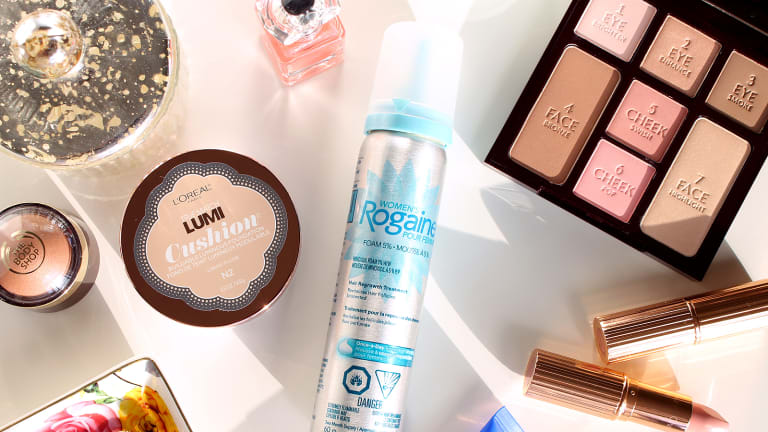 AGING + THINNING HAIR: ONE WOMAN'S STORY
So many of us deal with an appearance-related insecurity that kicks repeatedly at our self-esteem. If thinning hair is yours, good news: you may be able to cross that off your list.

In partnership with Women's Rogaine; thoughts and opinions are my own • I don't really hate aging – that would be silly. But I actively dislike certain things about it, like diminishing collagen and elastin, increasing presbyopia, and thinning hair.
Luckily, although I side-eye the soggy tumbleweed in my bathtub whenever I shampoo, I have little cause to complain. Although perhaps a bit thinner than it was when I was younger, my hair's not thinning much so far.
For one of my 50-something friends, though – let's call her Kelly – a gradually increasing visible part and random scalp sightings in elevator mirrored-ceilings started to plague her a couple of years ago.
"It's the awareness that the thing you did when you were an undergrad, where you just pulled on sweats and threw your hair into a ponytail – those days are so far gone," she says. "After a certain age you have to really groom it up to leave the house looking refreshed, and it's exhausting. Beauty, to a certain extent, becomes triage as you get older."
In an effort to slow the thinning, and yes, reverse it, Kelly has tried all manner of treatments from thickening regimens to supplements to medicated remedies. She found success with Women's Rogaine.
"There are superficial solutions, but they tend to add extra steps, and I found some of them drying on my hair – it's fragile to begin with," she says. "If you can find something that means you're not faffing around with thickening sprays all the time, that's ideal."
A medicated foam now accessible at drugstores without a prescription, Women's Rogaine relies on an ingredient called Minoxidil that slows hair loss. Some women, Kelly included, experience regrowth, too.
Women's Rogaine Foam requires a once-daily application that is, of course, an extra grooming step, but because she's noticed a positive difference, Kelly doesn't mind. "I use it at night," she says. "Like absolutely everything in life, it's all about compliance. It becomes part of your routine and you get much faster using it."
Kelly first started to see results about four months in. "After a while you sort of forget to keep checking for evidence that it works," she adds. "And about eight months later, you're like 'Omigod! Hair!"
This video from Women's Rogaine Foam explains a little about how it works.
We're going to be talking about this a bit more in future posts. There seems to be a number of factors related to thinning hair, and when to start using Women's Rogaine is an interesting topic. Plus, you might have questions, too.
Women's Rogaine is available sans prescription at Canadian drugstores now.
Is thinning hair a concern for you? Have you ever used Women's Rogaine, or had questions about it?