FREE STUFF FOR CELEBS: TIFF 2016 BASK-IT STYLE
This film-fest gifting service focusses on giving A-list stars a hit of Canadiana, direct to their hotel rooms.
When you have a crowd of celebs descending on a city for a big event – film festival, awards show – gift lounges happen. They're all about getting product into famous hands in the hopes they'll get a mention or exposure, yada yada yada... you know how it goes.
I popped into a couple of such lounges set up for the 2016 Toronto International Film Festival to see what was on offer. This one, organized by a company called Bask-it Style, focussed on giving celebs at the Thompson Hotel in downtown Toronto a collection of mostly Canadian gifts from books to jewelry, snacks to wine, and on-the-go beauty, too. 
In the eight years it's been around, Bask-it Style says they've delivered (through hotel partnerships, they send gifts directly to A-lister hotel rooms) to stars such as Matt Damon, Naomi Watts, Julianne Moore, Jennifer Garner and Colin Farrell.
This year, treats were packed into a roomy carry-all tote crafted from up-cycled upholstery materials by veteran Canadian fashion designer Annie Thompson (no relation to the hotel). The total value of the gift each celeb received was $1,400 CAd.
Here's a little behind-the-scenes clip with Annie as she describes the bag:
One of the other gift-ers that caught my eye was Canadian custom fine-jewelry design company Studio 1098. Aside from a fun selection of cuff links and tiny maple-leaf pendants and earrings, owner/designer/gemologist/metalsmith Tamara Kronis has created a Confederation bracelet to celebrate Canada's 150th birthday in 2017. A-listers received earrings or cufflinks, but I wanted to know more about the bracelet; it features our 10 provinces in geographical order..
Favourite fun fact: one of the tricky things about crafting this Confederation bracelet was getting the proportions of the provinces right so they all fit a specific bracelet length. "We've got to space them properly because otherwise you're going to lose one along the way, and we've tried not to do in Canada for many years," she quipped. (For our international friends: Tamara is referring to Quebec's separatist movement.) 
As well as the Confederation bracelet that features all 10 provinces, Studio 1098 will also offer cufflinks in the shape of each province, and single-province bracelets, "so you can show your provincial love, and also so that it's probably more affordable," she says. "Canada is a country where sometimes it feels like we can only afford one province."
The notion of personalized service at a shoe shop seems a bit odd in this age of chain stores and online shopping. And by personalized, I mean Mila's Fine Footwear sales associates want to help you find the right shoes for your lifestyle, your wardrobe, and your overall fashion sensibility. 
This is where go to when you want a specific type of shoe or boot, but haven't a clue what brand or style will deliver your needs. Sounds almost quaint, doesn't it?
The selection of gifts each A-lister at the Thompson hotel received is as follows:
Bask-It Style TIFF 2016 Celebrity Gifts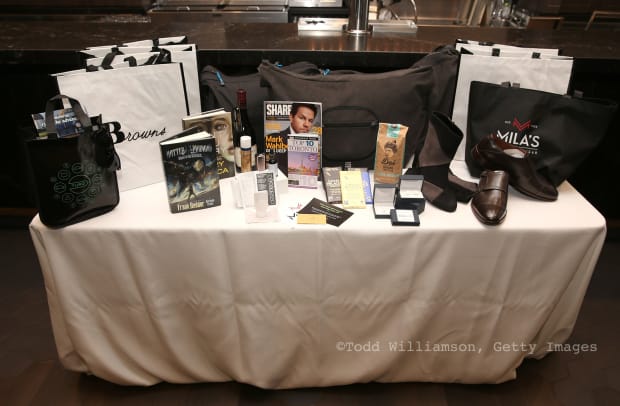 What do you think of all this? Do you have an opinion on celebrity gift lounges in general?
prsamples✓affiliatelinks✓
©2016BEAUTYGEEKS
imabeautygeek.com