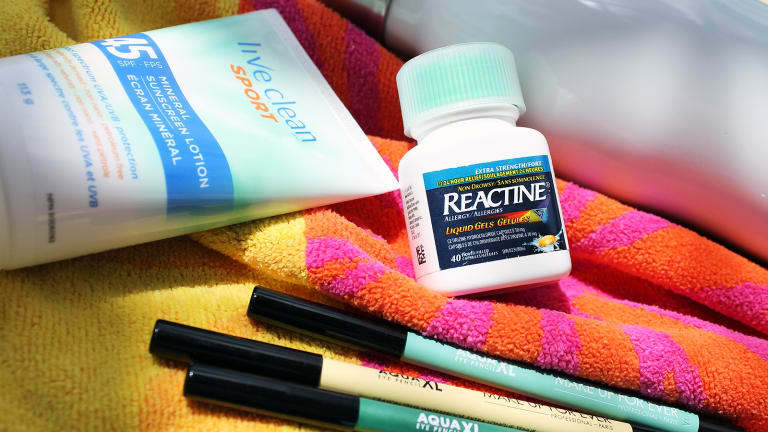 BEST WATERPROOF COLOURED LINERS FOR MUDDLERS
Even if you're muddling through seasonal allergies, you too can live life brightly in vivid coloured liners.
In partnership with the makers of Reactine; thoughts and opinions are my own • If you've been suffering seasonal allergies all summer, or longer than usual (mine have lingered this year), isn't it time to stop muddling through? With only a few official summer weeks left, who wants to waste valuable time bothered with itchy, watery eyes and a runny nose? I don't muddle – why not is obvious from the opening image and first line, isn't it? So let's get to the makeup stuff!
Waterproof eyeliner and mascara are key when seasonal allergies are trying to spoil our fun. (They're also essential against oily lids – I can't be bothered with checking my face in a mirror throughout the day, never mind constant touch-ups. Who's got time for that?) I tested much of the following makeup in the humidity-soaked hot weather that comes with tropical beaches. I also roped my young nieces Erin (almost 15) and Lauren (almost 11) into modelling fun liner looks you might try if you're feeling adventurous. If you're not so much into colour, there's still one unexpected shade you should add to your eye-makeup repertoire – it'll look good in Fall, too, I promise.
best waterproof colourful liners
Unless they're shades that make your eyes appear less bloodshot, colourful liners aren't usually a good idea for eyes reddened by seasonal allergies. But you already know I'm a Reactine advocate, so redness-schmedness. Summer is, after all, all about colour, and we have weeks left until sweater season. Besides, Fall is about colour too, right?
inglot amc eyeliner gel and kohl pencil
Inglot is a Polish line of cosmetics I recently got to know via Broadway makeup artist Brian Strumwasser. Lovelies, this is a brand that is making its beauty mark under the hot lights and through insanely-fast costume changes on theatre stages around the world. If you're looking for makeup to take you through the sneeziest season or drippiest humidity, investigate Inglot.
In the eyeliner category, Brian strongly recommends Inglot AMC Eyeliner Gel; it comes in amazing shades and the formula is safe for using on the waterlines. I got my hands on an Inglot Kohl Pencil in a new shimmery white, a shade I love for lining my lower waterline to brighten my eyes. It glides on softly, sets to a going-nowhere finish, and also comes in a pale nude that is just as effective making the whites of the eyes seem more clear.
make up for ever aqua xl eye pencils
One of the biggest liner launches this year is Make Up For Ever's Aqua XL Eye Pencil ($25 CAd at sephora.com), a range of waterproof pencils in fabulously playful shades. I'm fairly conservative with colour on my eyes these days – at my age, bright colour tends to compete rather than enhance. But the right shade of rich green, or deep purple against my brown-hazel eyes... yes please.
For the young or young-at-heart and those who just love colour, Make Up For Ever Aqua XL pencils are so. much. fun. They'll also stay in place when challenged by watery eyes as a result of seasonal allergies. Please enjoy these looks on my sweet, happy-to-help-out nieces.
We kept these applications super uncomplicated, rather like the girls might have thrown them on themselves before running out of the house for a pool party or ice cream. I love how this look emphasizes the slightly exotic shape of Erin's lovely eyes (that's where her quarter-Asian heritage shows itself!).
I adore the graphic simplicity of this swipe of bright blue against Erin's green eyes, with a bit of matte white along her waterline. All she needs for definition is a lick of mascara.
At almost-11, Lauren generally wears zero makeup, and she's totally cool with that. But how could I not ask her to join her big sister in modelling fun eyeliner shades? That would have been so unfair.
This pretty pastel combo was surprisingly perfect on Lauren's little face, with those blue-green eyes! She wore this liner look out for ice cream later, and just looked like a kid who'd been having a bit of makeup fun rather than overdone. Sweet! (That pastel yellow is lovely as a lower waterline shade, isn't it? It's got enough white in it to make eyes look brighter, more awake.)
The Aqua XL eye pencil in that unexpected shade everyone needs, colour-shy or not, is Metallic Bronze. More golden copper than bronze, as you can see, it's just gorgeous as a lower-lashline enhancer, and brightens every eye colour with a summery flair. 
I'm stocking up because I'ma wear this shade in Fall too – see how Autumn-appropriate it looks with burgundy or khaki liner? (Apologies for the complete change in lighting; different weather this day.)
nudestix magnetic eye color pencils
I've finally tried Nudestix Magnetic Eye Color pencils ($28 CAd at sephora.com) – colour me happy. I love crayons that can serve as liners as well as eyeshadows; these are a dream formula that refuses to move once it's set on your lids. 
If you haven't tried Nudestix Magnetic Eye Color, you must because they're so good: creamy application, great colour payoff and excellent staying power. I'm obsessed with a new Fall shade called Queen Olive; it's the pencil at the bottom of the above photo.
Shade options from the Canadian brand include excellent neutrals in matte and satin to offset your bright liners; come Fall 2016, look for several new hues as per the little clip above. (I know, I sound like a total dork in it – eek!)
maybelline lasting drama waterproof gel pencil
Look who else has a waterproof pencil shade that makes the whites of the eyes seem brighter! Yay Maybelline Lasting Drama Waterproof Gel Pencil in Soft Nude! I'm so pleased to see waterline shades like this at the drugstore. The Lasting Drama Waterproof Gel Pencil ($11.99 CAd at drugstores and $7.99 at ulta.com) comes in vivid jewel tones, too, such as emerald, sapphire and amethyst... hello Fall.
la roche posay respectissime waterproof eye makeup remover
The sometimes-downside of good waterproof liner is taking it off. A stubborn formula requires an oily-ish cleanser... then that stuff gets in my eyes and clouds my vision, or the delicate skin around my eyes starts to sting. No like.
Hello gentle La Roche-Posay Respectissime Waterproof Eye Makeup Remover for sensitive eyes. A fragrance-free bi-phasal fluid, Respectissime generously soaked into a Shiseido Facial Cotton Pad (also excellent for sensitive eyes) and held against my closed lid for a few seconds easily wipes away all traces of pigment without irritating my eyes or my skin.
reactine: a summer essential
Frankly, for me Reactine is a Spring, summer and early-Fall essential (eye-ssential?). Muddling through allergy symptoms is just a waste of my time and energy. So when pollen threatens my equilibrium, I take Reactine daily. Later in the season, when the pollen threat lessens, I take Reactine just when I need it to vanquish occasional symptoms. (This year's been a little trickier for some reason, so I'm back to the daily dose.)
I do very well with Reactine Liquid Gels; they can relieve symptoms in as little as 20 minutes and last up to 24 hours. If you need a little extra help, try a toolkit approach: augment as needed with Reactine NaturEase Nasal Spray, a natural-source treatment that soothes poor, dry nasal passages, and maintains sinus health.
Kids with parents who suffer from seasonal allergies are unfortunately 70% more likely to get stuck with pollen issues. But Reactine thinks of them too, in the form of grape-flavoured Reactine Children's Liquid.
Follow @ReactineCA on Twitter for daily forecasts so you can stop muddling and know exactly what you're up against. As well, make some time to visit reactine.ca for tips on understanding allergies, what triggers allergies, and how to manage allergies.
And if you'd like to save up to $6 on your next Reactine purchase, click here!
Do you still cope with seasonal allergies in summer? Have you been muddling through so far? Have you tried any of the liners or the eye makeup remover in this post? I'd love your recommendations!