MAC INSTACURL LASH: BEYOND THE AFFAIR
I'm in a three-way with two loves, and I'm not ashamed of it.
What do you do when you fall in love then meet another and fall in love again? Well, you begin an alternative lifestyle with both, and all together live happily ever after. Sure, you may well meet yet another you feel you can't live without. There are words for that: I like harem. Or Big Love.
I'm in a three-way myself, obviously. I've already waxed poetic about my adoration of Maybelline Lash Sensational Full Fan Effect Mascara because it gives tiny-lashed me fabulous long dramatic eyelashes at a wallet-wooing price, and stays put all day without smudging or smearing or flaking.
I'd already committed myself to Full Fan Effect when I met MAC Instacurl Lash Mascara. But this baby turns heads immediately with its flashy outfit and super-nifty bendy silicone-bristle brush. 
See? This is a mascara with moves. And lovelies, they're pretty darned good moves. More importantly, you've got control of them. Just twist that handle to get what you want.
Thus, rather than cheat on Full Fan Effect, I'ma add this sexy new eye-catching mascara to the family. MAC Instacurl Lash Mascara gives me just as much drama, length and great wear, plus I merely twist a handle to curve the brush as much or as little as I need. Every woman knows strategic control is the very best kind.
Here, look at the photos:
I've lined my upper waterline with black pencil to make my lashes look thicker – clearly that move only works once I've put on mascara. *grin*
My natural lashes are so wee. All that feathery goodness on the right is MAC Instacurl Lash Mascara ($27 CAd at thebay.com and $23 USd at nordstrom.com). The formula glides on and builds quickly – no, it's not a fibre mascara, at least not as far as I can tell. And the bristles (silicone, I think) are fine enough and precisely positioned in such a way to comb through even my tiny, fragile and sparse lashes to create false-lash length without clumping.
As I mentioned earlier, I like having the option of adjusting the curve of the brush when I need to during application. So far, a gentler curve works better for me when I want to get at my outer lashes; a bit more curve gives my middle lashes more shape. See how calling the shots is a good thing for a girl? Beauty power.
How about a slideshow so you can flip through for an Instacurl Lash effect?
MAC Instacurl Lash Mascara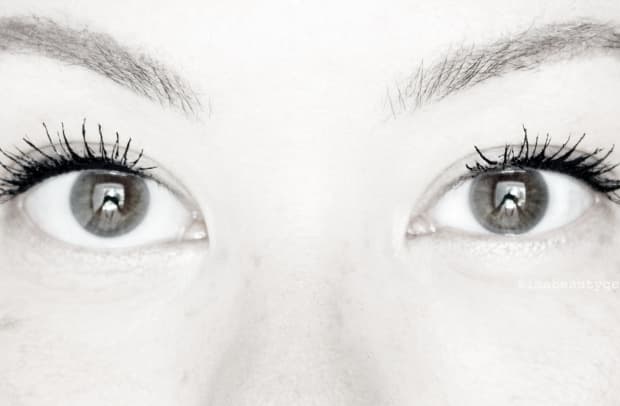 I've already committed to MAC Instacurl Lash as much as I have to Maybelline Lash Sensational Full Fan Effect, despite the price difference: $27 CAd/$23 USd vs $9.49 CAd/$8.99 USd. (And holy moly, Full Fan Effect is a genius $5.96 CAd on sale at walmart.ca right now!)
You'll have to decide how much control is worth to you, right? Or maybe you have a MAC artist industry discount?
My MAC Instacurl Lash and Maybelline LS Full Fan Effect triangle isn't my first polyamorous beauty relationship, and of course it won't be my last. Really, aren't we all Big Love about makeup and skincare in general?
I'm not ashamed. I have pretty lashes.
Thoughts? Would you spend for control? Replace another mascara with this one? Or invite it to join your other mascara love(s)?
shoppity shop-shop