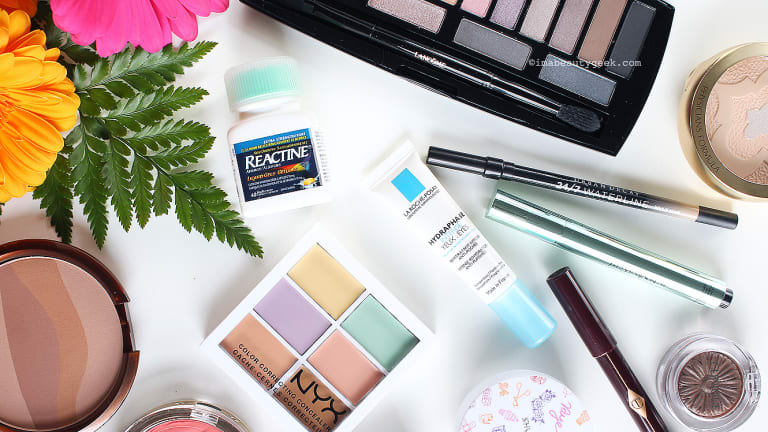 HOW TO FACE OFF AGAINST SEASONAL ALLERGIES
A pro makeup-artist's tips for defying those itchy, watery eyes and that patchy red complexion, plus my own favourite way of winning.
In partnership with the makers of Reactine; thoughts and opinions are my own  •  For some of us, joy at Spring's long-awaited arrival is marred with dread. Thanks a-freakin'-lot, seasonal allergies. And as if suffering through the symptoms isn't enough, there's looking like pitiless pollen beat us up – and laughed while doing it. Well fie on that! So far we've covered the best mascaras for watery eyes, and the best waterproof eyeliners too. Here we look to a pro makeup artist for her tried-and-true makeup tips for seasonal-allergy time, as well as my favourite way of flipping pollen the bird.
makeup for allergies – tips from a pro
With 25 years of experience, work in British Elle, British Glamour, Canadian Living, Chatelaine, Fashion, glow and Redbook, plus La La Beauty Pro Makeup Academy, the school she's founded, makeup artist Lori-ann Lazary knows things about presenting a photo-ready face (and in a pre-Photoshop era, too). These are her top seasonal-allergy makeup tips, including the products she uses, trusts and carries in her toolkit:
1. Itchy, scratchy, red watery eyes need good eyedrops to calm them down. "I always recommend a Swiss organic formula from a company called Similasan – their Allergy Eye Relief drops are great," says Lori-ann. "These really help soothe itching, haziness and redness." Similasan Allergy Eye Relief Drops are available at walmart.ca and walgreens.com.
2. To further counteract eye redness, Lori-ann lines the inner rim of the lower lid with a nude or flesh coloured pencil. "White is too obvious and theatrical," she says. Try: Urban Decay 24/7 Waterline Eye Pencil in Walk of Shame, a waterproof nude shade that has been clinically tested to establish its safety on the inner rims of your eyelids.
3. For really puffy eyes, Lori-ann's go-to is La Roche-Posay Hydraphase Intense Eyes. "It contains caffeine to decongest and de-puff, and it really works," she says. "I use it myself because I have extremely sensitive eyes – it minimizes fine lines, too. La Roche-Posay Hydraphase Intense Eye is available at Shoppers Drug Mart stores and amazon.com.
4. Rather than fuss with mascara, Lori-ann instead creates the illusion of a darker lash line to help eyes pop. "Dip an angled brush into dark brown, grey or black eyeshadow, and press the colour along the upper eyelid, as close to the lashline as possible." 
Try Clinique Lid Pop Eye Shadow in Cocoa Pop, or Charlotte Tilbury Colour Chameleon Colour Morphing Eyeshadow Pencil in Black Diamonds. We're also crushing on the Lancôme Audacity in Paris palette, which includes some gorgeous liner-appropriate shades as well as beautiful soft tones.
5. If you must use mascara, obviously you want something that holds up against water. "Getting waterproof stuff off completely every night is essential, though," says Lori-ann. You don't want mascara remnants to irritate your already delicate eyes. "Tube-formula mascaras can be more gentle on the eyes because they tend to be easier to remove," she adds. Our tube-mascara recommendations are here.
6. A red nose tends to be another major visible sign of seasonal-allergy suffering. Always dab your nose with a bit of moisturizer after blowing, to minimize the skin stress. "A green concealer dabbed very lightly on the redness, and followed by concealer and powder on top, will help even out the tone," says Lori-ann. (You'll have to re-do after each tissue session, unfortunately.) A little green corrector blended strategically before foundation can also help tone down patches of red in your complexion. 
Lori-ann suggests the NYX Color Correcting Concealer palette as a good budget buy, and the Make Up For Ever 5 Camouflage Palette #5 as a great pro option. We love the convenience of the brush-on YSL Touch Eclat Neutralizer in Green, and that the Wet & Wild Coverall Correcting Palette features a highlight shade and yellow for dark brown circles, as well as green for red noses. (In Canada, find NYX at nyxcosmetics.ca and Wet & Wild at Walmart, Loblaws and Lawtons.)
how I cope with seasonal allergies
My favourite way to deal with seasonal allergy symptoms is, of course, Reactine, specifically Reactine Liquid Gels that can start working in 20 minutes. You know this if you're a longtime reader. I take one liquid capsule per day and get 24-hour relief of irritated watery eyes, runny nose, sneezing (like crazy) and itchy skin. Then I can wear whatever makeup I want!
If you cope with symptoms that are more moderate than mild, in the same way that Lori-ann employs more than one technique for camouflaging redness and irritation, you may need to toolkit your remedies. Now there's all-natural-source Reactine NaturEase Nasal Spray that, when used in conjunction with one daily Reactine tablet, helps alleviate nasal irritation and dryness, and maintains sinus health.
Did you know that kids with parents who both suffer from seasonal allergies have a 70% chance of developing the same affliction? There's a trusted option for kiddies from ages two to 12, too: Reactine Children's Liquid comes in a grape flavour and delivers quick relief of symptoms including allergic skin itch, and lasts up to 24 hours without causing drowsiness.
One of the other reasons I'm such a fan of Reactine is that the brand provides so much information to help understand allergies, as well as allergy triggers, and offers tips for allergy management. Their Pollen Forecast on Twitter can also tell you what kind of day you might have ahead.
And then there's this: a coupon that saves you $3 on your Reactine purchase. You're welcome.
How will you cope with those itchy, red eyes and poor ruddy nose? Is anyone else as happy with Reactine as I am? And what are your best seasonal-allergy makeup strategies?