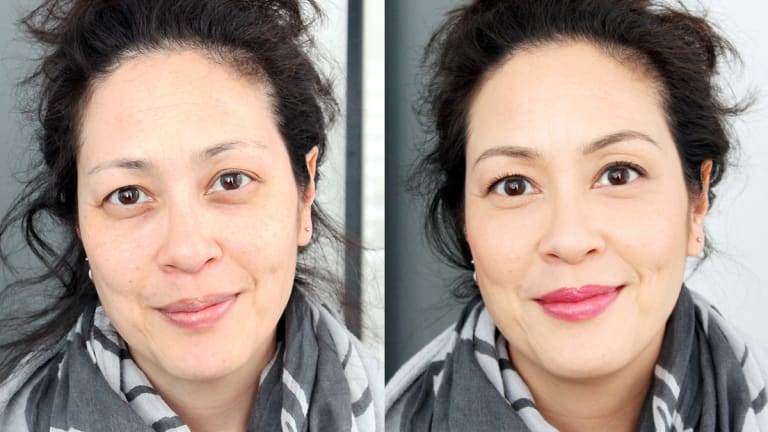 HOW TO CORRECT BROWN DARK CIRCLES
"I have dark circles you can see from space," says our ManiGeek. "And peach doesn't work." We fixed those shadows, though – now they're invisible from less than a foot away.
In partnership with Sephora Canada  •  Most of the dark-circle colour-correcting advice out there calls for peach or orange to counteract dark, blue-ish smudges. But what if Mother Nature stuck you with brown-ish or ruddy "dark circles you can see from space?" What if orange or peach doesn't work?
Bypass that orange corrector for sure, confirms veteran makeup pro Lori-ann Lazary, founder of La La Beauty Pro Makeup Academy, and the pro we turned to for colour correction advice in this post. "Brown is a mix of red, blue and yellow, so a peach or yellow shade would cancel it out." Wait – yellow?
Karen hasn't had much luck with peach, or at least hasn't found the right shade intensity that works with her complexion. Whatever she's tried has been too light; the result is an ashy cast rather than camouflage. But yellow...
We tried the Urban Decay Naked Skin Color Correcting Fluid in Yellow with a bit of Tarte Rainforest of the Sea Aquacealer Concealer. Et voilà, success. Yellow there! Goodbye brown circles!
See? Here's Karen without those pesky brown dark circles to take away from her lively eyes.
three ways to apply colour corrector
Apply foundation then tap the corrector over any areas that need correction; if you're lucky, the corrector will disappear into the surrounding skin colour. If it doesn't, just stipple foundation or concealer over any area the corrector colour shows up against . (This is what I usually do.)
Apply the corrector first to the most intensely pigmented areas, then lightly stipple concealer over it. (That's the approach we took here.)
Dab your brush in the corrector then dab it in your concealer or foundation and blend as you apply on the skin – that's what Cover FX's Derek Selby often does because it saves time, he says. (Click the following hotlink for tips on how to choose your corrector technique.)
colour correctors for brown dark circles
Lancôme Miracle CC Cushion Color-Correcting Primer in Yellow ($45 CAd at sephora.ca).
Urban Decay Naked Skin Color Correcting Fluid in Yellow ($35 CAd at sephora.ca)
Cover FX Click Stick Correct Click in Yellow ($24 CAd/Click Stick $10 CAd at sephora.ca) – here's the scoop on the Cover FX Click Stick system system and Cover FX's arrival at Sephora Canada.
Sephora Collection Bright Future Color Correctors in Yellow ($18 CAd at sephora.ca)
colour correction palette with powder
Worth highlighting is this Stila Correct & Perfect All-in-One Color Palette ($59 CAd at sephora.ca) that includes peach and yellow cream correctors (as well as pink green and orange) plus yellow and lavender pressed powders. Sometimes a touch of the right shade of powder in the right place can make exactly the difference you need. 
Powders and creams together in the same pan can get messy, but this compact has protective plastic shield that flips down over the creams. And of course there's a handy fold-out guide to show where each corrector might be most helpful.
how to correct brown dark circles: before/after
Here's another look at our girl's brown dark circles before... and banished! 
And overall, Karen's makeup is light and simple:
Smashbox PhotoFinish Primer Water
Smashbox Camera Ready BB Water
Urban Decay Naked Skin Color Correcting Fluid in Yellow
Tarte Rainforest of the Sea Aquacealer Concealer
Clinique Lid Pop eye shadow in Vanilla and Chocolate
Tarte Rainforest of the Sea So Fine Micro Liner
Kat Von D Shade & Light Contour Palette
Urban Decay AfterGlow Blush in Fetish
Fresh Sugar Lip Treatment Balm
Clinique Pop Lacquer Lip Colour + Primer in Go-go Pop
Everything here is available at sephora.ca right now; yay for free shipping at the $50-spend mark. Also yay for the insanely comprehensive colour-correcting section.
shoppity shop-shop
Does anyone else struggle with brown dark circles? What's your fix?