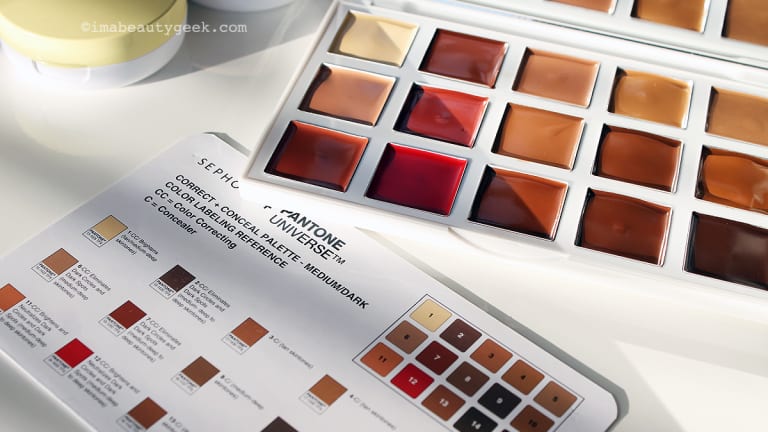 COLOUR CORRECTORS SIMPLIFIED (DO YOU REALLY NEED THEM?)
Orange, peach, green, lavender, yellow – shades once used almost exclusively by makeup artists, they're making a mainstream splash and they're easier to use than you'd think. Here's the lowdown.
In partnership with Sephora Canada  •  Just like highlighting and contouring are techniques rather than trends, so is colour correction. All three skills have been for the most part the bailiwick of makeup artists and drag performers forever. But no more. Thanks to a crazy explosion of colour-correcting palettes, creams, and crayons from a gazillion beauty brands, we're finally hitting the heart of real "CC" creams. 
And I know it's overwhelming – we're just getting through what feels like a year-long course on highlighting and contouring, and now we have to learn a new thing? 
Fear not. Once you figure out whether you need colour correction, and then what type, it's really very simple – and you already know more than you think.
what is colour correction?
"Colour correcting uses the basis of colour theory to 'correct' discolouration," says longtime professional makeup artist Lori-ann Lazary. She's worked with British Glamour, Redbook and Fashion magazines, and is the founder of La La Beauty Pro Makeup Academy. "The opposites on a colour wheel will counteract each other." 
You know, like how a blue or lavender rinse counteracts the yellow in white hair? Or how blue-based red lipstick makes yellow-ish teeth appear whiter?
who needs colour correction?
Most of us need a little extra complexion help every once in a while. But if you love your results with just concealer and foundation, you don't have to rush out to buy a CC palette or shade.
If you just can't seem to achieve an even, happy and rested overall skintone with just foundation and concealer – maybe dark circles always show through, or the redness still shouts from your cheeks – colour correcting class is about to begin.
what colour corrects what?
In broad strokes, "Orange is used to correct under-eye discolouration, especially those very deep-blue dark circles; green cancels redness, such as rosacea and broken capillaries, and lavender is used to counter very yellow tones," says Lori-ann. Here's a basic breakdown based on what you might want to neutralize:
redness: green corrector
mild stubborn redness or rosiness: yellow corrector
brownish dark circles: yellow or peach corrector
sallowness/yellowness: lavender corrector
dark circles, fair to light complexion: salmon corrector
dark circles, light to medium complexion: peach corrector
dark circles, medium to dark complexion: orange corrector
dark circles, dark to deep complexion: red concealer
Within this range of shades there are paler and deeper intensities, of course, something for every skintone. Don't ever think you can't find something that works for you now – this is a good, diverse time in beauty world.
how to apply colour corrector
Whether you apply colour corrector before or after concealer and foundation depends on the intensity of the discolouration you want to neutralize – and where it's located. "The under-eye area is easier to correct, so you have options," says Lori-ann. If you need only a little correction, "you can mix a little salmon, peach or orange with your concealer to adjust the tone."
For severely dark circles, though, and larger reddened areas like the cheeks, Lori-ann says it's better to "lay down a light application of corrector, then apply concealer or foundation on top in a stippling or patting-with-fingertips motion."
When it comes to foundation, you'll need one with some kind of coverage – sheer formulas just won't do. Green and orange corrector in particular will show right through tinted moisturizer, BB cream or sheer liquid foundation. (If you've been struggling to hide severe circles or any kind of discolouration that won't stay hidden, chances are you're already using something with more pigment anyway, right?) You want at least a medium coverage, something you can build if you need a bit more pigment in some areas.
Full-coverage foundation is another option. Not everyone wants a full-coverage formula because sometimes it can look like a mask, and you absolutely need a perfect match to the skin on your neck. But if you've got something to camouflage, full-coverage foundation may well be your fastest hide-everything option – you might not need additional colour correction. And you can blend it to reduce coverage in other areas.
In terms of concealer, most CC palettes include a couple of shades that you can use on top, or mix to get your ideal shade. If you have a concealer with decent coverage already, try that over your corrector to see how it works.
colour-correcting palettes vs individual shades
If the very idea of getting into this colour-correcting thing makes you dizzy and chromophobic, perhaps it's best to determine what you want to neutralize, then get just that shade. 
Dark circles on fair skin? Try the Urban Decay Naked Skin Color Correcting Fluid in Peach ($35 CAd at sephora.ca). 
Cheeks that always look wind-burned? Consider the Lancôme Miracle CC Cushion Color Correcting Primer in Green ($45 CAd at sephora.ca), or the sleek YSL Touche Eclat Neutralizer in Green ($50 CAd at sephora.ca) if you're feeling fancy.
Obviously if you have more than one issue to deal with, or you want options, a palette is going to be more your speed. Lori-ann recommends the Make Up For Ever 5 Camouflage Cream Palette Color Correct and Concealer ($49 CAd at sephora.ca) because "it has all the corrector colours plus a concealer you can mix as needed." 
If you have a makeup-artist's soul to feed, she points to the Viseart Corrector, Contour and Camouflage Palette ($100 CAd at sephora.ca). "It's a splurge, but heavenly," she says.
I've already geeked out about the Tarte Rainforest of the Sea Wipeout Color-Correcting Palette ($54 CAd at sephora.ca) in this post here – it's gorgeous for anyone who loves makeup. 
Now I'm geeking out large about the Sephora Collection Sephora + Pantone Universe Correct + Conceal Palette ($61 at sephora.ca). The fold-out guide is uh-mazing, with clear instructions on which colour to use for which skintone and what area. If you've got a kid who has makeup-artist aspirations, this palette (it comes in two colourways) is grand. Look:
Now here's one of the reasons (aside from the free shipping once you hit $50 on your sephora.ca order) that I'm such a Sephora fan: they've got some great how-to videos that feature models appropriate to the colour corrector they're demonstrating. Watch them as soon as you can; at some point they'll be replaced by new trend videos.
Does everyone need to get on board with colour correcting? If your complexion looks great with a touch of concealer and some tinted moisturizer, not you. But if, no matter what you try, people keep asking whether you're tired because your circles are showing, or you just can't achieve a radiant complexion no matter what foundation you try, then yes, you want to spend some time in colour-correction class.
Are you new to colour correction in makeup? Will you explore it a bit? Are you intrigued by the single shades, or are you a palette type?
shoppity shop-shop