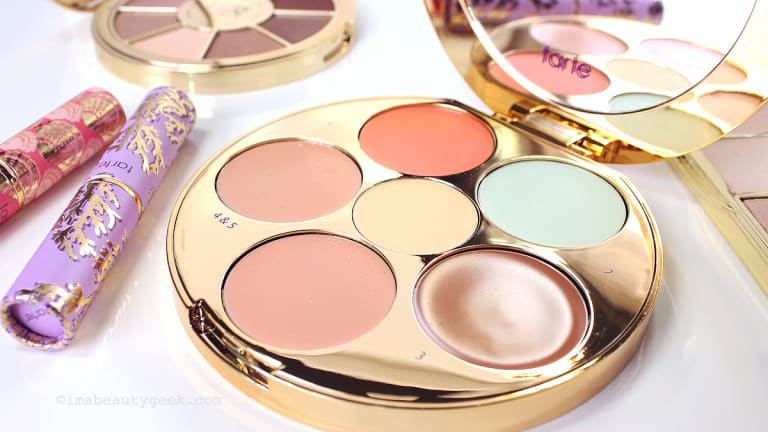 TARTE RAINFOREST OF THE SEA REVIEW & SWATCHES
Holy wow, this extensive collection of makeup and skincare is impressive. And there's something for everyone.
In partnership with Sephora Canada  •  Lovelies, surely you've seen various elements of the new Tarte Rainforest of the Sea makeup and skincare collection all over social media? It's one of the most coveted releases this spring. First, it's beautifully packaged. Second, it's hitting a major 2016 makeup trend with its colour-correction palette. Third, the expansive range has something for everyone. Warning: lotsa photos ahead. (You might need a nice cup of Edinburgh Breakfast Tea while you oggle.)
tarte rainforest of the sea wipeout color-correcting palette
Let's start with the Tarte Rainforest of the Sea Wipeout Color Correcting Palette ($54 CAd at sephora.ca), the star of the collection. Made up of six cream corrector shades – orange, mint, yellow, deep, peach and beige – this is a good CC palette for a variety of skintones from fair to medium-deep. 
I love most that the Wipeout palette has an orange shade, a shade most of us don't know we need. On deeper complexions, orange concealer magically turns blue-black shadows into a colour that matches the rest of the face. Most of us with fair skin won't need to use it much – the peach-y concealer should do the trick if you have dark circles on pale skin. But if you've had a particularly rough night (or several in a row), and have more-stubborn-than-usual super-dark blue shadows to show for it, you can adjust your peach concealer with a bit of orange.
I'll be doing another piece how to use colour-correcting makeup soon, so all I'll say now is that these Tarte CC creams blend nicely with just enough pigment to make those trouble areas look even once you've stippled your foundation over it. I had my compact open for a while for photography reasons, so my corrector creams might be slightly less emollient than yours. So far I'm satisfied with the texture, which has enough stick to stay in place under your foundation and concealer if you stipple carefully.
The palette comes with a how-to guide for suggested application (obvi only use the shades where necessary – you don't need to follow the diagram to the letter); I've included it below in English and in French. *grin*
tarte rainforest of the sea water foundation, aquacealer concealer
It's a creamy, full-coverage liquid foundation, ladies! By "it," I mean the Tarte Rainforest of the Sea Water Foundation ($47 CAd at sephora.ca). I love the versatility of a full-coverage base. It camouflages everything, but on days when you want to wear less makeup, you can blend it out, or mix drop or two with moisturizer without making it stupid-sheer. The dispenser is a pippette (dropper), and the finish is glowy without being shiny.
The Tarte Aquacealer Concealer ($31 CAd at sephora.ca) has a nice creamy liquid texture as well, and a fat doe-foot applicator. If you have great skin, you could get away with using just the liquid concealer to even out your complexion. Like the Sea Water Foundation, the Aquacealer contains an algae extract that apparently adds a dose of antioxidants, and a touch of coconut oil as well as Vitamin E.
tarte rainforest of the sea skin twinkle lighting palette
This Tarte Rainforest of the Sea Skin Twinkle Lighting Palette ($42 CAd at sephora.ca) is a luminous powder duo with a no-shine universal setting powder in the centre well. If you're not a fan of shimmer in your luminizer, maybe give this a miss. That said, the formula is actually less shimmery than you'd expect, and very pretty. But no-shimmer fans are no-shimmer fans – best to use the lightest shade of the Wipeout Color-Correcting Palette if you're one of those. 
But if you don't mind bit of twinkly sheen (yup, twinkle is a good word here), then snap the Tarte Twinkle Lighting Palette up fast because hello: three shades, two textures, one compact = good makeup math. In the above swatch photo, I was fairly restrained when I swiped the three shades so you'd get a realistic idea of what it might look like in a natural makeup look.
tarte rainforest of the sea eyeshadow palette
The Tarte Rainforest of the Sea Eyeshadow Palette ($41 at sephora.ca) is a lovely combination of eight cool and warm shimmery shades. 
The swatches above are more concentrated stripes of colour than I would apply on lids. I have a really light touch with eyeshadow in general.
tarte rainforest of the sea so fine micro liner
Look at that tiny nib on the Tarte Rainforest of the Sea So Fine Micro Liner ($26 at sephora.ca)! Love this felt-tip liquid liner pen for tightlining the upper lashline. Also excellent for detail work if you like an avant-garde liner effect, and great for a kitten flick. Also: waterproof.
tarte rainforest of the sea lip saver treatment primer
This Tarte Rainforest of the Sea Lipsaver Treatment Primer ($23 CAd at sephora.ca) is intended to condition lips as it provides a stay-true, comfortable base for lipstick, particularly matte. I haven't tried it yet because I've been dealing with some sort of reaction to something mysterious for the last three weeks, and my lips are in a bad way. But as soon as they recover properly, I'ma try this balm. Ingredients include coconut oil and Vitamin E, plus a host of silicone and polymers to create an ultra-smooth surface for colour. 
Reviews on sephora.ca are mixed; I think there's a trick to the application (very thin layer and let it dry) before lip colour. Happy owners are really happy; disappointed users are really disappointed. Have you tried it?
tarte rainforest of the sea quench lip rescue
I want to put these Tarte Rainforest of the Sea Quench Lip Rescue tints ($23 at sephora.ca) in every photo I take right now. Such pretty cardboard packaging! The emollient formula includes a combination of marine and botanical extracts selected for their conditioning and firming properties. 
There are four Quench Lip Rescue shades in all: Nude, Rose, Opal and Berry; the last two aren't shown here. And I covet them, 60% because of the packaging, and 40% because of the shades, even though they're so sheer it hardly matters which shade you wear.
tarte rainforest of the sea drench lip splash lipstick
Okay, I love these matte Tarte Rainforest of the Sea Drench Lip Splash lipstick shades ($22 CAd at sephora.ca). Great pigment in one or two swipes. I'd like to show you how they look on my lips, but no face or lip photos right now. #inconvenient. But oh, clever Tarte... look what they did:
Know this: I need Tarte Rainforest of the Sea Lip Drench in Bikini! (Of the shades in my photo, Surfer Girl and Hey Sailor are my faves, natch.)
By the way, it's "Lips" month at Sephora Canada. If you're tempted by these vibrant matte Tarte lippies yet are a little worried they won't suit you, worry no longer: a Sephora associate and the Sephora + Pantone Color IQ can help you find your ideal, complexion-friendly statement matte shades (and other finishes too).
tarte rainforest of the sea deep dive cleansing gel & marine boosting mist
If you're looking for a new, lathering cleansing gel that doesn't strip skin, the Tarte Rainforest of the Sea Deep Dive Cleansing Gel ($30 at sephora.ca) is worth considering. I always use a micellar water to remove makeup. This time I removed just eye makeup with a micellar, then used Deep Dive to wash off a heavier-than-usual complexion job that included a BB cream as primer and cream foundation for coverage, and waterproof brow gel. Deep Dive did a really nice job of cleansing that away without making my skin feel dry and tight afterward.
One spray of Tarte Rainforest of the Sea Marine Boosting Mist ($30 at sephora.ca) is a definite spirit lift thanks to the formula's orange and lavendar oils. Also in the mix: Tarte's marine complex of algae and marine-flower extracts, caffeine to depuff, lentil seed extract to minimize the appearance of pores, and coconut oil. The idea is to use it after cleansing (lovely then), as a complexion refresher before you apply makeup; as a makeup setting spray and as a skin pick-me-up throughout the day. And if you love citrus scents, it's a mood booster, too.
tarte rainforest of the sea makeup brushes
Tarte has also released a range of double-ended complexion brushes to go with this collection. The array includes a dense Rainforest of the Sea Foundation Brush ($41 at sephora.ca) with a flat, kabuki-style buffing brush on one end, and a dense angled-cut brush on the other for smaller areas and contours. The Highlighting Brush ($41 at sephora.ca) features a large, fluffy brush cut on a gentle angle on one end, and a small, flat precision brush on the other. The Color Correcting Brush ($29 at sephora.ca) features a fluffy angled end for buffing and blending, and a small dense tip for precision applications. The Airbrusher Concealer Brush ($29 at sephora.ca) buffs and blends liquid or cream concealer, and the smaller, dense brush takes care of the little stuff. And the Lip Brush ($29 at sephora.ca) has a small retractable tip for fine details, and a broader, rounded-tip brush for quick applications.
So you see what I mean? Something for everyone – everyone who might need a new colour-correcting palette; or a buildable full-coverage, hydrating liquid foundation; or hydrating liquid concealer; or a shimmering neutrals eyeshadow palette; or a highlighting palette with two shimmer shades and one soft matte pressed powder; or a skinny liquid-liner pen; or conditioning lip primer; or tinted lip balms; or matte lipsticks; or cleansing gel; or citrussy facial mist; or double-ended makeup brushes...
And of course at Sephora.ca, you score free shipping when your order reaches $50.
Have you already picked things up from this collection? Are you thinking about it?
shoppity shop-shop