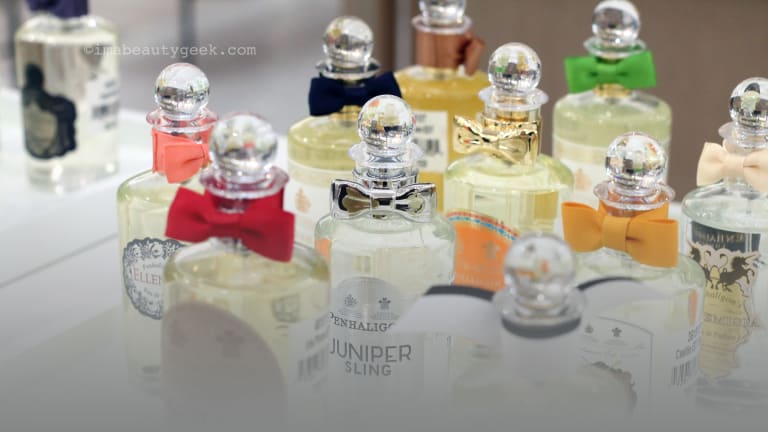 SAKS FIFTH AVENUE CANADA BEAUTY HIGHLIGHTS + RBC REWARDS
Trish McEvoy is finally here! By Terry is back! A high-tech Japanese brand makes its North American debut, and the fragrance counters... *swoon* Best part? RBC Rewards clients can automatically earn 2x the reward points while shopping in-store and redeem points for Saks Canada gift cards.
In partnership with RBC  •  Have you been to the Saks Fifth Avenue Eaton Centre yet? Gorgeous, bright and airy, it's beautifully appointed, with lots to look at and explore. And if you're an RBC Rewards client, your experience is going to be especially sweet: if you shop at Canadian Saks locations with any RBC Rewards credit card, you'll earn twice the reward points! That's not all: you can also redeem RBC Rewards points for Saks Fifth Avenue Canada Gift Cards and earn up to 500 bonus points. So come, tour the Saks Canada beauty department with me here...
When you first arrive at Saks Eaton Centre, look up – look way up. Inspired by a fine mist of perfume, a chandelier installation glows brightly at first like a fresh shower of droplets, then softens and dims as though dissipating before it brightens anew. Magic! It's possible I stood admiring the effect longer than I should have, in the middle of an aisle full of eager Saks visitors. Thankfully, the floor design allows an easy flow of shoppers around the perimeter and through the centre area. 
But you don't want to know about the artful lighting or floor plan, do you? You want to know more about redeeming your RBC Rewards points for Saks Fifth Avenue gift cards, though – did I mention you can earn from 50 to 500 bonus points depending on the value of the card you choose? Here:
for a $25 gift card > earn 50 bonus points
for a $50 gift card > earn 100 bonus points
for a $100 gift card > earn 200 bonus points
for a $250 gift card > earn 500 bonus points
Now, while I'm (seriously) wondering why I'm not yet an RBC Rewards member, let's take that beauty-department tour: 
diptyque
Candle-lovers beware: if you enter through Saks Fifth Avenue's Queen St. W doors, you'll almost immediately find yourself in conversation with an array of Diptyque candles. "Baies! Feu de Bois! Roses! How would you like to come home with me?" (How your favourites answer is between you and your RBC Rewards credit card.)
cire trudon
Let it be known that Saks is an excellent place to send indulgent friends, family members, spouses etc. for candles to bestow as gifts. Handily situated next to Diptyque, you'll find Cire Trudon. One of the world's most prestigious candle makers, the company dates back to 17th-Century Paris when the Trudon family painstakingly produced white purified beeswax candles with cotton wicks that burned cleanly. Their clients included monarchy, wealthy families and the church. Today's Cire Trudon fragranced candles are housed in hand-blown glass jars, and burn without creating smoke or leaving wax residue on the sides of the glass.
penhaligon's
Just behind Cire Trudon at Saks Eaton Centre is the first official Penhaligon's counter in Canada. The London fragrance house began as a barbershop in the late 1860s. Founder William Henry Penhaligon, Queen Victoria's Court perfumer and barber, created his first perfume, Hammam Bouquet, in 1872 (it's still available for purchase).
Blenheim Bouquet was Penhaligon's second fragrance, created by William's son Walter in 1902 for the Duke of Marlborough at Blenheim Palace (Sir Winston Churchill was born there in 1874). Today, 34 scents make up up the Penhaligon fragrance library, each with a personality you won't find anywhere else. (I love and wear Juniper Sling, a crisp, wintery aromatic by perfumer Olivier Cresp.)
maison francis kurkdjian paris
For someone who finds most perfumes challenging, I spent a lot of time at Saks Queen St. fragrance counters, swooning. In delight! 
For instance, although I am not a floral-fragrance person at all, I just had to have a sample of Maison Francis Kurkdjian Paris A la Rose. It's unlike any other rose perfume I've ever experienced – in fact, I didn't know it was rose until I was told. A la Rose is sunny, fresh and light, youthful and feminine without being girlish. It's modern and sophisticated, too. If I had to choose a celebrity face to go with it, I'd pick Rachel McAdams. Or Emma Stone. (If you smell A la Rose, or know the fragrance, I'd love to know who you'd choose!)
Now this, Aqua Universalis, is my kind of fragrance. I have a weakness for light, clean, citrussy scents; this is somehow the purest version of those. It smells like freedom in an endless clear blue sky.
I meant to tell you a little about Francis Kurkdjian before I got into the scents, but I was so thrown off by A La Rose! Kurkdjian is the nose behind an amazing portfolio of fragrances that includes Jean Paul Gaultier Le Male (his first creation; he's done eight more Gaultier scents since then), Elizabeth Arden Green Tea, Lancôme Miracle Homme, Caudalie Zeste de Vigne, Burberry My Burberry (and Burberry Mr. Burberry), Carven Le Parfum (and L'Eau de Toilette; he co-created Carven Pour Homme and Carven L'Eau Intense), and Nina Ricci L'Extase. See the full list of his scents for other houses here. His own line, Maison Francis Kurkdjian Paris, is exclusive to Saks in Canada.
trish mcevoy
Although I'm familiar with Trish McEvoy's name – she founded her company in 1975, wrote The Power of Makeup (2003), and is hugely successful in the US and the UK for her teaching approach to beauty – I don't know her line. But that's going to change now that Saks has brought the brand to Canada. 
First order of business: investigate McEvoy's clever and practical Makeup Planner system that consists of compact, customizable and re-fillable palettes that slip neatly into attractive binder-style zippered cases that keep everything organized and accessible. The set-up makes changing your look a snap, too – just swap your various palettes in and out as needed.
If Trish McEvoy is new to you, have a look at this little video (above) on her eight-step makeup lesson. 
by terry
Terry de Gunzburg was still the creative director at YSL when she founded her own line, By Terry, nearly 20 years ago. If you're not familiar with her name, know this: she invented the iconic YSL Touche Eclat, and, according to WWD, some know her as "the Steve Jobs of makeup."
The gateway product for someone new to By Terry is her classic, perfectly rose-scented Baume de Rose; our Liza Herz calls it "the best light pink lip balm in the world." For years it's been the By Terry best-seller, and now comes in a variety of tempting tints. Also a top seller: the By Terry Terrybly lash-boosting "serum" mascara that loads eyelashes with intense glossy pigment as well as conditioning, growth-encouraging ingredients.
tammy fender holistic skin care
Tammy Fender Holistic Skin Care, a luxury organic line by Palm-Beach-based holistic aesthetician Tammy Fender, has celebrity makeup-artist fans as well as A-lister devotees such as Gwyneth Paltrow. Of note are the Tammy Fender Neroli & Orange Antioxidant Creme, a collagen-stimulating concoction of lavender flowers, algae extract, carrot seed, neroli and sweet orange; and a super-rich Intensive Repair Balm in an Anti-Aging Travel Kit that insists on flirting with me.
cosme decorté
When I was at the Cosme Decorté counter looking into this new-to-North-America high-tech Japanese skincare brand (it's hugely successful in Japan), a young woman stopped in her tracks at the sight of the counter at Saks Queen St. "You have this here?? Decorté is in Canada now??" she near squealed in happy disbelief, almost jumping and clapping for joy.
After that endorsement, I'm even more curious about the line, of which its spokesmodel Kate Moss is reportedly a fan. (Kate was supposed to be in Toronto to celebrate Decorté's North-American debut at Saks last Monday, but a skiing accident that landed her in a knee-brace forced a postponement.) 
At the heart of the formulas is "onsen water," sourced from Japanese mineral hot springs. The AQ Meliority collection pictured above is designed for dry and mature skin. Formulated with two powerful peptides, botanical extracts and 30 more "active ingredients," the Intensive Cream boasts a price tag of nearly $1200 CAd. The Day and Night serums behind it are sold as a team, each designed to perform specific skincare functions depending on the time of day  (the Day Serum keeps skin calm in the face of daily irritation; the Night Cream focuses on repair).
The Decorté V-Fusion Line (it's on the left in the image, all out of focus) was developed for the North American market. It's all about hydration and includes an essence. I've got some wee samples to try... I'll let you know how it goes! 
chantecaille
Lovely Sylvie Chantecaille, industry maverick and founder of Chantecaille, was greeting new customers at Saks Eaton Centre on opening day. She and I had a quick chat; you can read it here!
le labo
Thank you Saks for a downtown Toronto location at which to feed Le Labo addictions or satisfy first-timer curiosity. Indulging in Le Labo is a cool experience; you can watch as your fragrance is freshly blended and bottled right there at the counter.
I'm a dedicated Bergamote 22 girl. Santal smells fantastic on my friend, glow magazine editor Tania Kwong – I just want to follow her around when she wears it. But on me, it fights with my body chemistry. *sigh*
Wait a sec – there's a Santal 33 fragrance and a Santal 26 candle. I don't know which Santal Tania wears; must find out in case I tried the wrong one. #oops
ex nihilo paris
Parisian fragrance house Ex Nihilo has a perfume called Fleur Narcotique, inspired by "a woman who is a femme fatale, but doesn't know it," co-founder Olivier Royère told me. What a descriptor! And the gender-neutral scent captures the unknowing-femme-fatale concept brilliantly in a gorgeous, fresh, lush bouquet off the top, with a refined oakmoss and musk base. I can't wear it, but oh my, I love it. (It's fabulous on our Liza Herz, by the way.)
I geeked out about Ex Nihilo's vases de senteurs, I don't mind telling you. You must experience them yourself. Just press that little button on the front of the base, lean in and inhale. The vase de senteur releases a delicate puff of fragrance mist that gives you a full sense of the scent – so much better than spraying perfume on a blotter, I think. In addition to Fleur Narcotique, I fell for Vetiver Moloko, an unexpectedly smooth vetiver-woody scent with cypress and milk at its heart, and an earthy base of vetiver, amyris and madagascar vanilla (*surprise-face* – I usually loathe vanilla, but this one in this juice doesn't set me off at all).
I think I spent the most amount of my Saks Eaton Centre beauty-department tour time at the handsome Ex Nihilo counter. The luxury niche brand is only three years old, founded by three Parisians passionate about fragrance. (A diplomat's son, Olivier Royère lived in Montreal when he was a child, btw.)  They worked closely with perfumers at Givaudan to develop their perfumes and to create a program that allows their clientele to customize their fragrances with the help of an Ex Nihilo expert. That's where the Osmologue (shown in the first Ex Nihilo image) comes in: it weighs fragrance raw materials and preserves their quality to ensure a precise outcome.
Once the composition of the juice is finalized, the custom Ex Nihilo fragrance is blended and bottled right in front of you; you choose one of three cap options (see above), and watch as the bottle is engraved. So fancy! Remember this if you're musing on gifts for a perfume-obsessed loved one.
memo paris
Right next to the Ex Nihilo counter you'll find a gleaming display of shiny gold-faced bottles. Niche fragrance house Memo Paris was founded in 2007 by John and Clara Molloy, a husband-and-wife team who share a love of travel (apparently the couple met on a ski lift). The perfumes are inspired by travel memories as well as an extensive collection of memorabilia Clara, a fragrance writer, has acquired on her journeys. I love the Memo Paris fragrance blotters, of all things – one side features an illustration of a vintage suitcase and three of their distinctive bottles. And I snagged a teeny sample of Moon Fever, which Memo Paris describes as "the leather side of vetiver." (It opens with a big splash of bitter orange, grapefruit and lemon and softens into vetiver, leather and tonka bean.)
I can't believe how much of this post is about fragrance. I was going to focus on makeup! But the luxury fragrances at Saks Fifth Avenue are so different from the mainstream perfumes that surround us. You'll have to visit Saks at the Eaton Centre or at Sherway to smell for yourself what I mean.
saks canada beauty brands
Aside from the several I've shown you here, Saks also carries Tom Ford, La Prairie, Clé de Peau, Hermès, Laura Mercier and more. See the complete list below; bold-face type indicates a Saks Canada exclusive.
And yes, I'm still seriously wondering why I'm not (yet) and RBC Rewards member. As if the Saks Canada gift cards bonus offer and the 2x-the-points happiness that comes with shopping with all RBC Rewards credit cards in Canadian Saks locations isn't enough, I can put my RBC Rewards points toward my RBC Rewards credit card balance. Huh.
Are you an RBC Rewards member? Have you had a chance to visit either Saks Fifth Avenue Eaton Centre or the just-opened Saks Fifth Avenue Sherway? What's calling to you?