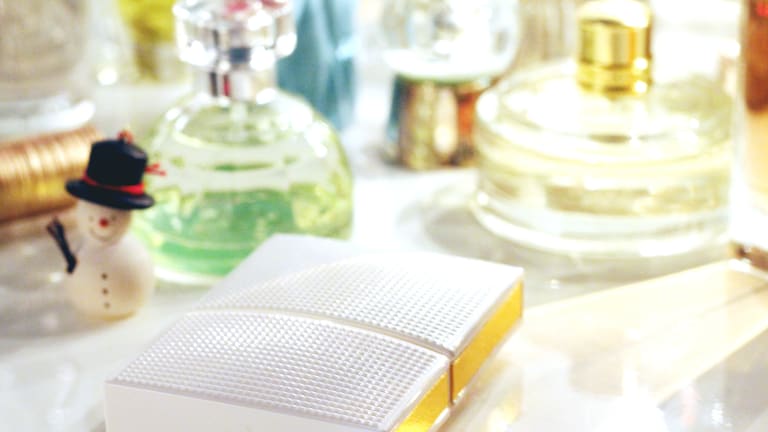 BEST FRAGRANCE GIFTS FOR YOU, FROM YOU
7 of our favourite scents this season – you deserve one. Okay, two. (We won't judge.)
If Janine's post of December 14 didn't drive home the point, let me say it again: you need to get yourself a Christmas present. Really. It's smart for several reasons:

It keeps your morale up through what can become a chore (I heard two utterly baffled colleagues this week discussing the weird tech items that were on their brothers' lists. "Is it a kind of memory stick?" "No. I think it has to do with music.")
Knowing that you'll receive at least one thing that you really wanted lets you accept any dubious but well-meant gifts with a smile and move on.
A new fragrance is an excellent new accessory to debut at holiday parties or to add glamour to the onesie you'll be wearing while couch-bound, diligently working your way through your Netflix queue.

Or just be selfless and buy one of these fantastic fragrances for someone else. But you might be jealous when they open it. Up to you.
best holiday perfumes for you, from you
L'Occitane en Provence Jasmin Immortelle Neroli ($62 CAN at ca.loccitane.com and $62 US at usa.loccitane.com) – Maybe you fear entering malls starting in November because of the pine-y, cranberry, cinnamon Yankee Candle "holiday" scent. Or you wish you lived on a beach, and sniff open bottles of sunscreen in the dead of winter just to smell the summer. Either way, you're the perfect candidate for a lighter, counter-intuitive holiday scent. The mad genius of patisserie, Pierre Hermé (famous for flavor combinations like jasmine, mango and candied grapefruit macarons), has turned his attention to fragrance and his Jasmin Immortelle Neroli from L'Occitane en Provence (size, price), is a bright, unexpected, sunshine-infused olfactory gift that smells like fresh blooming flowers in the south of France.
The Body Shop Italian Summer Fig ($28 CAN at thebodyshop.ca and $28 US at thebodyshop.com) – The Body Shop recently upped their packaging game so everything looks much fancier than it did before. Good news for your bathroom, the top of your dresser and your eyes in general. Italian Summer Fig eau de toilette from the Voyage collection is like opening a bottle of sunshine on a dreary day. If you're like Janine, who will literally run out into a blizzard rather than have to smell yet one more vanilla fragrance, this could be perfect for you. Bright with green notes on a cozy bed of warm woods, it will bring some much needed sun to the shortest days of the year.
YSL Black Opium eau de toilette ($75 at sephora.ca and $100 at bloomingdales.com) – Is your parallel-existence self a pouty Parisienne with a choppy, mussed haircut and smudged eyeliner and, wrapped in, bien sûr, a $5,000 YSL biker jacket? Following last year's YSL Black Opium perfume now comes Black Opium eau de toilette still with that unique hybrid coffee gourmand note, but now with added tea, musk and orange blossom for lightness.
Estée Lauder Modern Muse Le Rouge ($68 at sephora.ca and $62 at sephora.com) –This one is duplicitous. Like someone who you'd think is all cheery and bright but reveals her darker side after midnight and too many cocktails. Modern Muse Le Rouge starts out innocent and light with its "What? I'm just here to have fun" raspberry, red currant and pink pepper opening, but it warms into seductive big, heady roses (Bulgarian and May) and some lush white flowers all rooted with dirty dirty vetiver, patchouli and musk.
Elizabeth and James Nirvana Black and Nirvana White ($72 at sephora.ca and $60 at sephora.com) – Let us now pay obeisance to the Olsen twins. They took their "Full House" and Adventures of Mary Kate and Ashley movie money and instead of spending it on the female equivalent of hookers and blow (Birkins and blow?) they started their own fashion label, The Row, creating incredibly well-made, high-end timeless clothing. (You can thank them for the back-seamed luxe t-shirt trend.) They're also behind the best "celebrity" fragrances in a long time.
Elizabeth and James Nirvana Black smolders with violet, sandalwood and vanilla, while Nirvana White is a plush floral drowning in peony, lily of the valley and musk. Launched in 2013, they're now classics – and because they're so reasonably priced, you need at least one in your wardrobe.
Miu Miu ($100 CAN at holtrenfrew.com and $86 US at neimanmarcus.com) – You might buy Miu Miu eau de parfum for the bottle alone. The aqua milk glass is supposed to echo the pleated leather of a Miu Miu bag, but it could also be at home on the dressing table of a depression-era movie heiress, a platinum blonde with an ever-changing rotation of slinky satin dressing gowns.
In contemporary terms, this means that this full-frontal floral (think a big hit of lily of the valley, rose and jasmine with raspy green notes to keep it modern) should be worn by a good-time-loving woman who also has a really, really great lingerie collection.
Alaïa Alaïa Paris ($120 CAN at holtrenfrew.com and $85 US at amazon.com) – If you want to swoon, go to the most expensive section of a very expensive store, find an Azzedine Alaia dress and turn it inside out and look at the detailing. The designer's garments are so perfectly made, so exquisitely finished, you could almost wear them inside out. They are intensely feminine, undeniably sexy and give curves even if you have none.
To best replicate that famous Alaïa fit when pulling on your own LBD this holiday season, squeeze into some 'one size too small' Spanx and try not to breathe. His new fragrance Alaïa Paris, redolent of leather dusted with violet face powder, reflects this hard/soft duality of his clothes perfectly. Wear it with leather, winged black liner, and a pissy expression because your dress is so tight you can't eat the hors d'oeuvres. Whatever.
• • • • •
Do you still have gifts on your to-buy list? Have you already bought – or are you planning to buy – a fragrance for yourself?
shoppity shop-shop