FASHION SANTA: 5 THINGS YOU WANT TO KNOW
A behind-the-beard chat with the hottest St. Nick on the planet, plus photos of Fashion Santa without the now-famous facial hair.
Fashion Santa has got to be relieved that the 2015 version of sitting on his knee is snapping a selfie with him to post to social media. Not that he'd say so. Instead, blue eyes a-twinkling, Yorkdale Mall's Fashion Santa, aka model Paul Mason is working a little extra Christmas magic with those selfies, posing for them for a good cause. And he's become something of an international phenomenon – in addition to Canada's major publications and websites, every major news outlet from The Guardian to The Daily Mail to Harper's Bazaar to Cosmopolitan to time.com is obsessed.
Beautygeeks caught up with Fashion Santa/Paul Mason earlier this year, backstage at World MasterCard Fashion Week's Fall/Winter 2015 shows in Toronto. Naturally, we asked the veteran model (he's been in the biz for 30 years) all about that snowy hair, magnificent beard, and his skincare too – and got some surprising answers.
fashion santa: 5 things you want to know
1) Fashion Santa uses blue shampoo.
"I don't have a specific brand," says model Paul Mason, 51. "I just use anything that's purple or blue. It goes in the beard, too."
2) Fashion Santa didn't mean to grow a beard.
"I stopped shaving when my mom passed away two years ago – I was a bit down. Then the beard took on a life of its own, and I decided I like the look."
3) Fashion Santa uses the word "GUCKY." 
"I've had a number of beard oils given to me, but I don't use them. I find them a little gucky. What works best for me is shampooing the beard before I come to an event; it stays really full. I don't comb it. I do trim it myself sometimes, but it gets shaped by experts when I do jobs like this."
4) Fashion Santa eschews self-administered skincare.
"I don't use anything on my face, ever, not even moisturizer." When I marvel, he adds, "I don't smoke – maybe that helps?" On top of that, he's an outdoorsy guy. "I have a lot of freckles, and I'm sure I have damaged skin," he admits. And then he laughs. "I'm actually hung over right now from a Fashion Week party last night, so I'm really dry. The makeup artist slapped a lot of moisturizer on me, and I'm wearing a lot of makeup right now."
5) Fashion Santa is sharing his selfie for kids.
This is Paul Mason's second run as Yorkdale's Fashion Santa, and together with Yorkdale Mall he's spreading cheer social-media styles. Each selfie snapped with Fashion Santa and posted with #YorkdaleFashionSanta means $1 wings its way to the Sick Kids Foundation. With a little Yuletide luck (so far, so good thanks to the international attention), donations will reach their $10,000 CAN goal.
Since our backstage chat, it seems Paul Mason has found a beard oil or two he rather likes. (Application counts: oil is always better and more easily distributed on damp hair and skin.) And moisturizer or not – does it really matter in the face of a smile that can melt the North Pole?
Fashion Santa: With & Without The Beard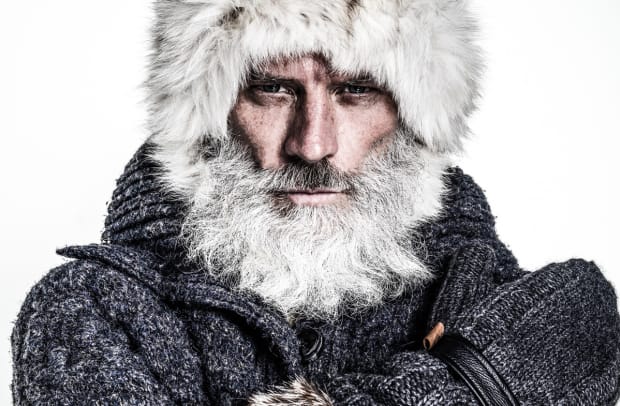 And here's when to find Fashion Santa and his fine selfie at Yorkdale Mall.
shoppity shop-shop
Not every man can be Fashion Santa when it comes to skincare, so from cleansers to exfoliating serums and pads, to lightweight moisturizers and options for sensitive dry skin, here are our picks for great stuff for his face. Oh, and care for snowy hair.
Obviously Paul Mason is the world's sexiest Santa – and I know you have thoughts!