13 TIPS FOR CHOOSING THE RIGHT SKINCARE GIFTS
Buying facial skincare for someone else is easier than you think. Trust.
As it is for almost anything except a new MacBook, this is one of the best times of the year for special facial skincare purchases. A host of money-saving skincare sets populate beauty departments and boutiques right now, and many are already on sale. They make great gifts, too – and not just from you to yourself, despite a popular perception that buying skincare for someone else is ill-advised. What if you get something that's wrong for the recipient's skin? Pshaw, I say! The following 13 tips will help minimize that risk. They may even turn you into the best gift-giver ever at least from a skin-care addict's point of view.
13 tips for choosing the right skincare as gifts
Trust that you know more than you think. Your friend has ultra-sensitive skin? She'll have mentioned that, likely more than once. She's dealing with acne issues? You'll have seen the evidence. Trusts her skincare to no-one but a dermatologist? Bet she's talked about her derm. Most women with tricky skin issues mention those issues in conversation with friends at some point.


Gift sets really are excellent value options. Most consist of a brand's most popular items and newest releases; they're designed to please a wide range of customers, loyal and potential. 


A set that is all about hydration or moisturizing is a fairly universal choice for all ages and skin types, especially if the recipient lives in a winter-weather zone.


A sensitive-skin set is also an all-ages and skin-types option.


Anti-aging sets seem tricky, but for the most part they're designed to boost hydration levels and gently smooth the skin. Unless your intended recipient is very young or ultra-sensitive, there's no need to worry. Of course, you can also do a quick google search for online reviews before you buy.


Certain brands are usually well received because they're prestigious or fancy (and yep, mucho expensive) or they're instantly recognizable, and trusted. Fancy includes: Giorgio Armani, Clé de Peau, La Mer, Guerlain, and Yves Saint Laurent. Trusted includes: Aveeno, Avene, Biotherm, Burt's Bees, Clinique, Clarins, Dermalogica, Dr. Brandt, Dr. Dennis Gross, Garnier, Olé Henriksen, Estée Lauder, La Roche-Posay, Lancôme, L'Oréal Paris, Neutrogena, Neostrata, Olay, Perricone MD, Shiseido, Kate Somerville, Strivectin and Vichy.


Some brands are worth checking out because they appear constantly in beauty and fashion publications. These include Charlotte Tilbury, Fresh, Eve Lom, Lise Watier, L'Occitane, Sunday Riley, Tata Harper, Origins, Philosophy and Shu Uemura.


Korean and Japanese brands are still experiencing a popularity surge; a trial kit is a nice introduction. Good ones to try include AmorePacific, Boscia, Dr. Jart, Erborian, Laneige, Tatcha, Too Cool for School – check Sephora's Korean Beauty section, and boutiques such as TheFaceShop and Holika Holika that specialize in k-beauty.


Hydrating masks are huge right now, and generally appropriate for most skin types and ages. Sheet masks are (finally) having their moment; masks that come in tubes and jars are also great gifts.


If a certain brand at a large retailer (such as Shoppers Drug Mart, Murale, Sephora, Ulta or department store such as Hudson's Bay, Nordstrom, etc.) catches your eye, even if you know nothing about it, ask a beauty advisor for information. He or she should be able to explain the line's philosophy and the skin type that can benefit.


Snooping (respectfully) in your intended gift-recipient's bathroom is an age-old information-gathering technique. Does she have just a few skincare items? Not a skincare junkie then, so you can keep your gift simple with a set that promises cleansing, hydration or moisture, or brightening. Does she have a sea of bottles and jars? She'll do well with sets that are a bit more complex, that include peels or exfoliants, or stuff that you have to mix up before using.


One note of caution: scent is a big deal for many people. Chances are you know if your gift recipient loathes sweet or dessert-scented stuff, or hates super-perfume-y formulas – we aren't quiet about that kind of thing. *grin* If you don't know what your intended gift recipient prefers, err on the side of low- or unscented. Stick to the "derm" section of your favourite retailer, or ask for advice from a beauty advisor or department sales person.
A Few of Our Skincare Favourites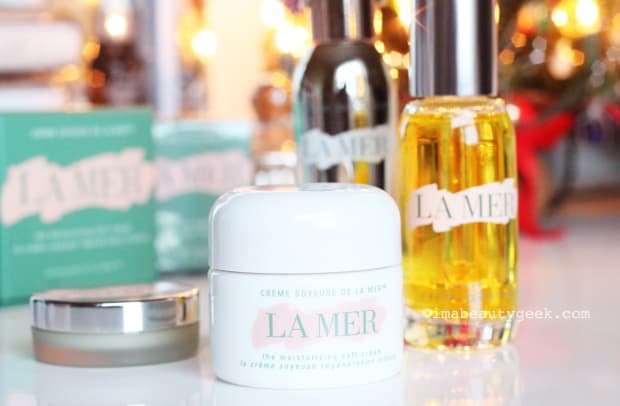 And what if you do give someone a skincare gift she instantly knows she'll never use (although she won't say so because she's a lovely, gracious person)? 
My mum gave me the very best gifting advice in the world – let's call this our 13th tip: When you give people presents, what you give them immediately becomes theirs. That means they can do whatever they want with the stuff once it's in their hands. Use everything all up in a week? Great. Leave it carelessly lying all over the house? Fine. Re-gift it to someone else they think might appreciate it and thus look like a skincare rock-star themselves? Brilliant.
Do you already give skincare sets as gifts? Have you ever? Does anything in our list of 13 tips for gifting skincare ring true for you?
shoppity shop-shop