KISS INSTAWAVE REVIEW + VIDEO TUTORIAL
Seriously, ditch that curling iron now, because you don't need it anymore.
If you've ever struggled with a curling iron and given up in despair, you did the right thing. You haven't failed. You were waiting for something better: the Kiss InstaWave Automatic Curler. How is the Kiss InstaWave better than a standard curling iron? Let us count the waves. Er – ways. And we have help from my sweet nieces, Erin and Lauren!
kiss instawave review & tutorial
The Kiss InstaWave has been out for a couple of years now, and I can't figure out why standard barrel-clamp curling irons still exist. Not that standard irons don't work – they just require some finesse to create great waves and curls (especially at the back of the head) without burning yourself ever, or leaving odd bends in your hair, or spending a long time on your 'do. Some folks are really good at using curling irons, though. Not you? No worries!
An odd looking tool, the Kiss InstaWave ($59.95 CAN at walmart.ca and $49.99 US at ulta.com) has a short-ish straight ionic ceramic barrel wand (the only part that heats up) and several prongs that surround its base. The wand rotates left or right depending on which way you direct it via the large switch on the handle.  The prongs corall the hair and keep it gently in place as it winds about the rotating barrel. Does that make sense? It's more simple than it sounds, you'll see.
My niece Erin, 14, is skilled with hair. She has tons of hair, super-thick and super-long. She's good with a curling iron. But she doesn't use one anymore. Nope. That's because she has a Kiss InstaWave automatic curler for curls and waves. And she can use it pretty much with one hand and doesn't even need to look in a mirror as she curls. Exhibit A: our impromptu Kiss InstaWave video tutorial, shot because the opportunity presented itself unexpectedly on the weekend (thanks much, Erin!).
kiss instawave on shorter hair
And this is Lauren, whom you may remember from this recent makeup-for-10-year-olds post. She has fine, straight hair cut in a bob, and in the slideshow below (the result of another quickly executed shoot), shows us what the InstaWave can do for shorter hair. (Thanks bunches, Lauren!)
Kiss InstaWave Review + Tutorial: Shorter Hair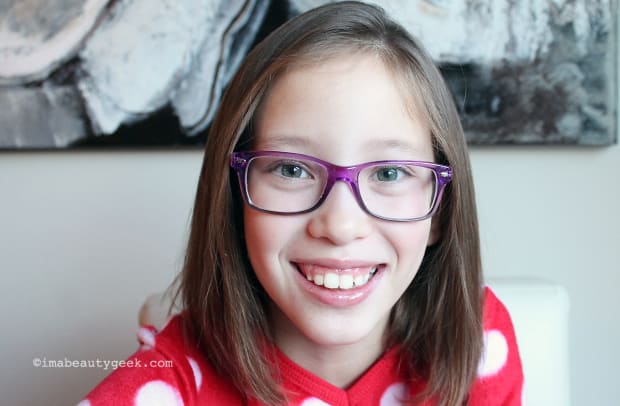 Fun fact: the Kiss InstaWave was invented by the father of two young girls. Concerned that his daughters might burn themselves badly with traditional curling irons, he set out to create a new tool that would do most of the work and minimize the burn risk. Mission accomplished. (More styling how-to vids at kissinstawave.com, btw.)
Another great thing about the Kiss InstaWave is how reasonably priced it is. At just under $60 in Canada and $50 in the US, it's a great gift option. In Canada, you'll find it at Walmart; in the US, it's sold at Walgreens, Target, Amazon and Ulta.
Thanks again to my sweetheart nieces for helping out with this post. And I don't have to point out that age 14 on Erin looks way different from age 14 on me, do I? Well, there were no YouTube hair and makeup tutorials when I was a teen. So there. *grin*
Hands up if you already have a Kiss InstaWave automatic curler. How does it work for you? And if you don't have one, are you intrigued?
shoppity shop-shop