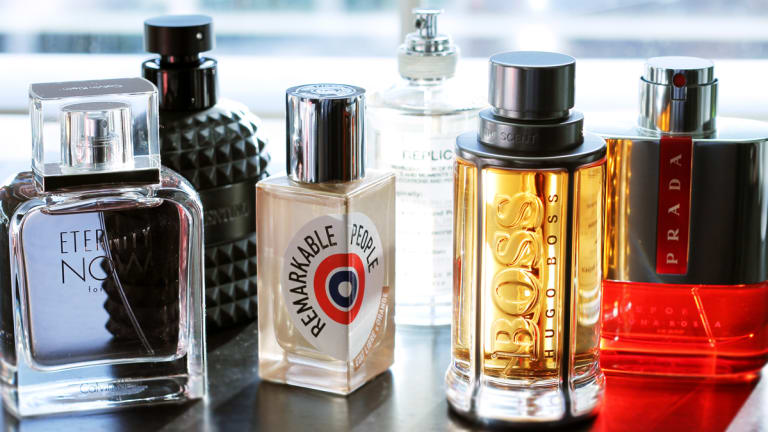 MEN'S FRAGRANCE GIFTS: THE GUY'S GUIDE
To help make your holiday shopping decisions easier, we got a man's perspective on the season's gift-able scents for him, along with tips to wear them well. Our takeaway? Remember the bees.
Before spritzing himself with the latest colognes, the discerning male understands that a heavy hand with the bottle can result in bizarre and often socially shaming consequences.
the bees and the birds
When I was younger, I was fond of laying on cheap drug store fragrances (Brut, Hai Karate), as if with a painter's trowel. I'd strut out of my parents' house and immediately be set upon by bees drawn to the sweet, cloying tonics I'd splashed on my face. Trust me. There is no chance – zero – of appearing fetching to the opposite sex when you are seen running away from bees, swatting wildly as you gallop off in an aimless flight of terror.
no-one likes a sillage-slap
Later, having learned the careful art of "half of that is plenty," I noticed how other men, as they plied the office corridors, could send those around them into nostril shock with the pungency of their sillage. There is a guy in our apartment building – let's call him Dave – who lathers himself with such apparent gusto that his signature scent (a bottom-range cologne heavy on what I can only assume is castor oil and peppermint), still lingers in the foyer a full hour after he's passed through. I call this miasma of lab enzymes "Vapour Dave," as in: "I just caught a whiff of Vapour Dave in the stairwell, and I happen to know he left for work two hours ago."
cultivate your clinch zone
All this is to say that in matters of hygiene, a man should strive to keep his perfuming tactics to a sensible whisper. Think of fragrance in terms of your "clinch zone" – that discreet, intimate space between you and the person you'd want to nuzzle. Any farther out than that and you are, to strain the metaphor, attracting bees. It helps, of course, that one begins by choosing a fragrance that lends itself to non-flamboyance, and so we have compiled a holiday gift guide to help suggest some new "flavours" in the marketplace that work well without working too hard. 
men's fragrance gifts: the guy's guide
Valentino Uomo, Edition Noire ($98 CAN at thebay.com and $95 US at nordstrom.com) – Although the bottle, with its pineapple faceting, resembles nothing so much as a macho black hand grenade, this limited edition release from house of Valentino has a soft woody base that slowly flares out into clarifying notes of roasted coffee and cedar. On the skin it holds its robust structure yet blends down, over time, into a quiet scent that seems to live "with" you rather than "on" you. An all-day pleasure.
Maison Martin Margiela Replica: At the Barber's ($120 CAN at sephora.ca and $125 US at sephora.com) – This pump spray, which comes in a smart glass apothecary jar, imparts a berserk astringency which, at first sniff, seems too riotously "floral." The press kit likens the olfactory effect to "evok(ing) a vintage masculine ritual in the fresh and clean atmosphere of a barbershop" with basil, lavender, tonka bean and white musk (I also sensed an uncredited "tulip"), all vying for scent supremacy. For me, it failed the initial nose test, but when applied to the skin it dried down to a pleasing, medicinal waft. Still, a little goes a long way. Remember the bees.

Etat Libre d'Orange Remarkable People ($179 CAN at sephora.ca and from $85 US at birchbox.com) – "Wearable" is a vague and overused term, but this two-tiered fragrance has a true day-into-evening appeal, with zesty top notes of cardamom and grapefruit giving way, over hours, to a pepper and sandalwood finish. Marketed as unisex, I'd say out of the gate it's more "girl" but alchemizes to "boy" the longer it's on the skin. My personal favourite of the new releases. 
Calvin Klein Eternity Now For Men (from $70 CAN at thebay.com and $60 US at sephora.com) – Twenty-seven years on from the original Eternity, this sequel arrives like a pastry-shop explosion with competing notes of vanilla, ginger, coconut water, star anise and tonka bean. On my own skin its medley eventually resolved into a soft-toned "butterscotch," which is not classic, but hardly the worst smell to live with unless you're hungry. 
Prada Luna Rossa Sport (from $72 CAN at thebay.com and from $64 US from sephora.com) – Named after Prada's famed catamaran, Luna Rossa – a bracing mélange of lavender, ginger and juniperberry – is meant to conjure the elemental nip of high-seas adventure. Think white caps and surging wakes, and you cresting the churn in your striped Breton sailor's shirt as ocean spray lashes your face. The wonder of it all? It works! A bright, seaworthy scent that screams in-the-sun and on-the-water. 
Hugo Boss Boss The Scent (from $78 CAN at thebay.com and from $68 US at macys.com) – This stylish flacon with its resin-tinted juice suggests a world of men reclining in leather club chairs, brandy swirled in snifters and air perfumed with Amphora pipe smoke. As it relates to the skin, however, The Scent is less members-only private club and more "apple fritter Timbit." In other words, its charms are sweet and slight, which is fine as far as it goes. Just don't expect anyone to invite you to an evening of billiards and cognac by the fieldstone fireplace.
How does your man wear fragrance? With a heavy hand so you know where he's been (and when)? Or with restraint so you have to get close to appreciate it? Do you plan to buy him cologne this holiday season?
shoppity shop-shop
Craig MacInnis is an author, former music and film critic, husband to our Liza Herz, and an honorary member of our Beautygeeks squad.
Update: Beautygeeks is proud to announce that Craig MacInnis has won a 2016 Canadian Fragrance Award for Best TV/Online Editorial for this piece! Congratulations, Craig! – ed.