CLARISONIC LOVE, POP, DANCE + CLEANSER QUERY
Meet the delightful Keith Haring collection – and hey, Dr. Robb, what's the right cleanser to use with a Clarisonic brush?
If you pulled the trigger for a Clarisonic earlier this year, maybe you have someone you can give it to so you can ask Santa for a new one? Because the holiday 2015 collection is kinda hard to resist. This season, Clarisonic has partnered with the Keith Haring Foundation to offer three Mia 2 units adorned with the iconic work of the late pop-artist and social activist. Love, Pop, Dance – I bet you already have a favourite.
clarisonic and keith haring
"A lot of people don't know I have a background in immunology with a PhD in infectious disease," says Dr. Robb Akridge, the co-founder and president of Clarisonic. "I worked on HIV1 and AIDS vaccine research from 1991 to 1997, then I went to work for Sonicare, and then I went back to AIDS research – it was about 10 years in all. 
LOVE, POP, DANCE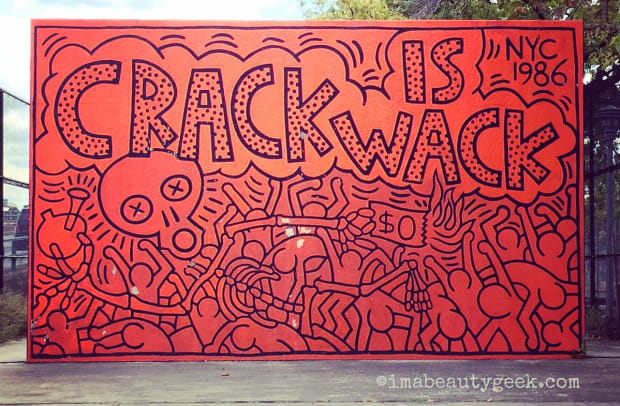 "At Clarisonic, when we were searching for an artist for this year's holiday set, none really resonated with what we wanted to stand for until I remembered Keith Haring, whose work was everywhere in the 80s. Back then, I had lost about 15 friends to HIV. Artists, waiters, doctors, engineers – all these people would just disappear overnight, and no-one would talk about what they had. Keith Haring had the courage to stand up and talk about his having HIV/AIDS, a very brave thing to do."
Although it sprang from a scary time, Haring's art is bright and optimistic, a charming fit for Clarisonic, says Dr. Robb. But the partnership is based on more than cute little figures that occilate like the Clarisonic brushes. "The Keith Haring foundation supports groups that do AIDS research and helps underprivileged children, kids from homes that are impacted by the virus."
When it came to choosing the art for the brushes, of course not everything Haring produced is appropriate for mass consumption. "I would have loved to put [something more risqué on the handles]; people would probably have cracked up," laughs Dr. Robb. "We worked with an organization that handles Keith Haring's licensing and has a whole library of hundreds and hundreds of works. It took our people about three months to sort through the options and make sure they worked graphically with the dimensions and preserved the integrity of the art. Eventually we chose three images. We picked LOVE for the bag because it's what we wanted to express, and used it along with POP and DANCE for the handles. We're really happy with them, and to share Keith Haring's art and message of compassion with everyone."
the right cleanser for your clarisonic
One of the most common questions Beautygeeks gets about the Clarisonic (other than breakouts, which Dr. Robb addresses here) is what kind of cleanser should I use with my brush? After our Keith Haring chat, I asked Dr. Robb, who uses a Clarisonic every day (he calls himself the original guinea pig for the system, from prototypes on). Here's what he says:
Avoid scrubby, exfoliating cleansers – they'll be too harsh with the oscillating brush, which cleanses with more than 300 movements per second.
Thinner cleansers may not be your best choice; you want something that has a good amount of slip – something lubricious (see the super-short video below!)
Oil cleansers are great, especially if you want to remove a lot of makeup. Just be sure to use shampoo or a high-foam cleanser to clean the brush afterward.
Use a generous amount of cleanser (cover the whole brush surface) with a generous amount of water (use it in the shower) so the brush glides easily over the skin.
Don't press the brush into your skin as you use it; just hold it comfortably against your face and let it do all the work.
shoppity shop-shop
What do you think, lovelies? xoxo
Note: this post originally included mention of a 20% discount on select Keith Haring Clarisonic units at clarisonic.ca. The discount period has ended, so I've amended the post.