ESTEE LAUDER SHAPE + FILL SERUM #BestAngleCA SELFIE TIPS!
This was a giveaway post at first, but now it's a post full of best tips for great selfies. *grin*
In partnership with Estée Lauder • Lovelies, Estée Lauder and Beautygeeks want to see your best angle! And we're thrilled to offer you the chance to win one of 15 bottles of Estée Lauder New Dimension Shape + Fill Serum! (If you missed it, read about New Dimension Shape + Fill Serum here for info on how it works to improve skin density and facial contours.)
find your best angle
The composite image you see up there is obviously of Yours Truly attempting to find her best angle (and the right place to look on the phone). For most of us, it often it takes more than one snap to get the right shot. (A recent report says it takes most people "almost seven minutes" to get a shot they like. I'd say it takes "less than eight." #perspective)
Tried-and-true selfie best practices:
1) Good lighting is a must. Know this: with great light, you are more photogenic than you think. Trust. Always angle your face toward the light so you minimize shadows (unlike my oopsie here). Overhead lighting casts awful shadows under the brow bone and under the nose; deal with it by angling your face up into the light and position your camera above you, too – just be careful not to create a shadow by holding your phone between the light and your face. (See what I mean here.) And DO brighten your photo in Instagram before you post it. The camera totally gets sidetracked by shadowy areas; tweaking shadows and highlights as well as overall lighting helps offset that.
2) A three-quarter face shot is often more flattering than straight on. Turning your face a little to the side shows off better definition, highlights the cheekbones and the line of your jaw. Adjust your position in small movements, taking a snap each time until you find the angle you like best.
3) Angles count when it comes to camera positioning, too. Hold yours a touch higher than eye level. Don't tilt your head back, though. Instead, extend your face forward a bit and angle your chin just slightly down -- that'll give you a sharper jawline. Also, the straighter the phone is in relation to the angle of your face, the less distortion you'll get.
4) Strategic cropping can be your best tool. What you leave out of the photo is as important as what you leave in. Showing only part of my face is my favourite selfie trick – sometimes, my chin is my best feature.
My #BestAngleCA Selfies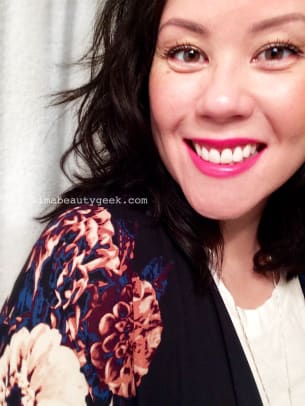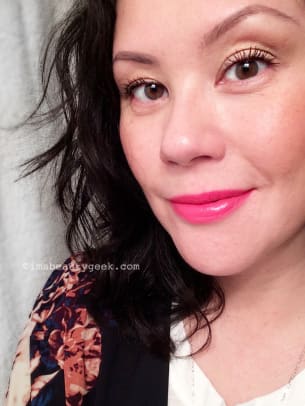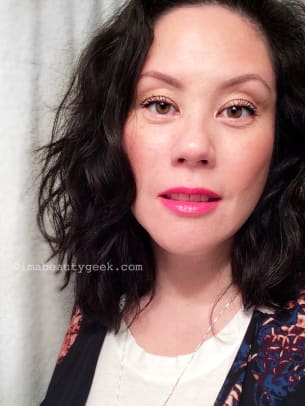 Lip: Estée Lauder Pure Color Envy Liquid Lip Potion in Wicked Sweet ($34 at thebay.com and $30 at nordstrom.com). Kimono and tank top, Seven7 by Melissa McCarthy via Penningtons.
instagram your best angle for bonus points
Now that you're set for selfie tricks, c'mon, show us your best angle! Post your most flattering selfie(s) on Instagram with the hashtag #bestangleCA, and tag @esteelauder and @imabeautygeek, and post a giveaway comment. And if you don't feel comfortable with selfies, of course you can still enter! All the details are in the entry box below.
As the hashtag suggests, you must be a resident of Canada to be eligible for this giveaway (apologies to our US-based friends). For more rules and regulations see the end of this post. Our Estée Lauder #bestangleCA contest will end midnight October 6th. Have fun! Can't wait to to see your best angles!
shoppity shop-shop
estee lauder #bestangleCA giveaway rules and regs
**No purchase is necessary; prizes may not be exactly as shown in the image in this post. Contest void where prohibited by law. To enter the Contest you must be a resident of Canada who has reached the age of majority in his/her province or territory of residence at the time of registration and/or entry. Employees, officers and directors (and immediate family members and members of the same household of such persons, including common law spouses) of Estée Lauder, and their respective affiliates, agents, advertising or promotional agencies, suppliers of prizes and the independent contest organization are not eligible to enter the Contest.**