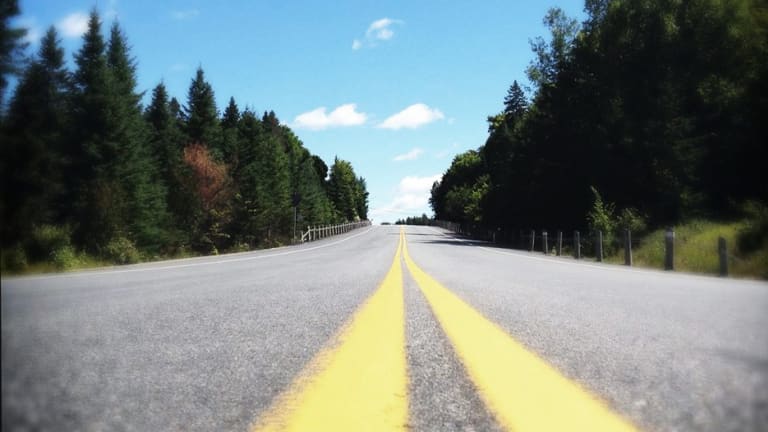 ROAD TRIP! HOW TO PREP FOR LONG HOURS IN A CAR WITH PEOPLE YOU LIKE (WE HOPE)
you want to smell good without infringing on other people's sensibilities, you want to look good but not fuss too much, and you want snacks, lots of snacks
In partnership with Shoppers Drug Mart  •  Prepping for a perfect weekend road trip, especially in summer, is so much easier than packing for a flight someplace, don't you think? Not that I don't love to fly places, but the TSA rules and baggage fees – ugh. If I owned a car and were a better driver (#unitasker), I'd go on road trips all the time, despite an unfortunate tendency toward motion sickness since childhood (Dad had to keep plastic bags in the glove compartment). As long as the vehicle is air-conditioned, and I get to sit in the front seat (see: motion sickness), I'm so game for a nice long car ride. Or SUV ride -- the higher off the ground the better, plus leg room.
how to prep for a perfect weekend road trip
1) smell good to everyone
Maybe it's because of my beauty-editor background – duh, of course it is – my prep list starts with getting the self ready for a day in close quarters with family members and/or friends. That means starting with a nice, moisturizing body wash, preferably one with a fresh scent because I'll be skipping perfume. Fragrance is so tricky for some people, whether it's allergy-related or preference. I'd hate being stuck with someone wearing a sweet, gourmand scent; someone else might loathe my bergamot, incense, vetiver choices. A very light trace of body wash won't be potent enough to upset other noses. 
Aside from a good antiperspirant or deodorant, throw a pack of face wipes in your bag – that's a Liza tip for freshening up later in the day. Use them on the back of your neck as well as on arms, decolette, hands and feet (flip flops = dust and grime).
2) go with a low-maintenance 'do
I do not fuss with my hair. Road trip? Top knot. And I get the best, most flattering top knots when I've used a volumizing shampoo and conditioner to boost my hair's texture. Bonus if it smells clean and fresh (see: skipping perfume, above).
I do tend toward frizz, however, which can make a top-knot 'do slip into crazy-lady-librarian all too easily. So a little strategically placed anti-frizz serum to control the frizzies at the sides of my head and a bit at the top helps me look more groomed -- and more youthful, frankly.
3) take adequate protection
And then there's broad-spectrum sunscreen, which I always have in my purse. It's defense against DNA-damaging UVA rays that penetrate glass as well as penetrate the skin more deeply and dangerously than UVB, which causes sunburn. Although SPF only measures UVB protection, there are UVA filters in the formula which make it broad-spectrum. An increase the amount of UVA filters results in a higher SPF number. Thus, when it comes to broad-spectrum sunscreen, for me the higher the SPF number, the better UVA defense I'm getting. So SPF 30 just doesn't cut it anymore. And I'll be re-applying every couple of hours to maintain a shield against the UV streaming in through the car windows.
4) snacks, snacks, snacks!
Snacks are some of the best parts of a perfect weekend road trip! Sure, you can stop along the way when you feel peckish, but sharing around a bag of tangy Skittles, or chewy Swedish Berries, or strawberry Twizzlers – that stuff brings out the carefree kid in everyone, right? Okay, if you want to bring broccoli and cauliflower and baby carrots, or even tasty sandwiches (without tomato to make the bread soggy) that's fine. I enjoy those too. And staying hydrated with bottles of water and Gatorade is a must. But just know that I'll have a couple of kooky chocolate bars in my bag. And I'll share. Maybe.
Do you take road trips? What do you consider essential for a perfect weekend road trip?
More #summercovered stuff including the best battery-powered gadget this season + a hottie slideshow here.
Make your summer dreams come true with these and many more perfect-road-trip items at Shoppers Drug Mart locations across Canada, and hit shoppersdrugmart.ca/funinthesun for more summer fun + beauty ideas. Plus check out their in-store contest -- a grand prize of $5,000 could be yours! It's a good time to re-up on your summer must-haves.