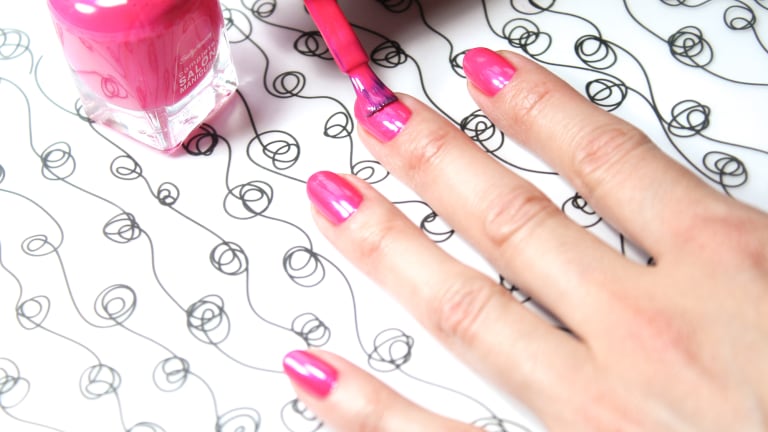 HOW TO PAINT YOUR NAILS LIKE A MANIGEEK!
You've been asking, and now we can show you how our ManiGeek paints her nails without needing cleanup. Also, ManiGeek arts!
In partnership with Sally Hansen Canada •  We made a ManiGeek-paints video! In it we show you how to load up your brush, lay down the first coat, cap the free edge – and you'll see the ManiGeek art! For real!
First a quick recap: As you may know, we're geeking out over tone-on-tone mani/pedis this season. Deciding what shades work together is easy with the Sally Hansen Complete Salon Manicure Summer 2015 collection: it's made up of co-ordinating duos of great hot-weather hues you can wear in a bunch of ways. (Check out all the swatches, tone-on-tone ideas and time-saving DIY tips in our Beautygeeks Mani Pedi Guide here!)
This is one of the tone-on-tone mani moves we'll show you in our video, a totally easy technique anyone can do, even if it's the first time you art ever.
Nail-art fans already know what this nifty little thingie is. Yep, it's a dual-ended dotting tool, with one dotting tip smaller than the other. If you don't already own one, you can pick this up as part of the Sally Hansen I Heart Nail Art Tool Kit ($5.95 at drugstores). Now let's get to the video!
how to paint nails like a manigeek
Keep watching our Instagram feeds (@ManiGeek and @JanineFalcon) and our Twitter feeds too (@TheManiGeek, @JanineFalcon, @Beautygeeks) for more Sally Hansen Complete Salon Manicure fun! And don't forget to check out our mani-pedi guide if you haven't already!
Still got questions about how to paint nails like a ManiGeek? Ask away! And definitely share your own tips in the comments too!
For Sally Hansen news follow @SallyHansenCA on Instagram, @SallyHansenCA on Twitter, and visit sallyhansen.ca!