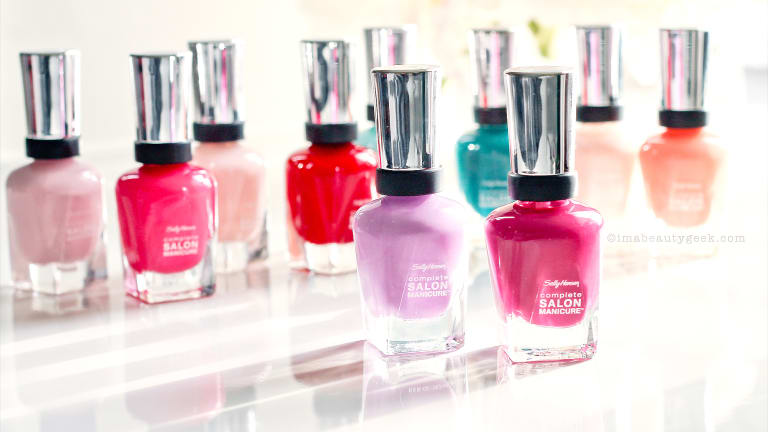 BEAUTYGEEKS SALLY HANSEN COMPLETE SALON MANICURE MANI/PEDI GUIDE
Tips, toes, swatches and tone-on-tone nail arts with the ManiGeek
In partnership with Sally Hansen Canada . We're doing our part to prettify the summer sidewalks: Welcome to the Beautygeeks Sally Hansen Complete Salon Manicure Mani/Pedi Guide!
We have an exciting new colour obsession: the tone-on-tone mani/pedi, which we'll tell you all about in a second. If you like time-saving DIY mani/pedi tips, we've got those for you too, along with ManiGeek swatches featuring our favourite Sally Hansen Complete Salon Manicure pairs, all in the gallery slideshow later in this post. First we geek-out about tone-on-tone!
the tone-on-tone mani/pedi
Remember when it was almost a rule to use the same nail colour for your fingers and your toes? And then it was a thing to not to match at all? This tone-on-tone trend hits right in the middle. We're diggin' it as a polished way (see that?) to play with colour. Wear a light shade on your fingers and a complementary colour on your toes. Or, hey! Use both shades to art on your nails. ManiGeek did! #truestory
The toughest part about a tone-on-tone mani/pedi is deciding which colours to wear together. Enter super-efficient Sally Hansen Complete Salon Manicure – they've already cut your painting time by stuffing base, colour and top coat all in one bottle. And this summer, they've made co-ordinating your shades a no-think exercise. Thank goodness because there are 56 salon-quality shades in the CSM range – no wait, there are 72 as of this month! Let's look at their hot-for-summer hues.
sally hansen complete salon manicure tone-on-tone mani/pedi shade pairings
These shades of lilac and orchid should look stupendous on pretty much everyone. You know, errrryone! Purple is a consistently popular trend that promises to stick around for a long time – and Grape Gatsby is one of Sally Hansen's best-selling CSM shades, which tells you how easy it is for every skintone to wear, right?
A coat of Grape Gatsby on the middle finger and a coat of Orchid Me Not on all the rest, a little dry time, a strip of tape, and a quick application of Orchid Me Not on one side of the accent nail and you can achieve this smashing two-tone look. So easy! (Psst... we'll show  you exactly how to do this right now 'cause we made a VIDEO!)
Fresh and vibrant green tickles (yeah, we just worked tickles into the copy) our love of the summer outdoors, even if we're more the indoorsy types. In fact, Sally Hansen's cool-girl Global manicure expert Madeline Poole backs us up on our keen-for-green: she agrees it's one of the season's hottest shades.
This single-stripe mani is dead simple: striping tape, a couple coats of Greenlight, striping tape removal, and the resulting negative space filled in (via dotting tool) with Jaded. We're crushing on this combo, big time. And guess what? Madeline forecasts that "medium shades like Greenlight that look great right now will continue to be amazing for Fall."
If you're more into softer, nostalgic shades, Complete Salon Manicure has you covered with these two pretties. "This Spring and Summer, vintage shades are making a comeback," says Madeline. She feels love for Peach of Cake in particular "because it still feels feminine and classic."
Here, start with a coat or two of Sally Hansen Complete Salon Manicure Arm Candy, wait for it to dry, and then use a little nail-art brush and your Peach of Cake to paint on a French tip. How about that for an updated tone-on-tone version of a French manicure? And bonus: Complete Salon Manicure is a chip-resistant formula. That's good news for your Peach of Cake French tip.
With pale pink for your mani and look-at-me fuchsia for your pedi, you can be boardroom-ready on your tips and cocktails-ready on your toes.
Pink a Card + Back to the Fuchsia = pretty yet graphic contrasting awesomeness. Arting with these shades is wicked easy. How about an off-centre negative-space mani? Whip out your trusty striping tape, slap it on your nail, and do two coats of Pink a Card on one side and two coats of Back to the Fuchsia on the other. Take that tape off as soon as you're done and hit your mani with a single coat of Big Shiny Top Coat to fill in the stripe and level off your polish masterpiece.
And see how great Back to the Fuchsia looks on toes? This is our favourite Sally Hansen Complete Salon Manicure pedicure shade. Hello, Summer!
beautygeeks time-saving diy mani/pedi tips
Keep your eyes glued to our Instagram feeds (@ManiGeek and @JanineFalcon) and our Twitter feeds too (@TheManiGeek, @JanineFalcon, @Beautygeeks) for more Sally Hansen Complete Salon Manicure tone-on-tone goodness – and for news of our upcoming ManiGeek Paints video!
How do you choose your nail polish shades? You down with the tone-on-tone trend, yo? What's your best time-saving mani/pedi tip? Share!!! I needa know!
For Sally Hansen news follow @SallyHansenCA on Instagram, @SallyHansenCA on Twitter, and visit sallyhansen.ca!