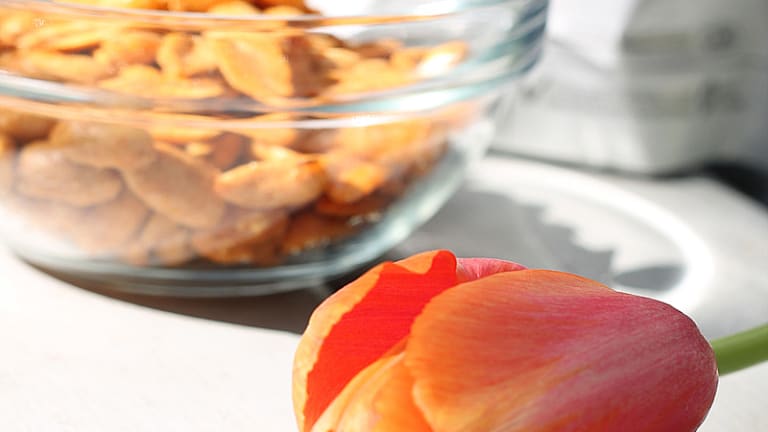 JAI COURTNEY, MY NEW FAVE BATTERY-POWERED GADGET + A CHORES BOWL
turns out spicy nuts can lead to some really hot dreams
In partnership with Shoppers Drug Mart  •  A strange thing happened while I was pondering tips on how to host the perfect BBQ. I think it was a dream. Well of course it was, probably sparked by many handfuls of spicy PC Lime & Habanero Chile peanuts before nodding off. As if there's any sort of reality that would have 6-foot Aussie hella-hunk Jai Courtney (Terminator Genisys; Insurgent) on the other side of my cel phone making plans with me. 
This is actor Jai Courtney. He's named after an orphan-boy character in "Tarzan," the TV series from the late 1960s. And at 29, he's on a major career upswing. He's worked with Tom Cruise, Bruce Willis, Angelina Jolie, and Russell Crowe. Ahnold, too; Jai is Kyle Reese in the new Terminator Genisys flick (which of course I saw on its opening day, July 1). Soon he'll appear alongside Will Smith, Ben Affleck and Margo Robbie in Suicide Squad, filming in Toronto right. this. minute. To see much more of Jai Courtney – *fans self frantically* – flip through the gallery at the end of this post.
host the perfect summer bbq: personal prep
Anyway, you know how dreams are, weaving things that make sense into I'm-sorry-what? As in, getting myself ready for this BBQ is now really important because holy-hotness Jai Courtney has somehow become part of my plans. So I snag Dial Coconut Water Refreshing Mango Hydrating Body Wash and jump into my backyard waterfall for a quick shower...
Wait, what kind of dream is this that Jai isn't already here, under the cascading water? #rewrite
Post-shower with St. Ives Oatmeal & Shea Butter lotion for soft skin is mega-important because – Jai Courtney.
Obviously, it's an enthusiastic yes to Listerine Healthy White antiseptic mouthwash, partly because it whitens gently without peroxide, regular use improves oral health by up to 50%, and partly because – Jai Courtney.
And the finishing touch for my BBQ outfit is my new favourite gadget (it needs only one AA battery). The odourless OFF! Clip-On Mosquito Repellent is genius -- no way I'm spraying my skin with smelly repellent before cozying up to sizzling Jai Courtney.
Oh right. The BBQ plans. Almost forgot.
four tips for hosting the perfect summer bbq
In my dream, I'm no dummy. I've consulted my savvy-host sister (yep, ManiGeek) and her executive-chef man for advice on hosting the perfect BBQ. And I've taken the following notes:
Perfect BBQ Tip #1: Create a Chores Jar. Nice guests will ask if there's anything they can do to help out -- some people just feel better at shindigs when they have something to do. So scribble a few tasks on strips of paper, fold them, put them in a bowl, and direct your guests toward it. How's that for a kinda fun and unexpected way to give each person one thing to do, and take some of the pressure off you? (Note to self: Try not to load the bowl with things for Jai Courtney to do. #hecooks)
Perfect BBQ Tip #2: Offer a bunch of different snacks so guests can keep themselves busy while you're grilling. Peanuts, popcorn and potato chips are easy crowd pleasers. (Warning: these President's Choice Lime and Habanero Chili Kettle Cooked Peanuts may induce steamy dreams. #JaiCourtney) And remember: anything you share has no calories. #notreally
Perfect BBQ Tip #3: A plentiful supply of sturdy Royal Tiger Paper Towels is another must. Pretty them up by wrapping them around your plastic knives and forks, and display them for the taking in a colourful tin bucket.
Perfect BBQ Tip #4: Hashtag your PC Prime Rib burgers! From frozen, cook one side of your PC Prime Rib beef burger for three minutes on the grill. Give it a quarter-turn on the same side; cook for three more minutes. Flip, and repeat. (Be sure to cook all the way through -- no pink. If you have a meat thermometer, you can check that the core of the meat reaches 160°F.)
Oh! There's the doorbell! Must be Jai. 
Do you have more tips on hosting the perfect summer BBQ? Aside from Jai Courtney, that is. #gimmethat #agirlcandream
Make your summer dreams come true with these and many more perfect-BBQ items at Shoppers Drug Mart locations across Canada, and hit shoppersdrugmart.ca/funinthesun for more summer fun + beauty ideas. Plus check out their in-store contest -- a grand prize of $5,000 could be yours! It's a good time to re-up on your summer must-haves.