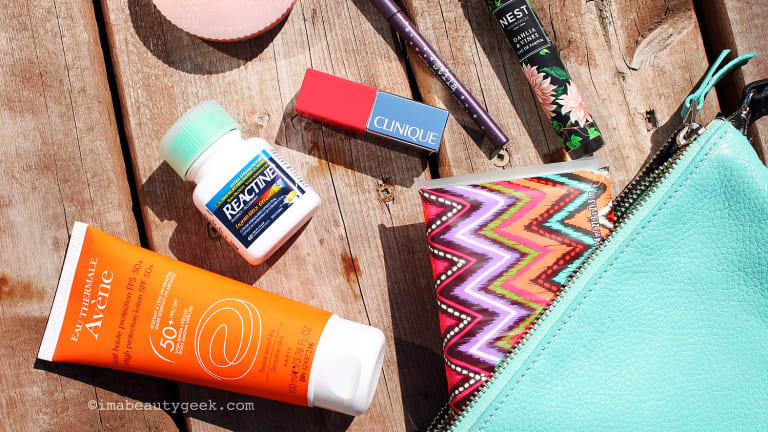 BEST WATERPROOF EYELINERS FOR SEASONAL-ALLERGY-STRICKEN EYES
if you must line your eyes, seasonal allergies be danged, try one of these budge- and smudge-resistant favourites
In partnership with the makers of REACTINE®. Thoughts and opinions are my own.   Finding the best waterproof eyeliners is one of those holy grail searches we all have in common, right? Not that I'd necessarily recommend liner if you're trying to camouflage evidence of seasonal allergy symptoms. If you've got itchy, watery, pollen-persecuted eyes, it's better to focus elsewhere -- on bright lipstick and a glowing complexion -- unless you're managing those seasonal allergy issues.
My own gold-star go-to, REACTINE® Liquid Gels, got me through last year's pollen vortex brilliantly. They can start to work in as little as 20 minutes, and regular once-a-day doses help relieve pollen-related allergy symptoms so you can feel like yourself. (There's an Extra-Strength formula, by the way, as well as a Complete Sinus + Allergy, and a kids version for ages 6+.) Frankly, without REACTINE® I can't function, let alone wear eyeliner.
Still, if you simply must line, seasonal allergies be danged, I'm happy to gush about my list of best waterproof eyeliners.
how to help eyeliner last
Obviously what works for one person rarely works for everyone else. Oily lids are a factor – waterproof does not equal oil-proof. A good layer of MAC pressed Blot Powder usually solves that problem for me; you may need a lid primer to prevent smearing throughout the day. (Awesome eyeshadow primer recomendations in the comments of this post!)
Topping liner with powder shadow generally helps it last longer -- here's how makeup pro Sheri Stroh used that technique on Selena Gomez's waterline. (If you're battling seasonal allergies without a remedy -- freehand, if you will -- you might want to stick to lining just your upper lashline.)
best waterproof eyeliners
I use pencil rather than liquid because pencil allows the most control, especially when you're prone to making up on the go (ie. in car passenger seats). Plus, I always line my upper inner waterline (a bare strip of flesh between eye makeup and eye drives me mental); I like pencil for that. Some of you use liner pens on your upper inner rim, though; I must try that!
Marc Jacobs Highliner Gel Eye Crayon Waterproof ($30 at sephora.ca and $25 at sephora.ca) is my newest liner love. The colour glides on smoothly, sets fairly quickly and stays perfectly in place for the entire day. Comes an a range of amazing shades; I might need them all. Except I also need to pay rent.
Bourjois Contour Clubbing Waterproof Eyeliner ($20 at Shoppers Drug Mart and $9 at us.asos.com) is amazing even for not clubbing (obvi). Purple Night is a fabulous shimmery purple (above) that netted me lovely compliments from lotsa people (including our Liza Herz) when I wore it. Win!
Make Up For Ever Aqua Eyes pencils ($23 at sephora.ca and $19 at sephora.com) are longtime favourites –#gimmethat, as my sis likes to say. Most of us know already how great they are and that they come in a ton of shades too -- 'nuff said. (Make Up For Ever Aqua Cream is pretty awesome, by the way. I used a bright green as a bold statement flick on my tween niece for a school dance; when she got home that evening, it looked freshly applied.)
Shu Uemura Drawing Pencil ($28 at shuuemura.ca and $24 at shu-uemura.usa.com) wowed me with its long-lasting finish. This pink-eyeliner-look stayed smudge-free for the full day; I use the black to line the upper inner rims of my eyelids. I do find, however, that after a long day -- longer than 10 hours -- it can start to flake. But it's still my upper inner-rim favourite because it transfers less to my lower lid than other pencils.
Urban Decay 24/7 Glide On Pencil ($24 at sephora.ca and $19 at sephora.com) is also a longtime love. Excellent staying power, fantastic shade range. You know these, right? Deep End (above) is particularly gorgeous.
Sephora Waterproof Crayon Contour Eye Pencil ($12 at sephora.ca and $9 at sephora.com) is yet another great formula that comes in a gazillion awesome shades. I have Black Lace (above). But I need Banana Split, Indulge Yourself, Summer Cruise, Surfer Babe, Galaxy Girl, My Boyfriend's Jeans... 
Marcelle Waterproof Eyeliner ($10.99 at well.ca and $11 at birchbox.com) is a pleasure. It's Canadian, which makes us proud, and it's great. And I'm totally in love with a shade called Caribbean (above). Hello, summer! Also, I was born in the Caribbean.
Stila Smudge-Stick Waterproof Eye Liner ($26 at sephora.ca and $20 at sephora.com) is, believe it or not, fairly new to me. I've had some for a while, but hadn't actually test-driven one until recently. And now a bunch of them have landed in my makeup case (it's kinda full of my favourite waterproof pencils right now, because I need 16 of them on hand at all times *eye roll*). Adore Moray (above).
MAC Pro Longwear Eye Liner ($24 at thebay.com and $19 at nordstrom.com) is awesome. Back when I did bridal makeup, I had many, many Chinese clients. I very rarely lined their inner upper rims because oily skin and eye construction usually meant liner transfer from the rim to the skin below the outer lower lashline. But I took a chance with one client because she said she didn't mind touching up her liner and maybe concealer as often as needed. I use MAC Pro Longwear pencil liner -- and she didn't need to touch up. Seriously stay-put pencils. I need more of them. No, really. I do.
Maybelline Color Show Kohl Liner ($5.99 at well.ca) is a great drugstore option -- look at that price. Of course I'm into Vibrant Violet (above), but the blues, the green and the silver are gorgeous. Plus the beige shade is so useful – use it to create an extra-crisp edge on your cat-eye, or to highlight the bow of your lips, or to brighten your lower waterline. I don't think this liner is available in the US, though, which is a bit odd. Was it ever?
Covergirl LiquiLine Blast ($9.99 at well.ca) is super creamy and stays put all day. Along with Make Up For Ever and Urban Decay, it was a favourite the last time I did a post on my top can't-live-without pencil liners, ages ago. I'ma pick up Green Glow (above) to wear this summer! 
L'Oreal Paris Infallible Silkissime ($11.99 at well.ca) hooked me when I did this "manga-eyes" tutorial. I have Pure Purple pencil (above) stash, natch.
but what about waterproof pens, liquid, or gel?
I pretty much never use liquid liner (Stila Stay All Day Liquid Liner gets recommended a lot, and GOSH used to have a crazy-budge-proof liquid liner they discontinued), so if you've found a waterproof formula you swear by, please do share in the comments. As for cream or gel liners other than Make Up For Ever Aqua Cream, and the now apparently discontinued Smashbox Jet Set EyeLiner (which I adored), I've heard raves about Bobbi Brown Gel Liner and MAC Fluidline, but haven't used them myself. Would love your input!
Again, I know that seasonal allergies can be really hard on eyeliner -- or on eye makeup in general. Unless you're taking something like REACTINE® Liquid Gels – they're once-a-day but I keep them in my purse because that's where I keep all my important stuff – it might be best to stick to a no-smear, no-smudge tube mascara and put the focus on skin and lips instead.
If you suffer from seasonal allergies, do symptoms prevent you from wearing eyeliner? Or have you found an eyeliner formula that holds up to itchy, watery issues? Or maybe you manage those seasonal-allergy symptoms?