Tip Tops: Fudge a Grown-Out Soak-Off Gel Mani, Camouflage Chipped Polish, Essie's Hot-Now Shades
OPI Shatter Nail Polish, White Shatter, Essie Summer 2011 Color Me Braziliant, plus how to camouflage chipped nail polish and grown-out soak-off gel
I had a shatter-mani playdate with my sister the other day -- we were like a couple of kids, mucking about with a range of OPI's Shatter polishes as well as Essie's summer shades (which include two amazing oranges). I opted for White Shatter to go over my tangerine Axxium: Like!
Sister's had more time with shatter polish, as you'll see from a couple of images in the little slideshow below. But before that, some tips:
A slow, thick application of shatter polish yields thick, chunky results
A quicker, thinner application delivers a stringier effect, like the above
Shatter polish means your base coat of polish doesn't have to be perfect
If after a couple of days with your one-colour mani you chip your polish, a quick coat of Shatter can give it new life
Top coat is essential to give the shatter (it's matte) more durability
Shatter can camouflage a growing-out soak-off gel mani; apply clear top coat over the gel and let it dry before you apply the shatter
Shatter polish comes in white, silver, turquoise, red, navy, and black
Someone asked whether shatter manis could be worn by grown-ups. We say yes, absolutely, depending on where you work, which base+shatter shades you combine, and how you apply it.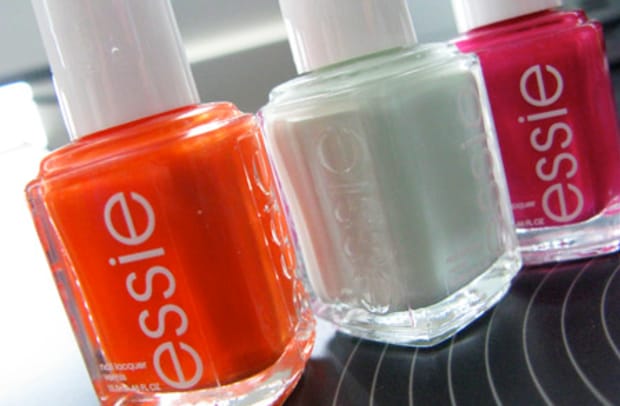 Do you agree about adults rocking shatter manis? And re: Essie, I'm drawn to Braziliant of course, but Absolutely Shore has caught my interest, too. You?