Our ManiGeek is not alone in her love for Sephora Formula X nail colour. Celebrity manicurist Mar y Soul (pronounced "Marisole") uses the extensive line on her famous clients, including Gigi Hadid, Margot Robbie, Demi Lovato, Ashley Graham and Oprah. 
In first of two videos (below) with Mar y Soul, the vivacious nail expert gives us the scoop on Sephora's new Formula X The System Xcel. Our favourite part involves "a piece of cheese in a sandwich." For real!
In the second short video, Mar y Soul gives us her top tips for achieving a professional-looking manicure at home. Note: you'll never forget her advice on effective cuticle care; it just makes so much sense.
formula x the system xcel
Here's Mar Y Soul to dish on each step of Formula X The System Xcel:
Mar Y Soul's engaging breakdown of each of the nail kit's components is much more fun than the recap list below, but if you haven't time for the video right away, the four-step Sephora's Formula X The System Xcel ($40 CAd and $32 USd at sephora.com) consists of the following components:
Cleanse Xcel: a first step designed to clean the nail plate thoroughly in order to create a perfect base to which nail polish will adhere.
Prime Xcel: a base coat that creates a smooth yet slightly sticky surface to hold fast to your nail bed and your nail colour.
Formula X nail colour: choose your favourite from Sephora's more than 250 shades (Mar Y Soul is wearing Wingwoman, a bright, cheerful red).
Shine Xcel: a top coat that contains acrylic to boost durability and shine.
We also jumped at the opportunity to ask Mar Y Soul for her top tips for achieving perfect-looking DIY manicures – and did a happy dance at the way she framed cuticle care.
mar y soul's top tips for a perfect diy mani
Here's the recap of Mar y Soul's perfect-at-home-mani tips:
Don't paint your nails with your hand flat on the table. Instead, fold your fingers down and turn them to face you so you can paint with your nail tips toward you. "The benefit is that you're getting the view that a manicurist would have," says Mar Y Soul. That is to say a full view of each nail and its sidewalls, so you'll be less likely to miss a spot.
Cap the free edge of the nail.
Leave your thumbnails bare until all other nails are done. Thumbnails are excellent tools for removing excess polish from cuticles and sidewalls. When you've painted and cleaned up all your other nails, paint and topcoat the thumbnails.
Post manicure, wear gloves to protect your polished nails (and skin) from dish detergent – and be careful with laundry detergent too, says Mar Y Soul.
Condition your cuticles far more than twice a week. Keep Formula X Quench Nail Cuticle Oil ($18 CAd and $15 USd at sephora.com) in your purse and use it all the time, instructs Mar Y Soul. "How often do you put on Chapstick? It's the same thing. If you feel like you want to pick or bite something, don't do that – put oil on it instead," she says. "And don't ever pull [hangnails] toward you – it'll make you bleed."  
Now let's enjoy more Formula X The System Xcel + Formula X shade swatches by our ManiGeek:
Above: Formula X The System Xcel plus Sephora Pantone Waterfall over Formula X Huntress.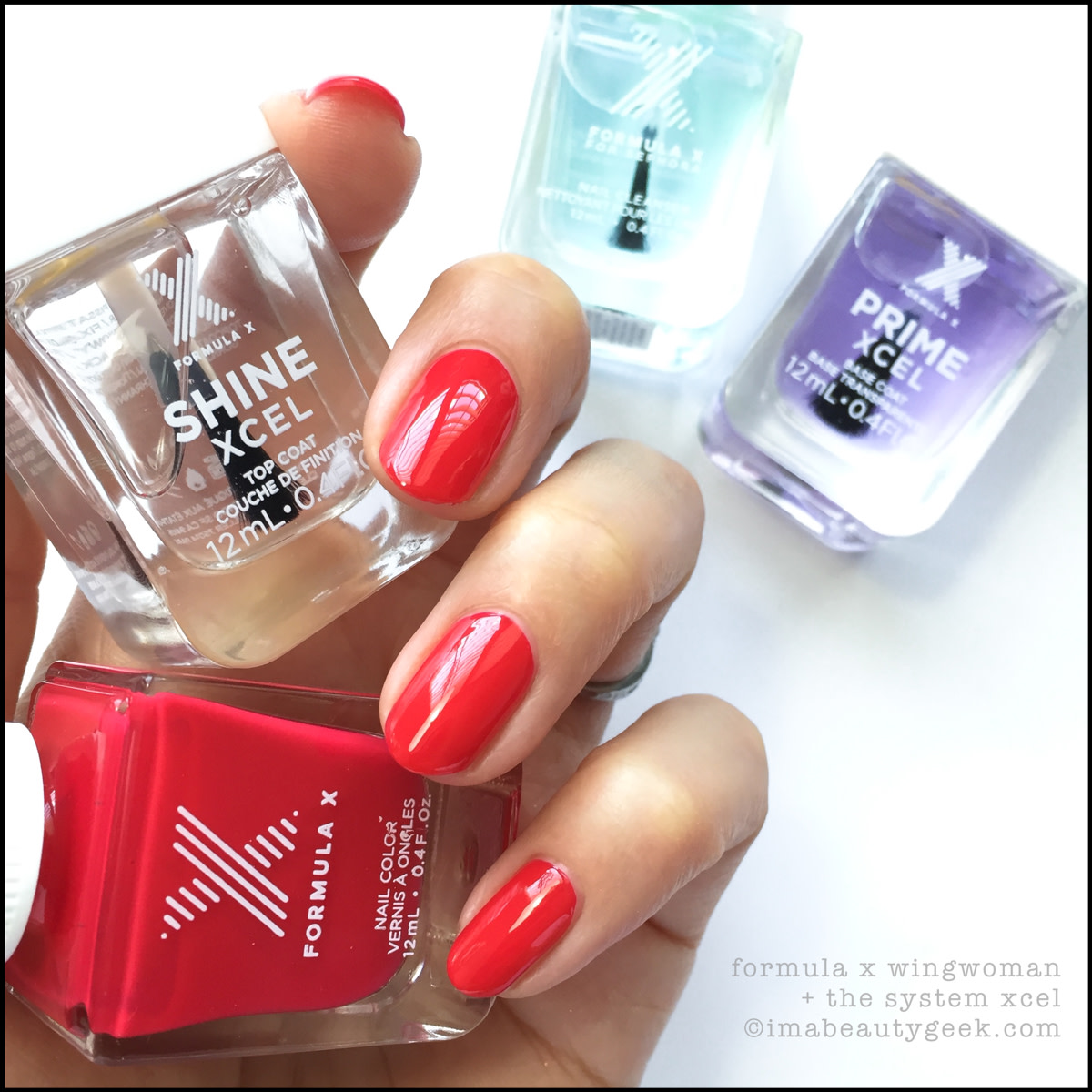 Above: Formula X The System Xcel plus Formula X Wingwoman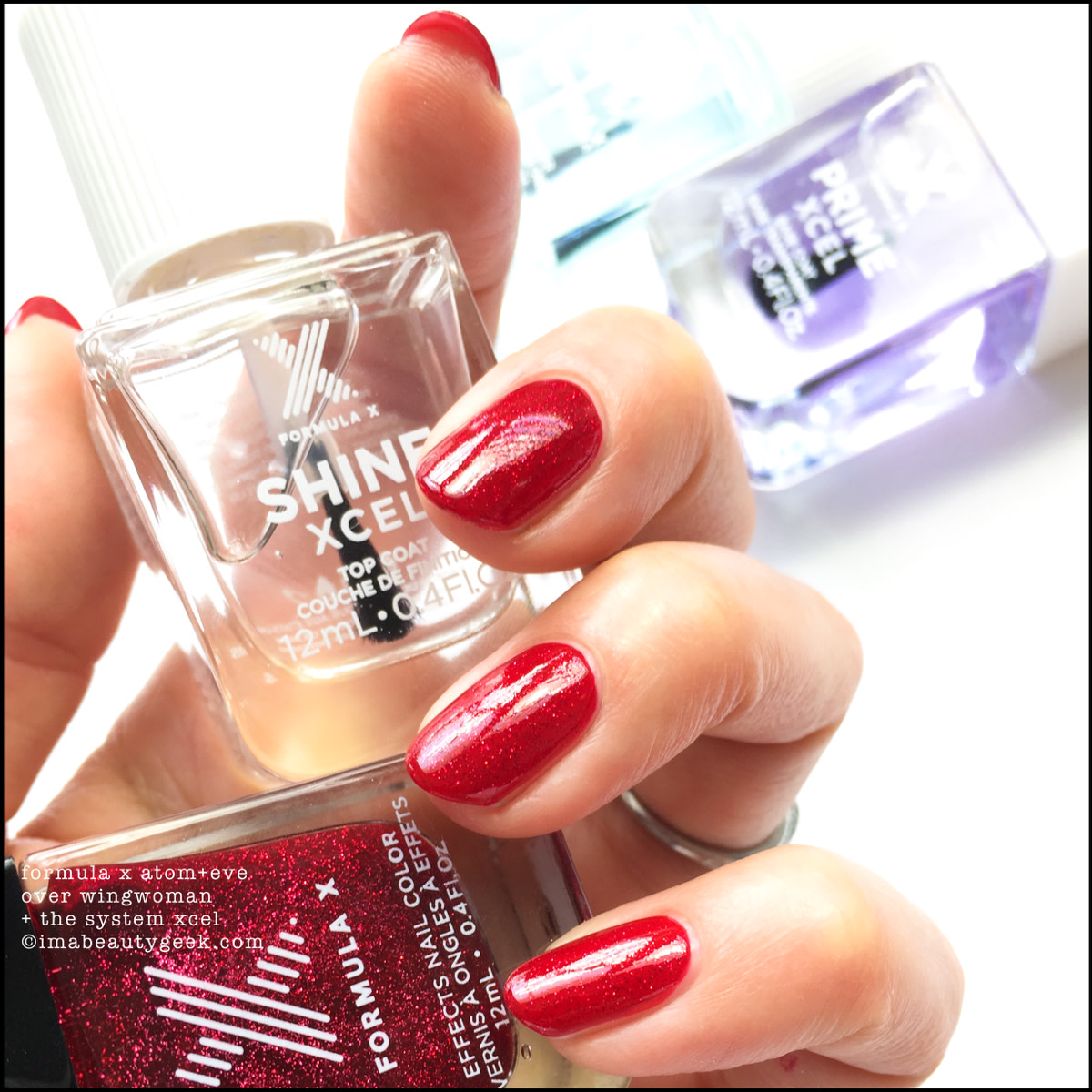 Above: Formula X The System Xcel plus Formula X Atom Eve over Wingwoman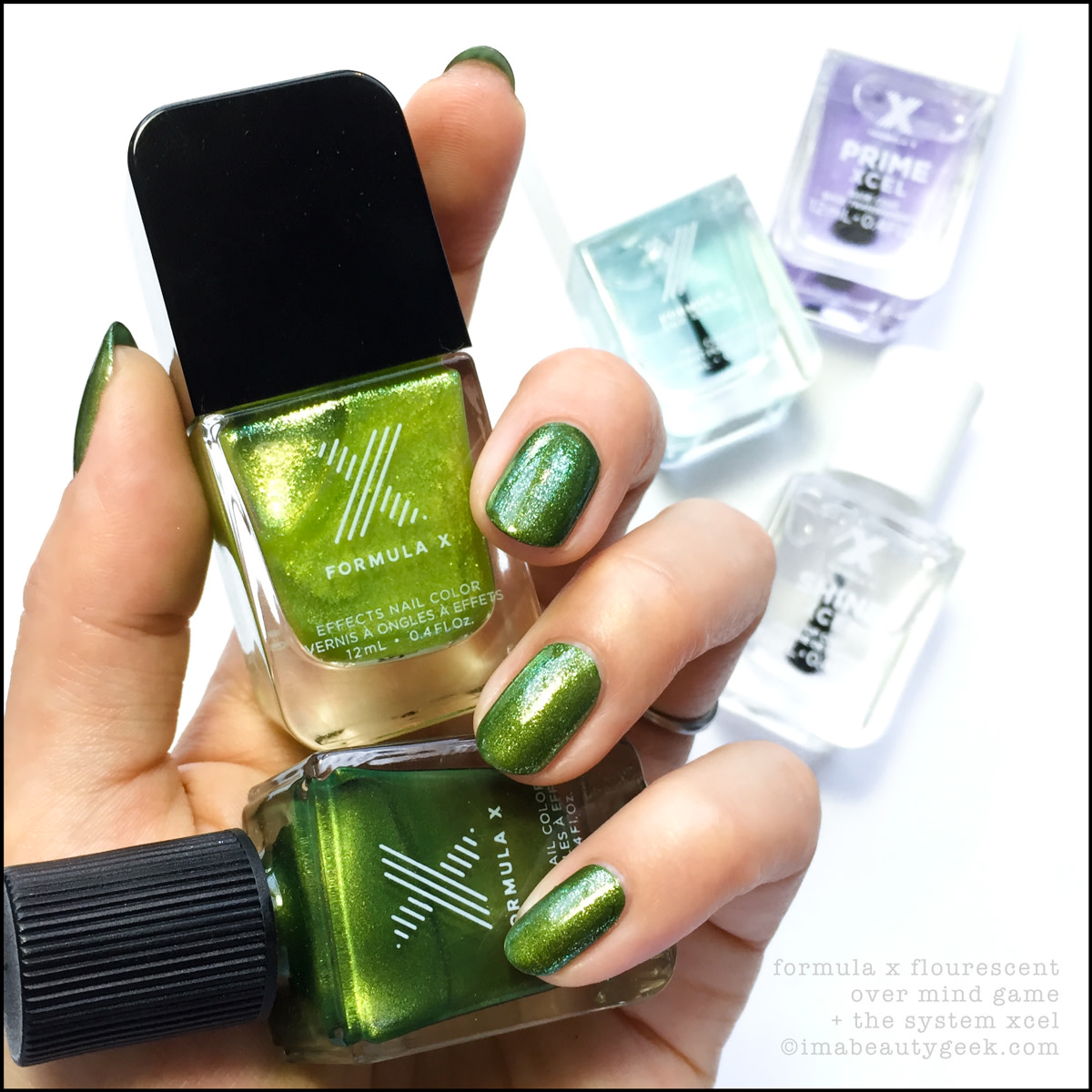 Above: Formula X The System Xcel plus Formula X Fluorescent over Mind Game.
Have you tried Formula X The System Xcel yet? How many Formula X nail colour shades do you own? And what's your cuticle care strategy??
shoppity shop-shop