In partnership with Ombrelle  •  It's Sun Awareness Week and as good a time as any for a confession: To my utter chagrin and dismay, I got a bit of a sunburn a couple of weekends ago. I had applied sunscreen before leaving home via an Uber, and gone straight indoors at my destination. About an hour or so later, my friends and I decided to walk from St. Clair to Eglinton. Yes, outside, in the sun, just after 1pm.
I thought my face was safe because I'd used a high-SPF broad-spectrum formula, and I hadn't been exposed to direct UV for longer than about half a minute. But later that day, the evidence of my failure mocked me most unkindly in my bathroom mirror.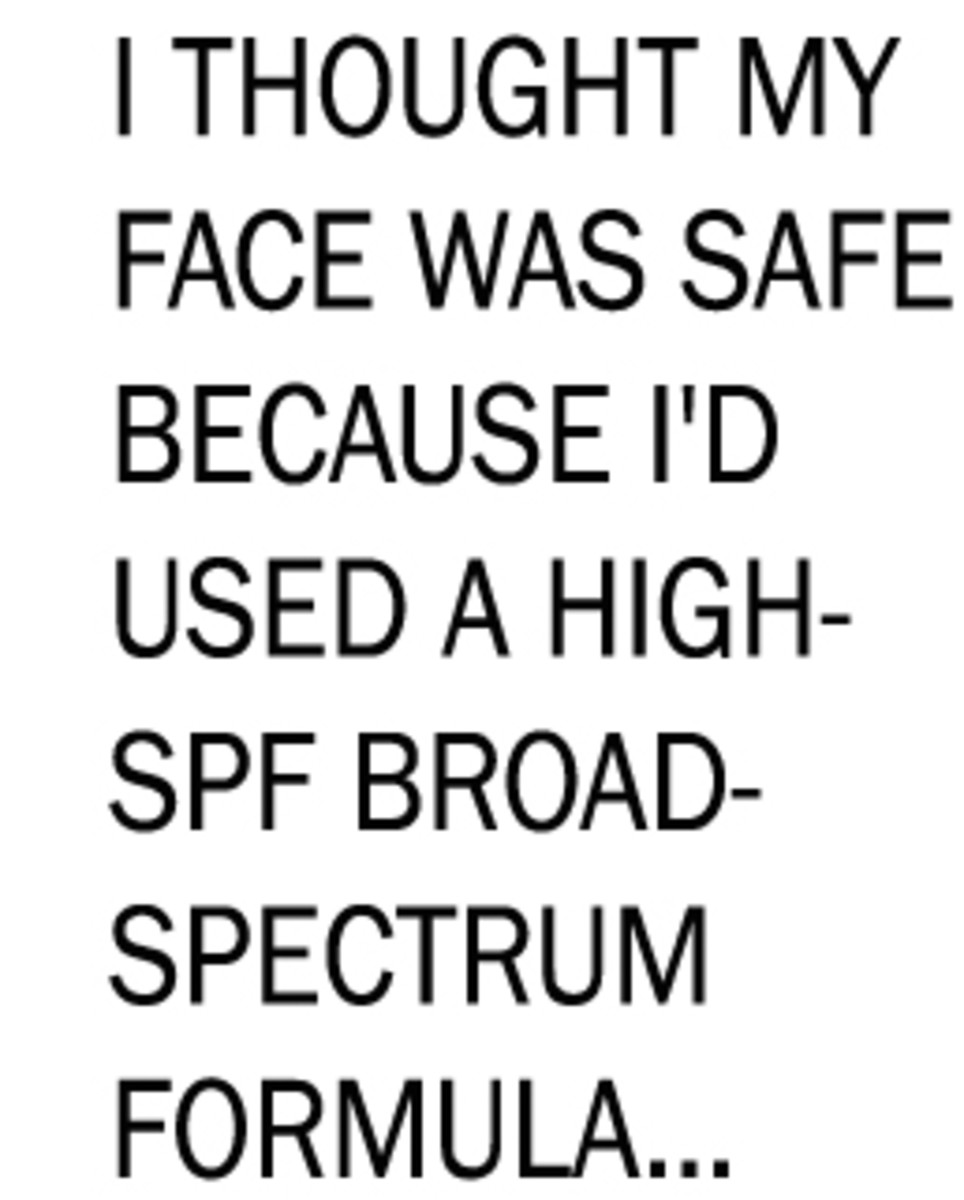 My error, I realized far too late, was that I'd applied my sunscreen on very damp skin. I'm always overheated when I leave my place. I tend to run hot in the first place, and have only a bedroom-window AC unit to cool my apartment. It's great when I'm not rushing around, but when I'm getting ready to leave... *sigh*
Now I know that I have to give my face some cool-down time before I load up on SPF, or else. In fact, this past weekend, I decided I'd apply it when I got to where I was going (yup, door-to-door Uber). Except I'd forgotten my sunscreen for face in a different bag! So, I popped into a drugstore to buy another one, and I applied it right there in the beauty section. In fact I applied it twice, one decent layer, then after a couple of minutes, another decent layer, to make sure I had enough on. (It needs to function as armor, after all.) And you know what? Those two moderate layers felt more comfortable than one generous application. Plus, they made me feel safe.
In future I'll have to make sure I give myself enough time to cool down at home before I leave, at least so I can get my first layer on. If I don't, though, some of you are going to see me sunscreening up in the back of an Uber, or in a restaurant corner, or in coffee shops... you get the picture.
ombrelle sun facts
In other sun-safety news, here's a helpful general infographic from our friends at Garnier Ombrelle: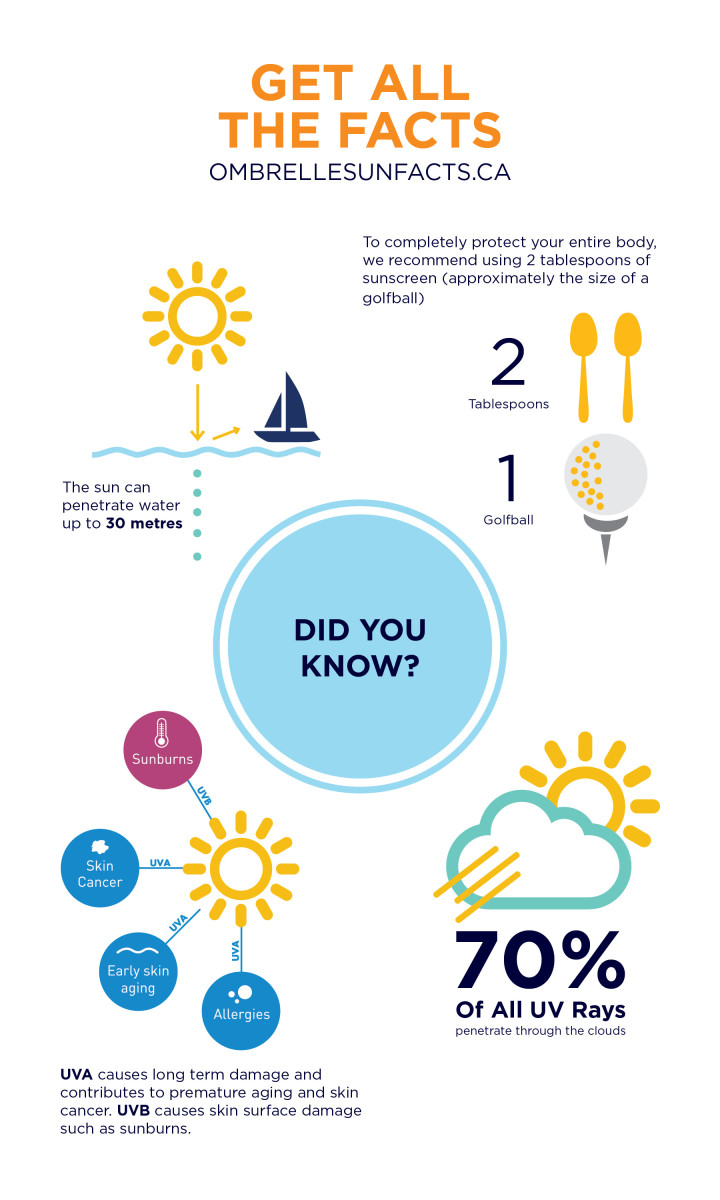 I particularly appreciate the cloudy-day reminder – I know folks who were shocked to find themselves with a bad burn after having skipped sun protection on a grey day. 
You can find more sun facts at ombrellesunfacts.ca, and you can find a nice $3-off coupon right here.
garnier ombrelle complete sunscreens
If you don't know Garnier Ombrelle, worth noting is that Ombrelle is a solid Canadian sunscreen success. L'Oreal bought it in 1997. The Garnier Ombrelle Complete collection of broad-spectrum sunscreens range from SPF 15 to SPF 60, and include an SPF 30 and SPF 60 spray. They're all designed for use on the face as well as body.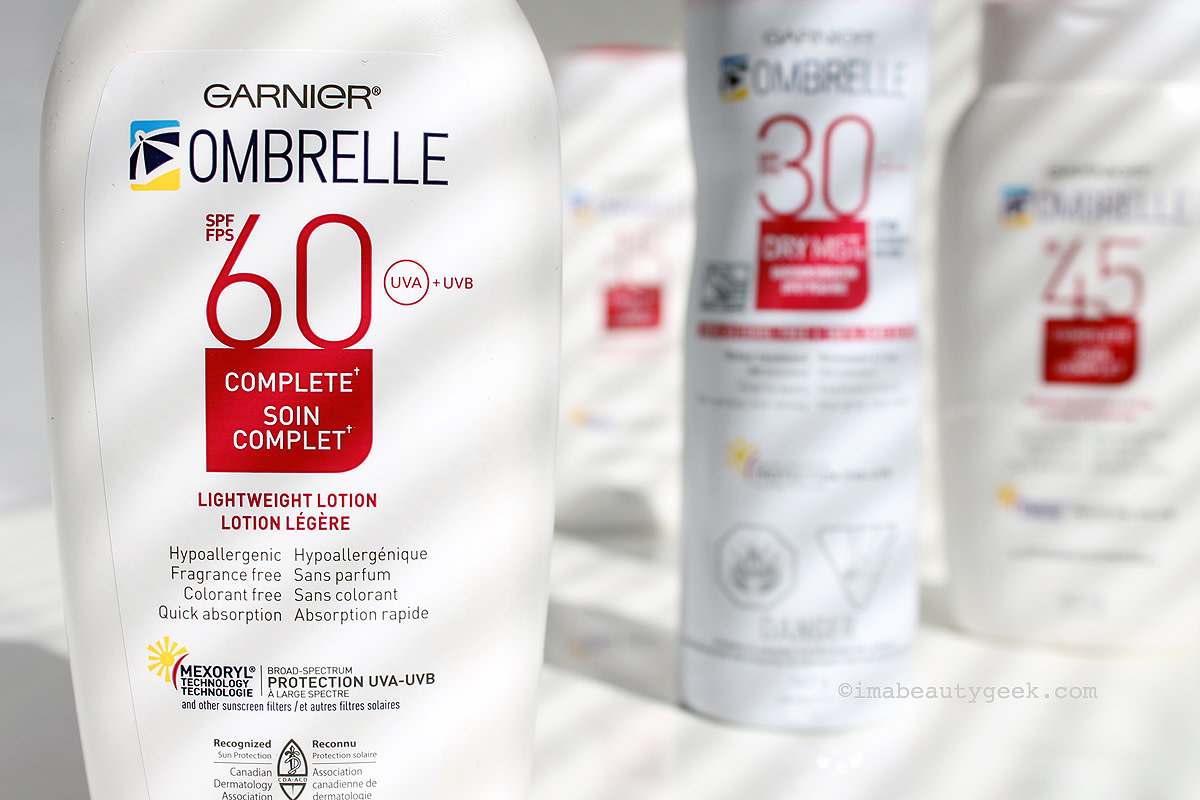 The SPF 15, SPF 45 and SPF 60 lotions promise a lightweight, moisturizing, non-greasy, texture that sinks in quickly, and they deliver. I've been using the SPF 60; it leaves my skin feeling soft, velvety and comfortable. No sticky residue. Also: no colourants and no added fragrance. (If you're looking for water-resistance, you want the SPF 15 and SPF 45 bottles, or the Ombrelle Complete sunscreen mists.)
I often use a spray on my legs and arms because it's fast, but I apply it generously. If I were going to be out in direct sun, I'd put a couple of lotion layers on first, then re-up with spray during the day. Or maybe I should do three layers of spray? 
Anyway, when I tried Ombrelle's SPF 30 Dry Mist Bareskin Sensation – it's non-comedogenic and alcohol-free, btw – I dispensed enough for it to look a little milky on my skin, then gently rubbed it in. And it does feel (and look) like bare skin. Like the lotions, it's also fragrance- and colourant-free.
Did I mention there's Garnier Ombrelle save-$3 coupon?
So, what's your most recent sunscreen oops?