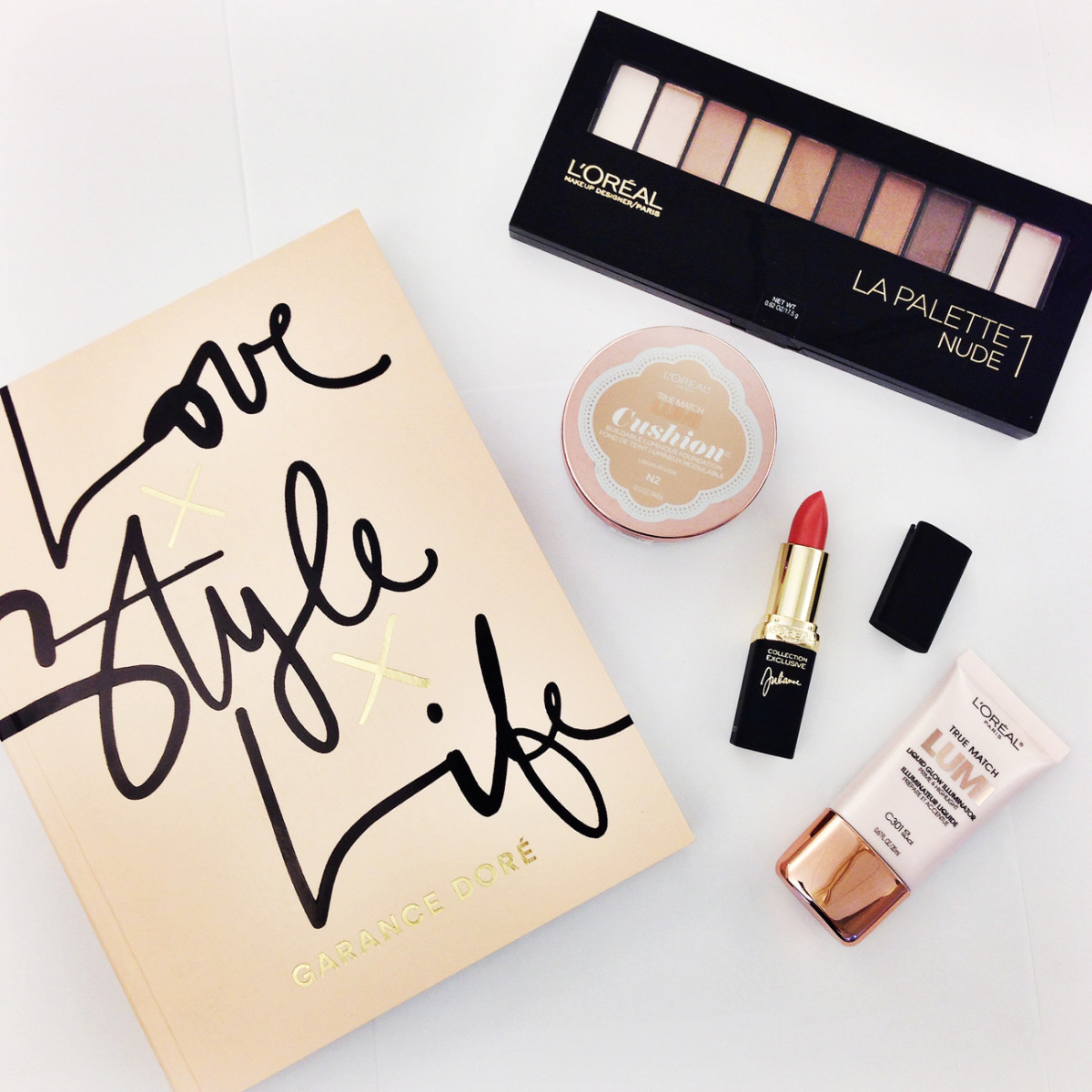 Happy new year, friends! Hope your break was filled with restorative mugs of tea, delicious treats and cosy blankets as needed! And now it's the first Monday of 2016. Erk. How 'bout we take the edge off with a giveaway: Anyone up for a L'Oréal Paris True Match Lumi Cushion plus the goodies in the image above? (Don't forget to enter our Benefit Cosmetics Brow Essentials giveaway if you haven't yet!)
l'oreal paris true match lumi cushion
I've already geeked out about the L'Oréal Paris True Match Lumi Cushion here – I really dig it. Slightly more pigmented than other cushion compacts I've tried, the foundation delivers a luminous finish you can build from sheer to medium coverage. Feels nice as you apply it, too. And if you have sunscreen sensitivities, this cushion compact is safe for you to try – no SPF.
Newly launched in North America, the L'Oréal Paris True Match Lumi Cushion (from $19.99 CAN at Walmart to $24.99 CAN – at least right now – at Shoppers Drug Mart, and $16.99 US at ulta.com) comes in 12 shades in the States and eight shades here. I've tried only W2 Light Ivory. It works on me, but my complexion is smack in the middle of warm and cool, so N2 Classic Ivory is probably a slightly better choice. 
true match lumi cushion giveaway
Our giveaway prize includes the following:
L'Oréal Paris True Match Lumi Cushion
L'Oréal Paris La Palette Nude 1 eyeshadows
L'Oréal Paris True Match Lumi Liquid Glow Illuminator
L'Oréal Paris Colour Riche Lipstick in Julianne's Nude
Love Style Life by Garance Doré
And here's the best part: you'll actually receive all eight of the shades available in Canada. Once you figure out which is best for you, you can share the rest!
To be eligible to win our True Match Lumi Cushion giveaway, you need to live in Canada and have hit at least your 18th birthday. You might also like to follow @lorealparisCAN on Instagram, and *LIKE* our photo, too, please. Good luck!