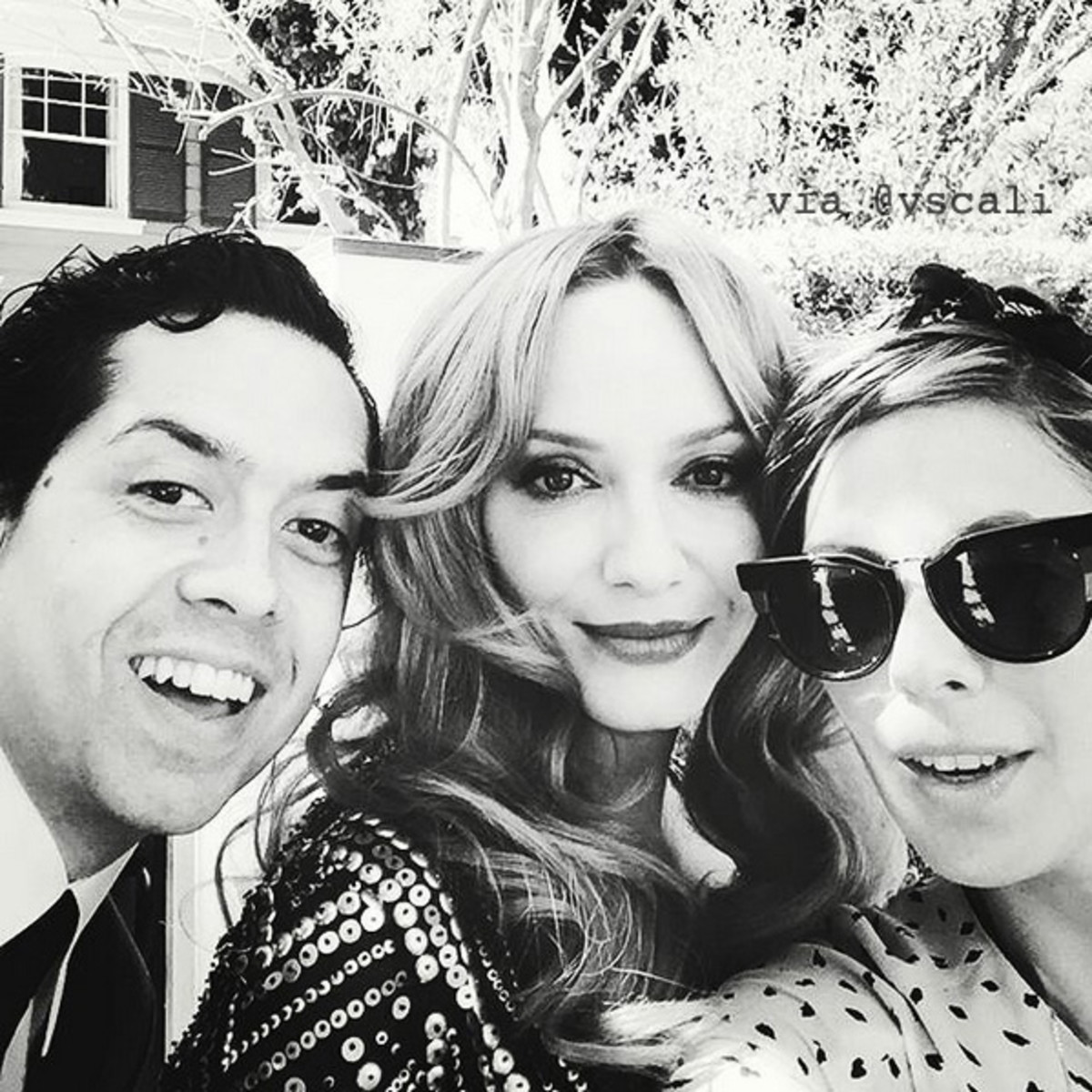 Celebrity makeup artist Vanessa Scali knows how to make skin look otherworldly luminous. We've seen what she did with lovely Anna Kendrick for the Golden Globes at the beginning of this year. And she's worked with bombshell Christina Hendricks many times before, including on the set of the star's television spots for Clairol hair colour. (You know Christina admits to colouring her own hair sometimes, right?)
Christina Hendricks received an Outstanding Supporting Actress Emmy nomination this year for her role as Joan Holloway on AMC's Mad Men which has now ended its hugely successful run. When I caught sight of the star's shimmery lids, flushed cheeks and wine-stained lips on the red carpet at this past Sunday's Emmy Awards show, I immediately hit Instagram to see who was responsible. No surprise: @vscali was the makeup master. And on that 100ºF day in LA, she started Christina Hendricks' makeup with a hydrating honey mask to crank up that luminosity factor. 
Below, Vanessa gives us a detailed breakdown of exactly what makeup she used on Christina and where.
christina hendricks' emmys makeup by vanessa scali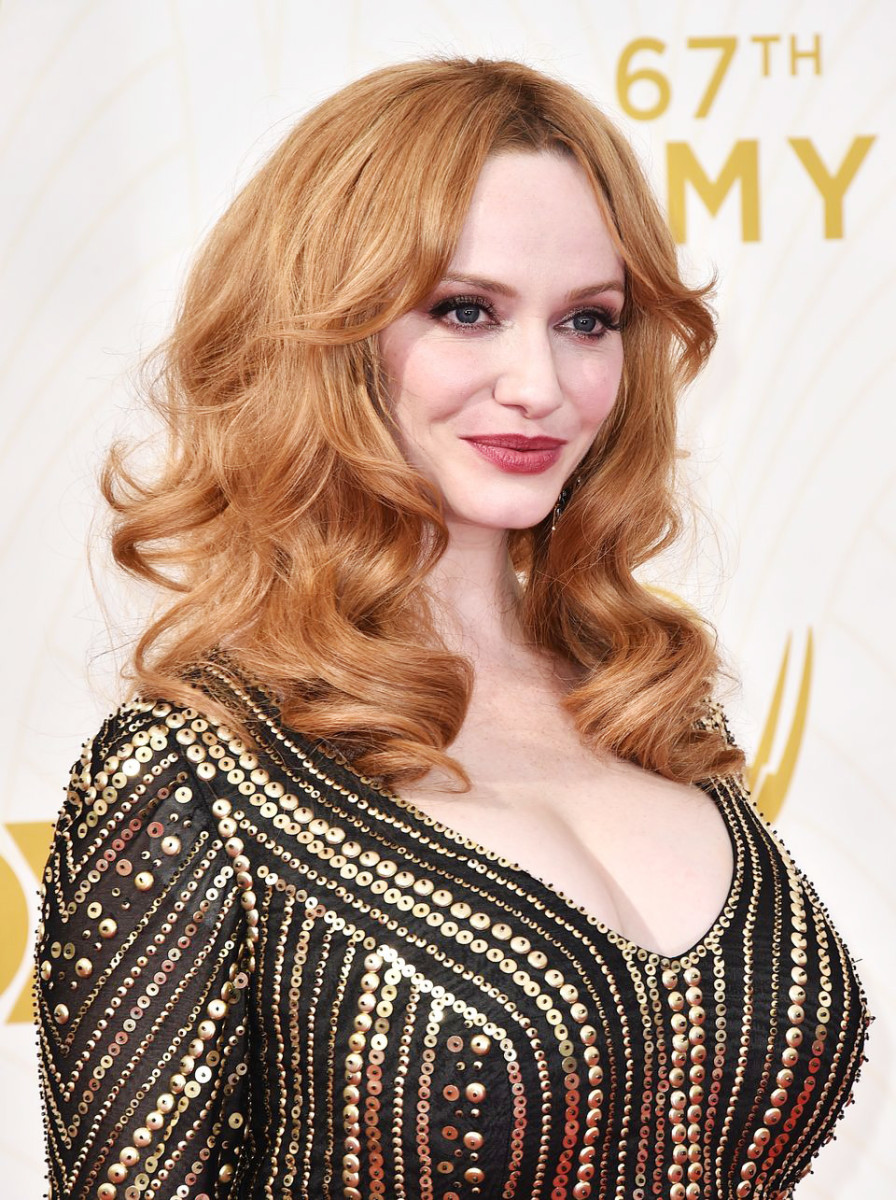 "Christina's Naeem Khan gown had an ornate, art deco feel which immediately made me think of a 1920s Bordeaux lip. We wanted to keep her makeup classic, so we focused on her amazing full lips in a custom mix of red and blackberry, with a soft yet smoldering emphasis on her eyes using a mix of shimmery gold shadows to create a modern take on the lavish 20s.
"The lips were the focal point of Christina's look, so to complement the gorgeous sequin pattern of her gown, we chose to custom-blend a bordeaux shade using Sephora Collection Cream Lip Stain ($18 at sephora.ca and $12 at sephora.com) in 01 Always Red and 14 Blackberry Sorbet.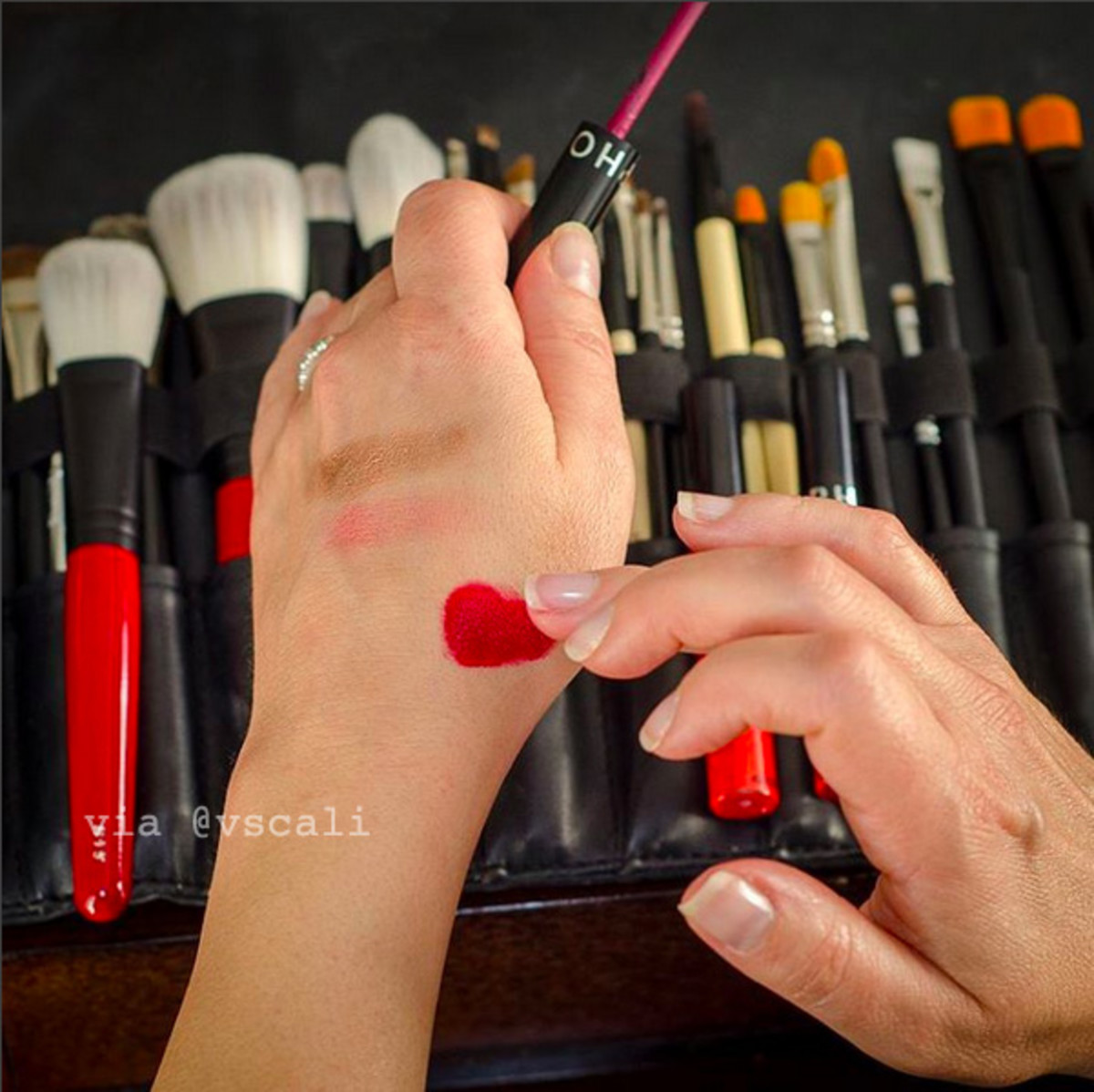 "This product is soft yet long lasting, so Christina didn't need to worry about reapplying on the red carpet. The lips are rich and supersaturated with colour, but the lip line is soft; the colour is pressed into the skin. This stained look is bold and elegant against her complexion. 
"Next, we filled in Christina's brows using the Sephora Collection Retractable Brow Pencil ($16 at sephora.ca and $13 at sephora.com) in Honey Blonde  to give them soft definition. With the hakuho-do + Sephora Pro Kusuriyubi Angled Concealer Brush ($38 at sephora.ca and $30 at sephora.com), we picked up some of the dark, gold metallic shadow (81 Sunday Brunch and 3 Girls Night Out) from the Sephora Collection Colourful Eyeshadow Portfolio and applied it in a wash from lash line to crease. We also wrapped the colour under the bottom lashes to give the skin a kick of shine to contrast against the matte lip, and evoke and overall luxurious look.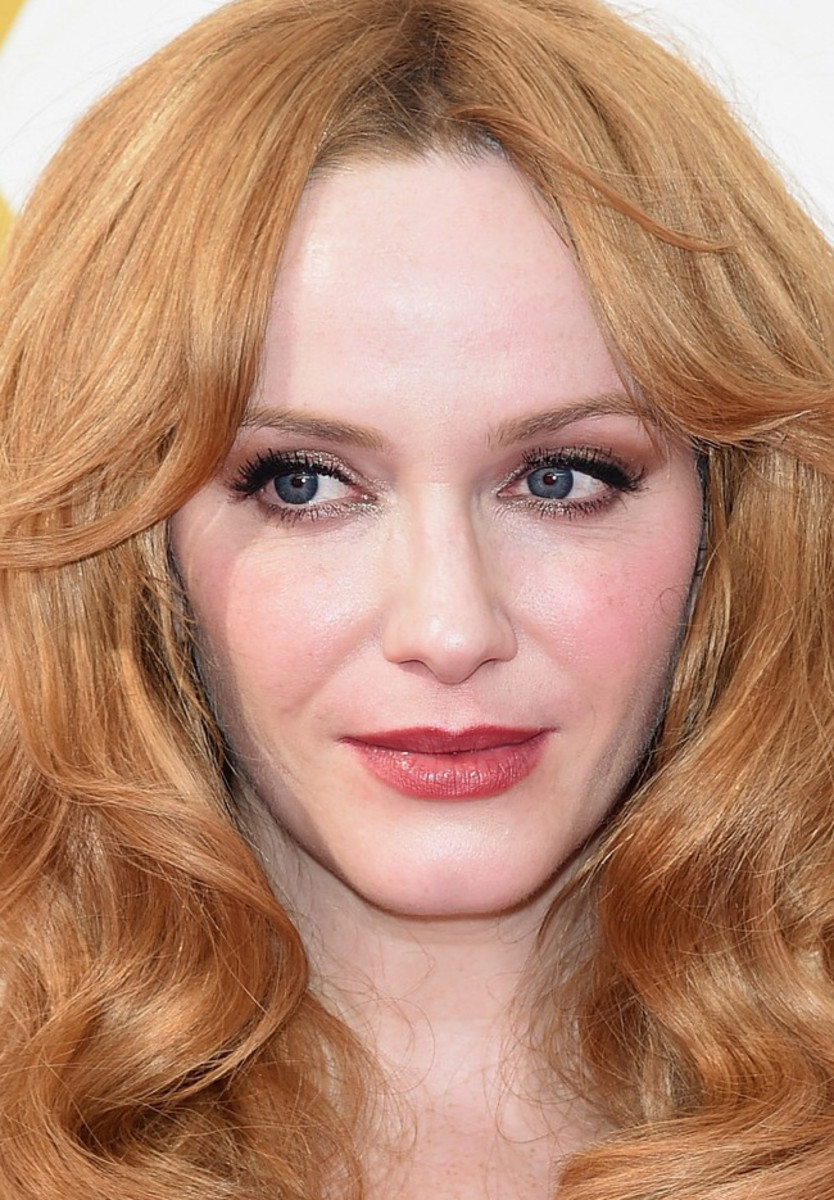 "We used the Sephora Collection Contour Matte Gel Liner ($18 at sephora.ca and $14 at sephora.com) in All Black Everything along the upper lashlines to emphasize and elongate the eyes. We gave Christina's lashes several generous coats of the Sephora Collection Outrageous Volume Dramatic Volume Mascara ($19 at sephora.ca and $12 at sephora.com) in Ultra Black. 
"We wanted Christina's skin to look luminous and clean, so we prepped with the Sephora Collection Face Mask in Honey ($8 at sephora.ca and $6 at sephora.com) to create a clean, even canvas, and kept foundation and concealer to a minimum. 
After setting the skin with the Sephora Collection Bright Set Loose Finishing Powder ($20 at sephora.ca and $16 at sephora.com) via the hakuho-do + Sephora Pro Kusabi Wedge Sloping Powder Brush ($68 at sephora.ca and $54 at sephora.com), we used the Sephora Collection Perfection Mist Airbrush Foundation ($35 at sephora.ca and $26 at sephora.com) to give Christina's skin a soft touch of weightless coverage. Next we used the Sephora Collection Bright Future Gel Concealer ($17 at sephora.ca and $14 at sephora.com) under the eyes and on the inner hollow of the nose beside the inner corner of the eyes.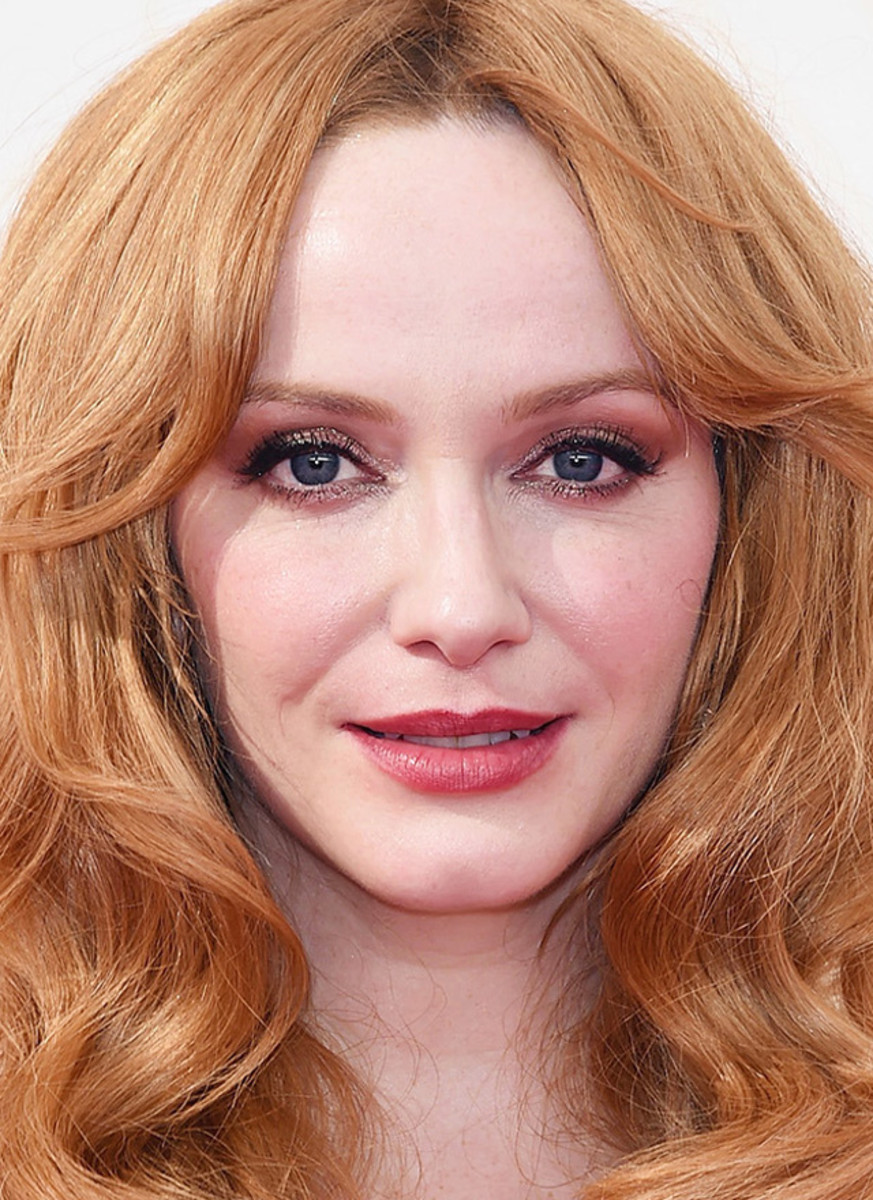 We shaped Christina's face with a subtle contour – a touch on the hairline and a sweep under the cheekbones with the Sephora Collection Colourful Blush ($19 at sephora.ca and $15 at sephora.com) in 24 Los Cabos. As a final defining touch, we applied a pop of colour to the apples of her cheeks using the Sephora Collection Colourful Blush ($19 at sephora.ca and $15 at sephora.com) in 06 Flirt it Up, and highlighted her brow bones and down the bridge of her nose with a luminous pearl powder from the Sephora Collection MicroSmooth Baked Sculpting Contour Trio ($25 at sephora.ca and $26 at sephora.com) in Sassy. This technique created soft, sheer highlights that made her skin appear fresh, lit from within."
What do you think of Vanessa's work here, lovelies? Makes me want to exfoliate and put on a hydrating face mask. What about you?
shoppity shop-shop