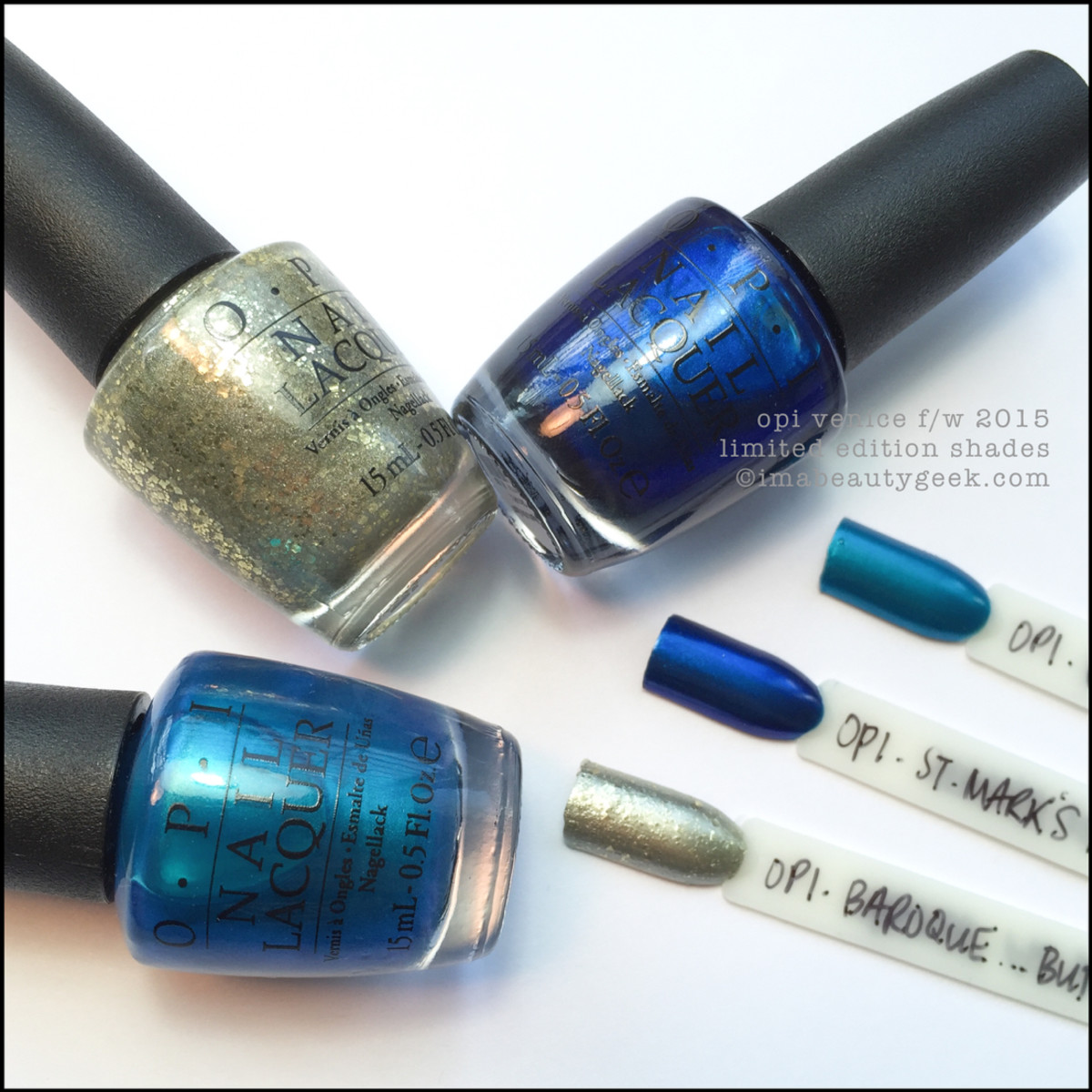 I got your OPI Venice limited edition shade swatches and comparisons! Yay! The entire Venice collection is 15 bottles – 12 are headed directly into the core collection and you can see those pretty swatches & comparisons here. The other 3 shades are limited editions:
OPI Venice The Party?
OPI St. Mark's The Spot
OPI Baroque...But Still Shopping!
OPI Venice Limited Edition Shades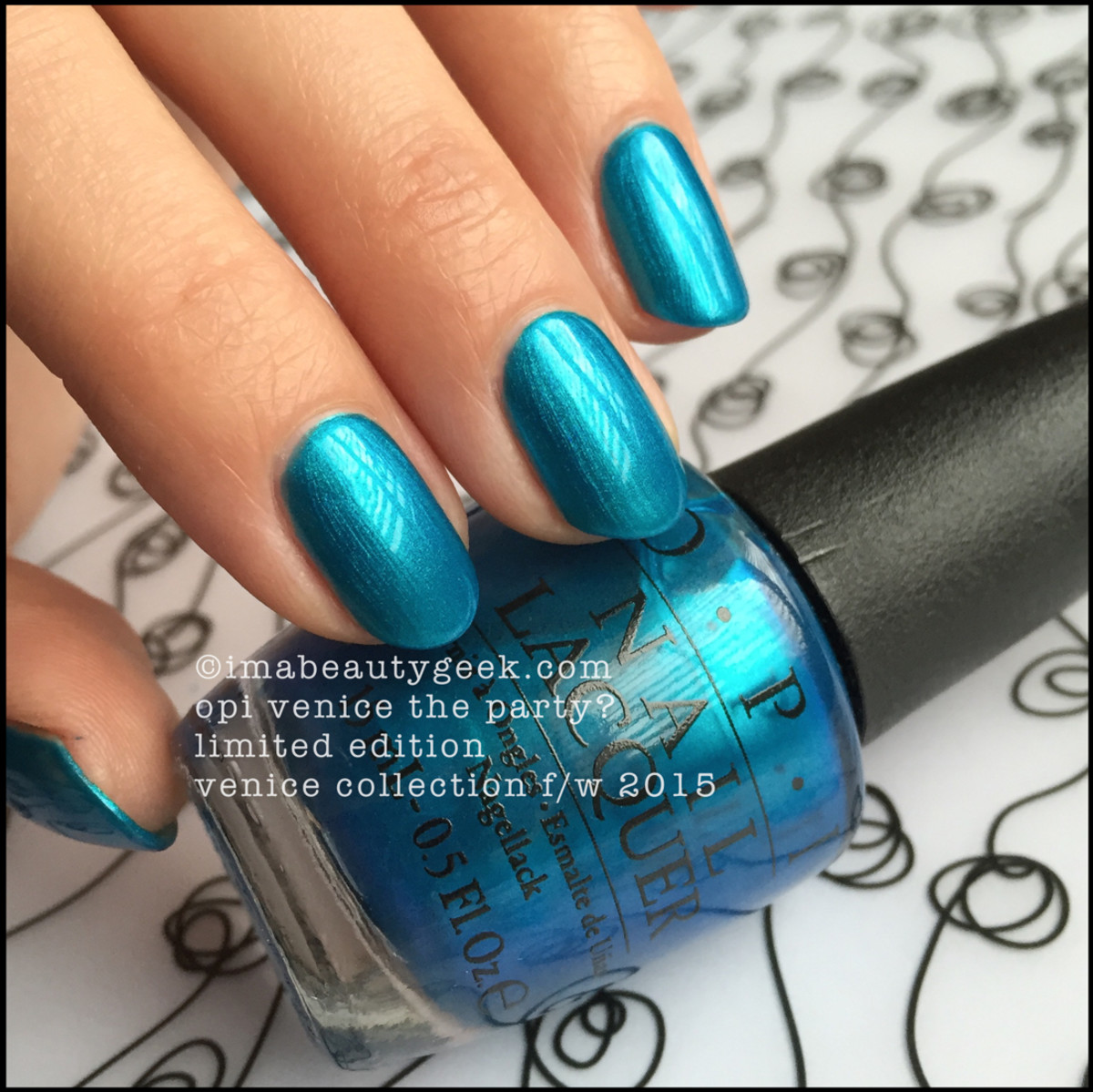 Let's start right here with OPI Venice the Party? (above). It's one of the two blues from this limited edition offering and I'm somewhat drawn to it because right now, it's summer and I want to wear ocean colours all the time.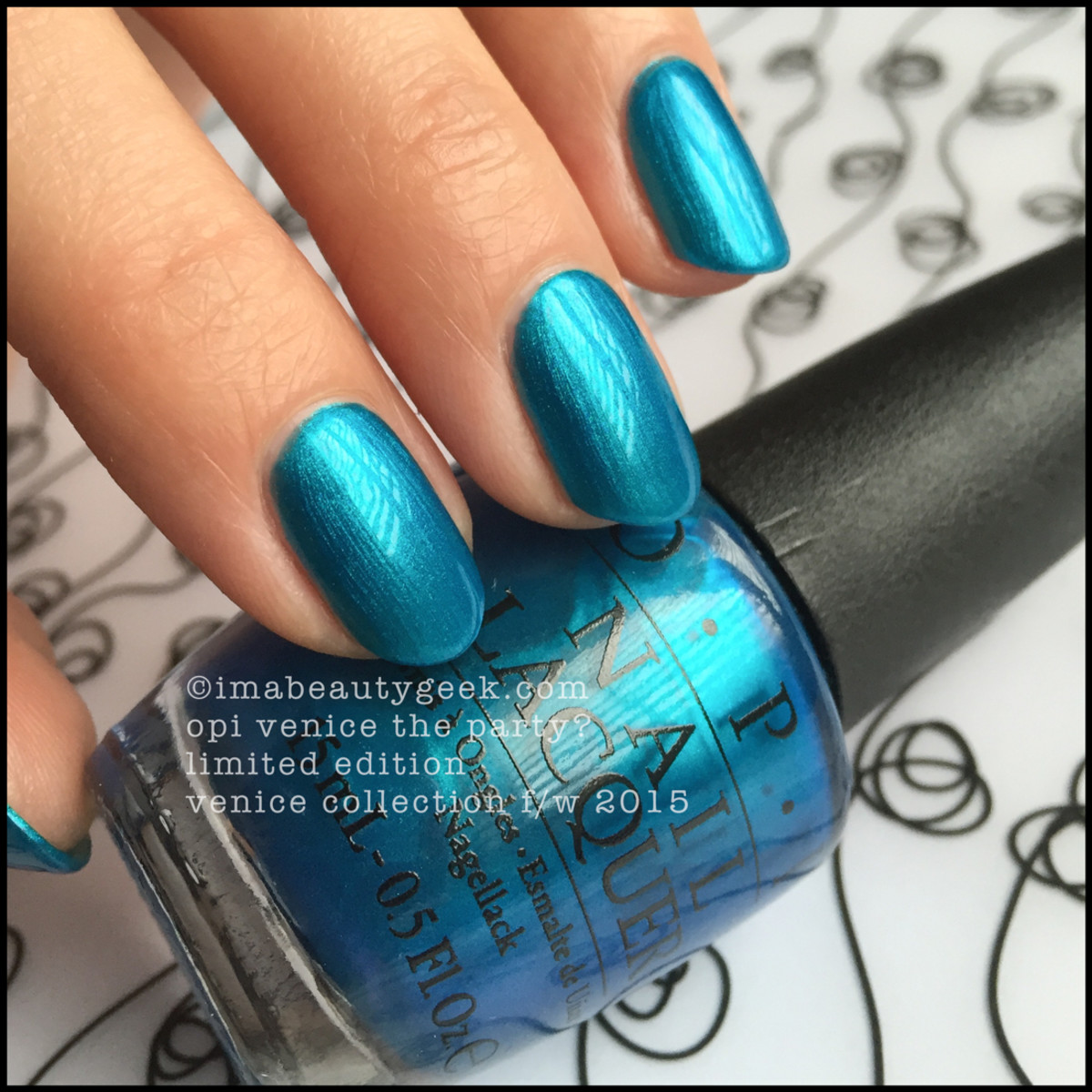 OPI Venice the Party? (above) From pretty much all angles, it looks the same. A tiny bit streaky when it dries down, and a lot shimmery, this jewelly toned turquoise is one of those shades I just gravitate towards. I have a lot of them from OPI. I'll show you shortly.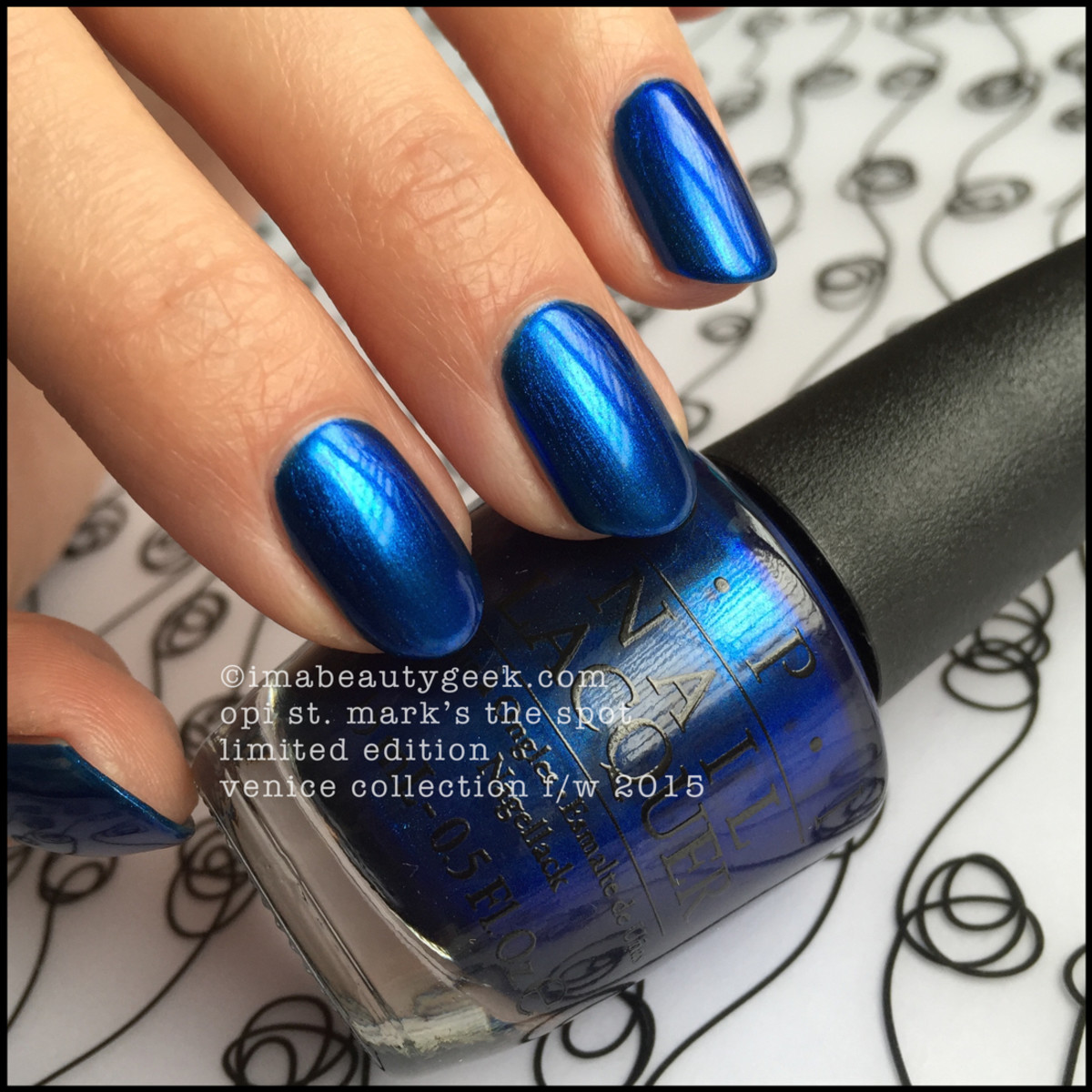 OPI St. Mark's the Spot (above). Definitely a little more fall/winter, right? And definitely a shade you probably already have, right? Uh, I don't. I mean, I get close, but I don't have a complete dupe in all of my OPI blues.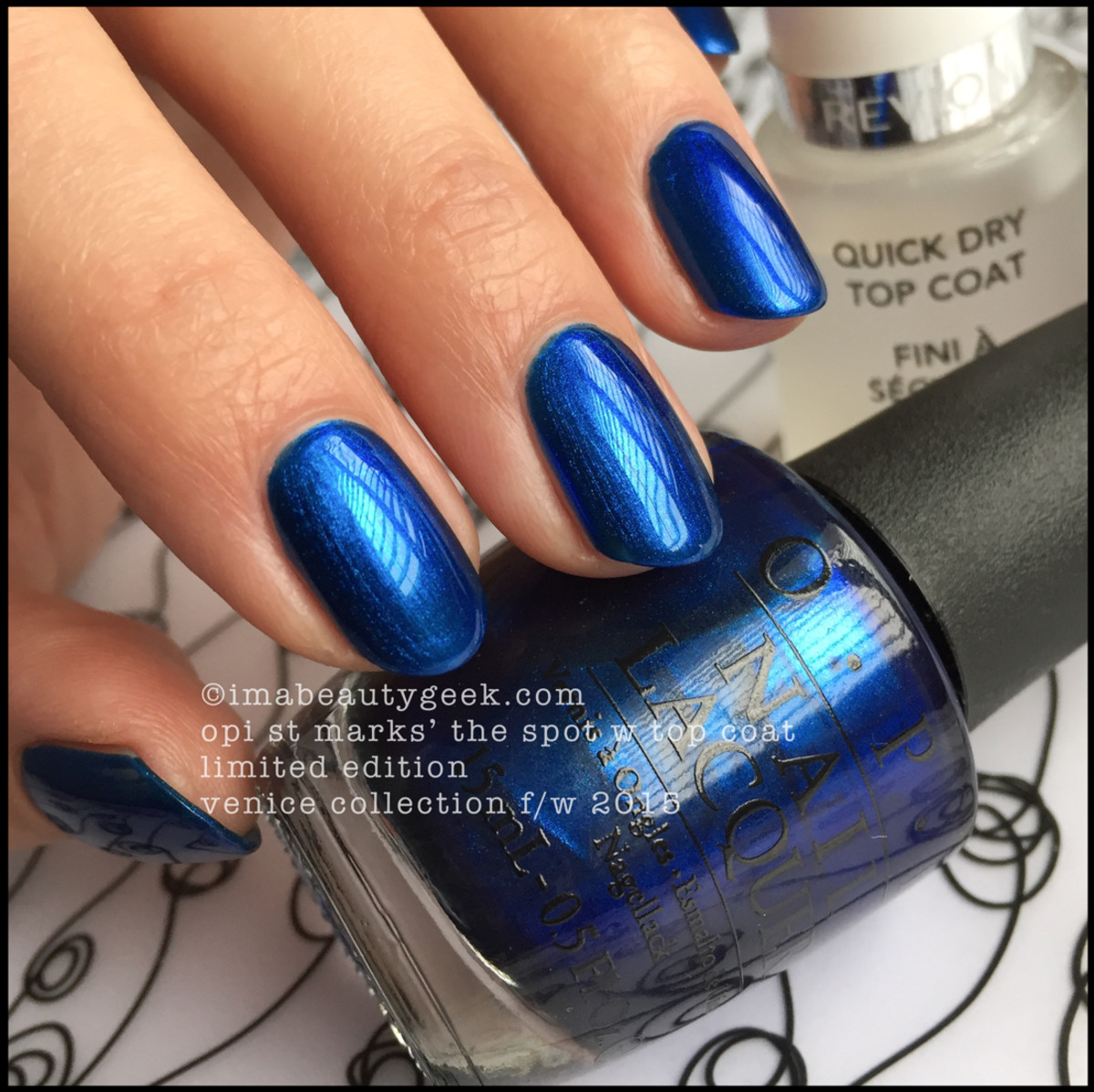 OPI St. Mark's the Spot (above). If you hit this one with shiny top coat, you bring out so much more metallic shimmeryness. You should do this. Yes.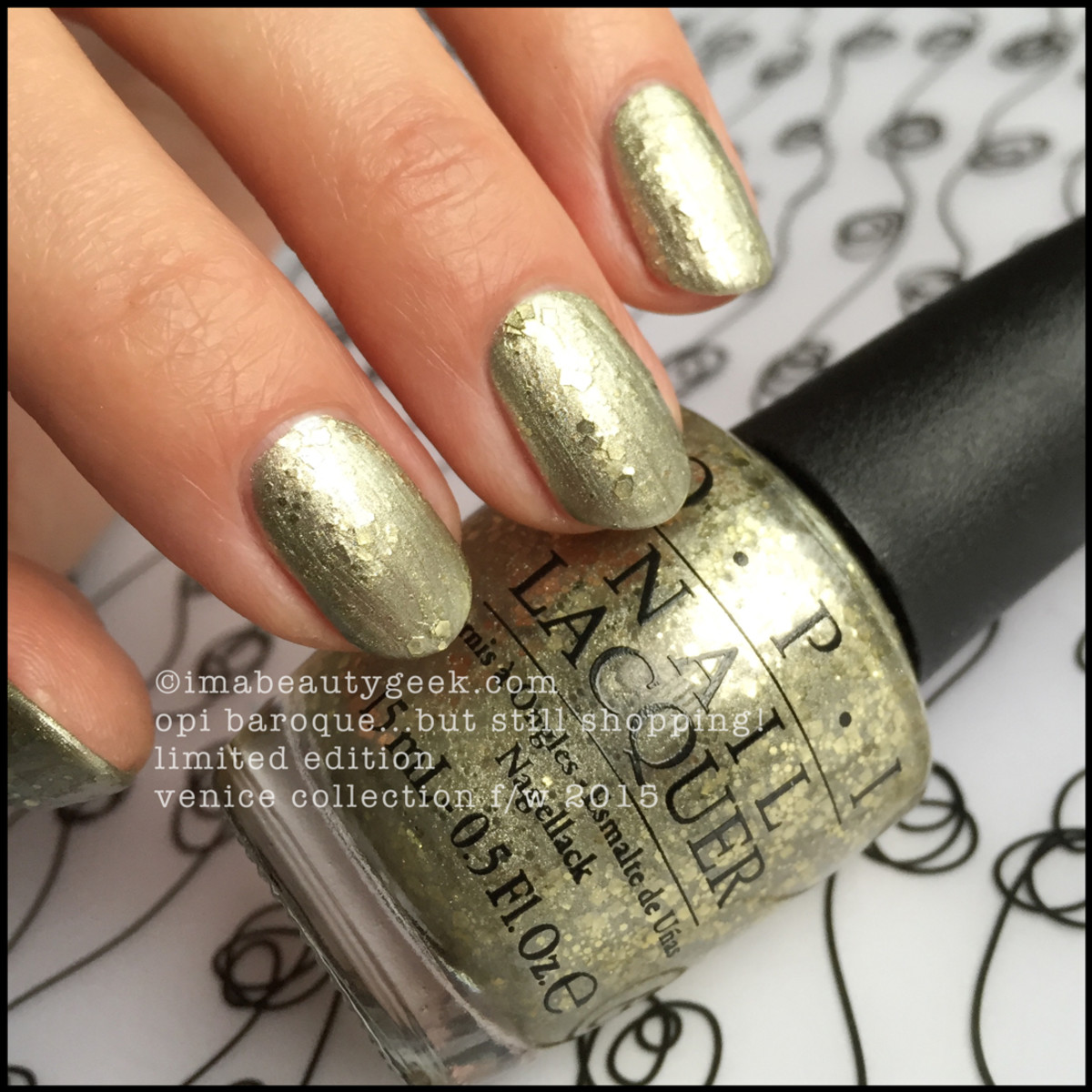 OPI Baroque... but Still Shopping! (above). From outside the bottle, this shade looks like it'll be something special - in a good way. But for me, once out on the nail, it's really, really not. That's two coats in the above shot and while it looks okay there...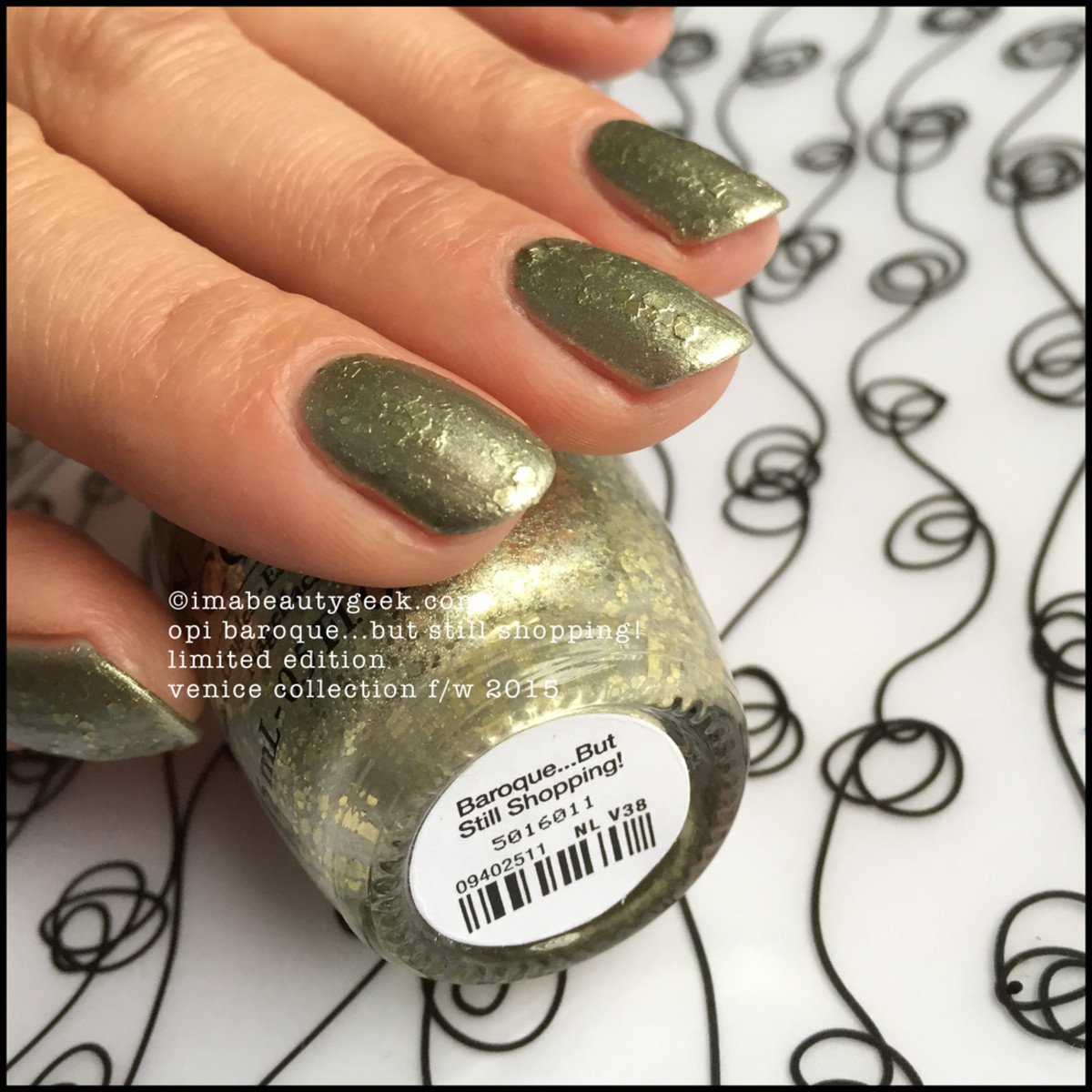 OPI Baroque... but Still Shopping! (above). It's lumpy and disjointed. I find it unappealing and completely unrefined. It's a mish-mash of different sizes and shapes of glitter that's mixed with a dull, almost-matte-metallic-greeny-gold-ness finish. If I hit it with top coat....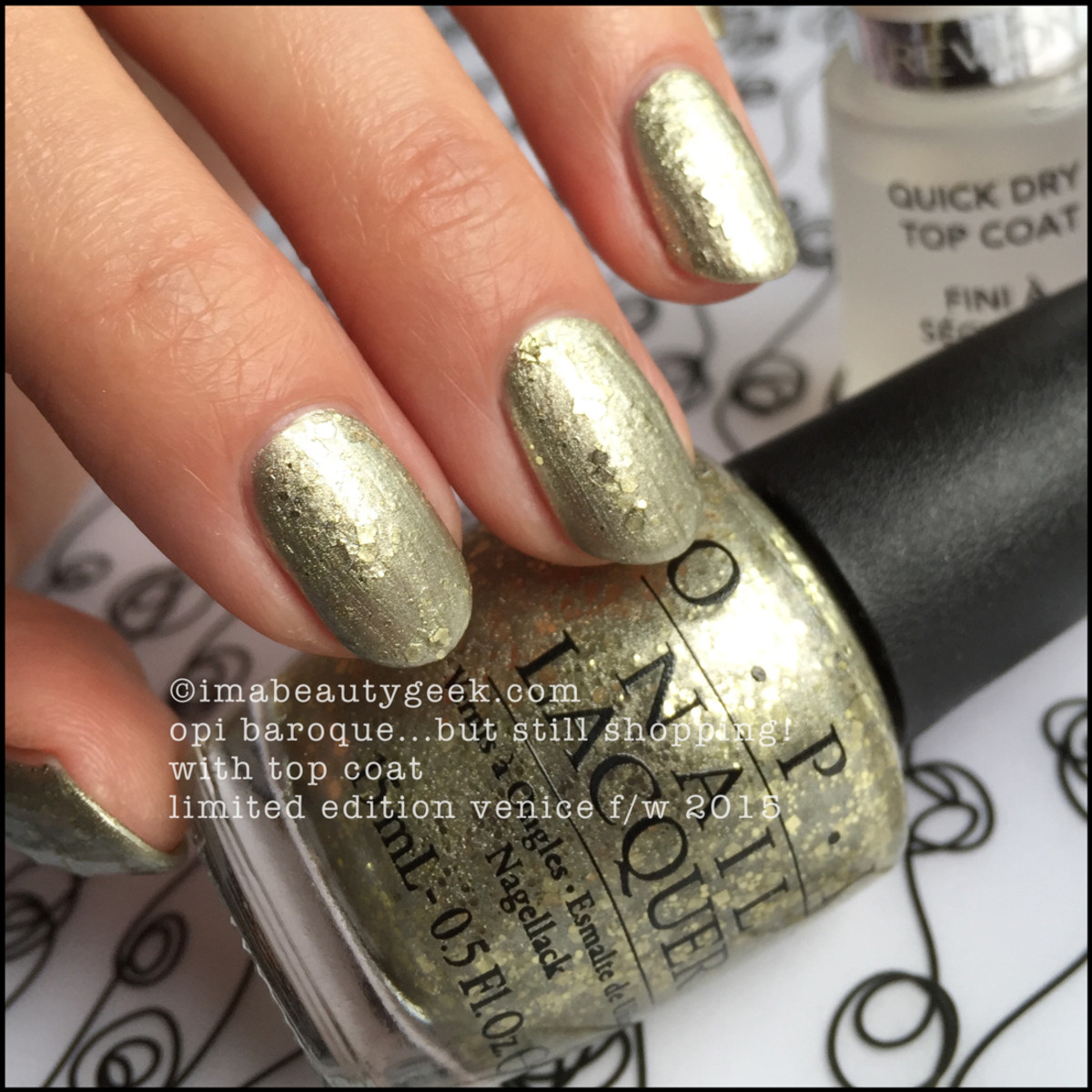 OPI Baroque... but Still Shopping! (above). Top coat makes it look marginally better, but still no, it's not for me. I'm not everyone, though, it's true. Some people will love this the same way I love OPI It's a Piazza Cake.  
OPI Venice Limited Edition Comparison Swatches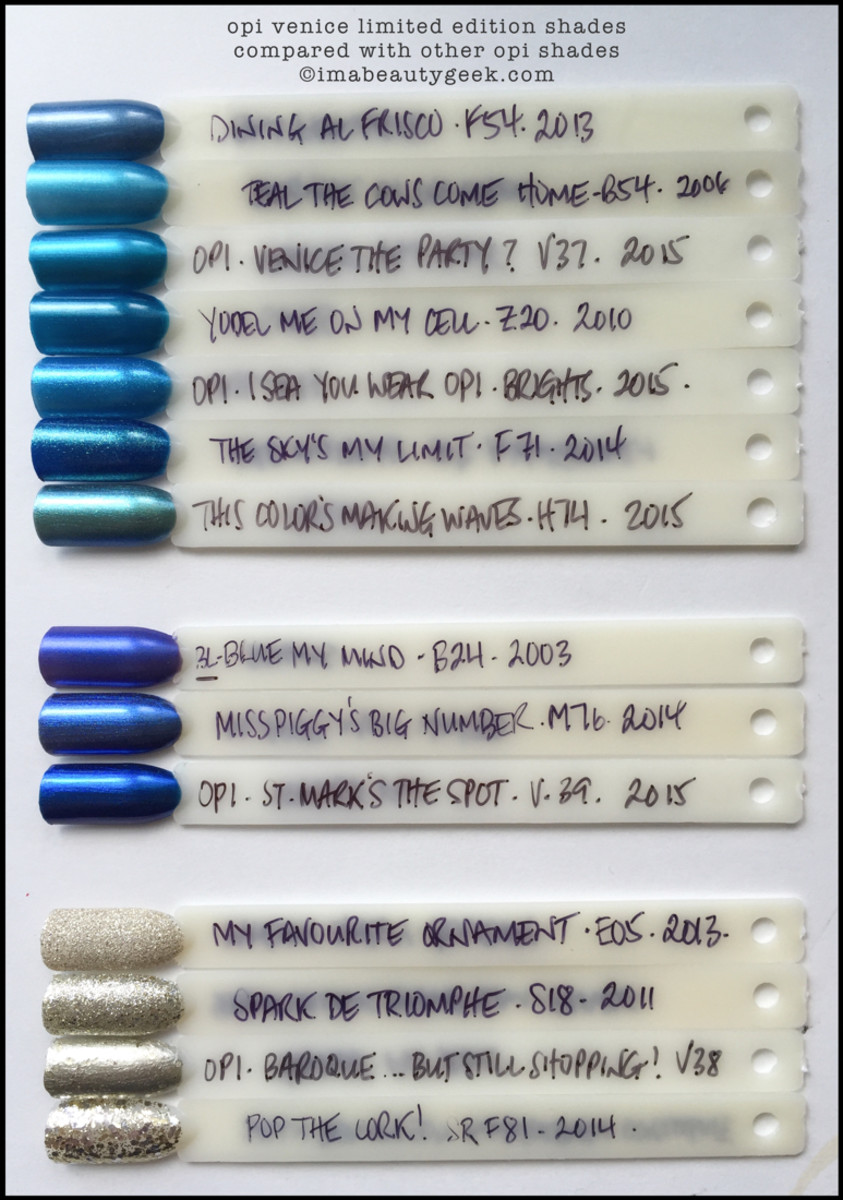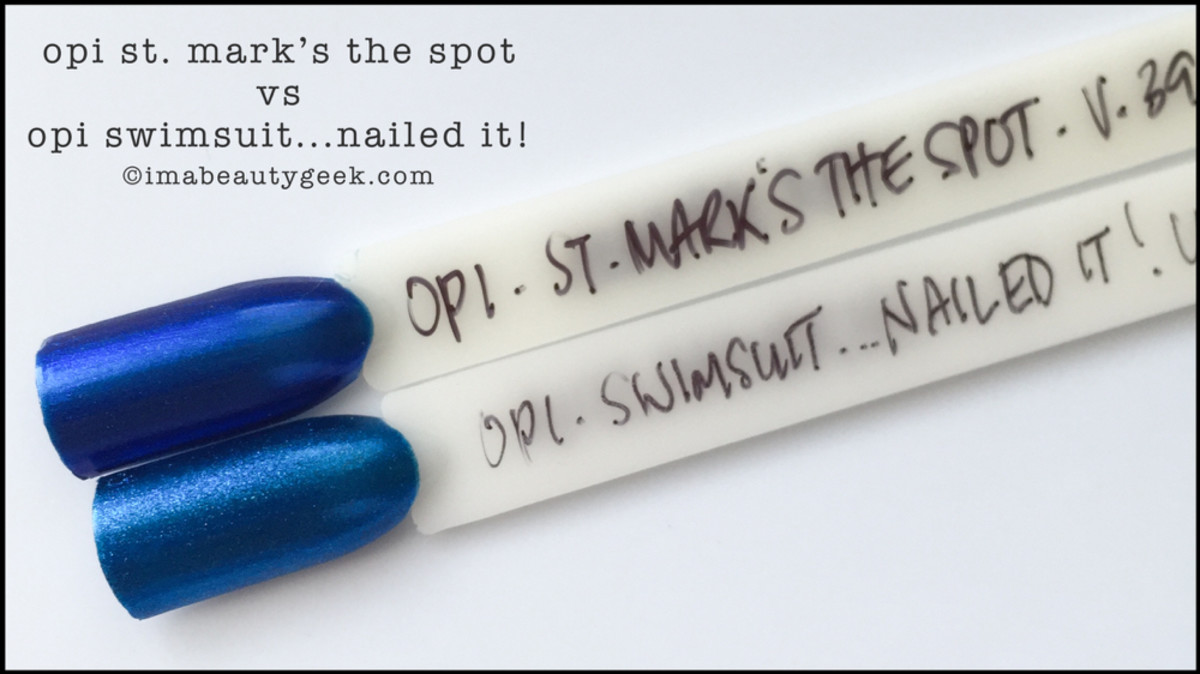 OPI Venice Limited Edition Comparison Swatches (above). Ta da! I whipped out everything OPI I had that comes close enough to show you. If it's not there, it's either not similar enough or I just don't have it. Feel free to ask though. It's possible I missed something when I went through my hundreds and hundreds of OPI swatch sticks.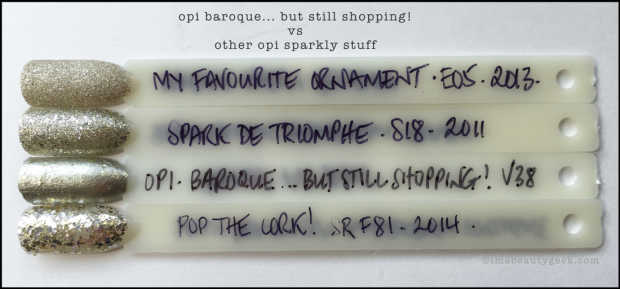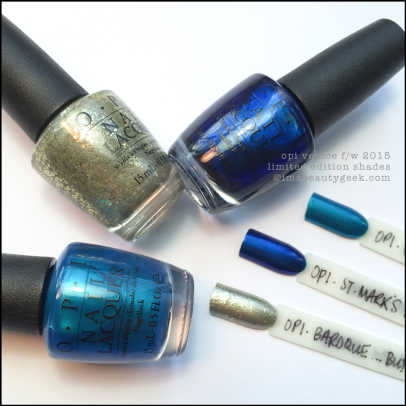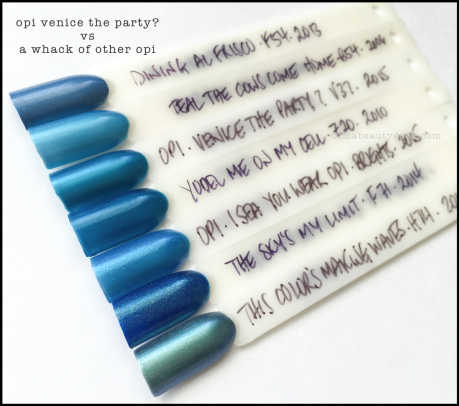 OPI Venice Collection Limited-Edition Shade Swatches and Comparisons
If you'd like to get closer to the individual comparisons, I've made the above handy slide-show thingy of larger images. The response to the gallery we put in the This is OPI Starlight post we did was pretty swell.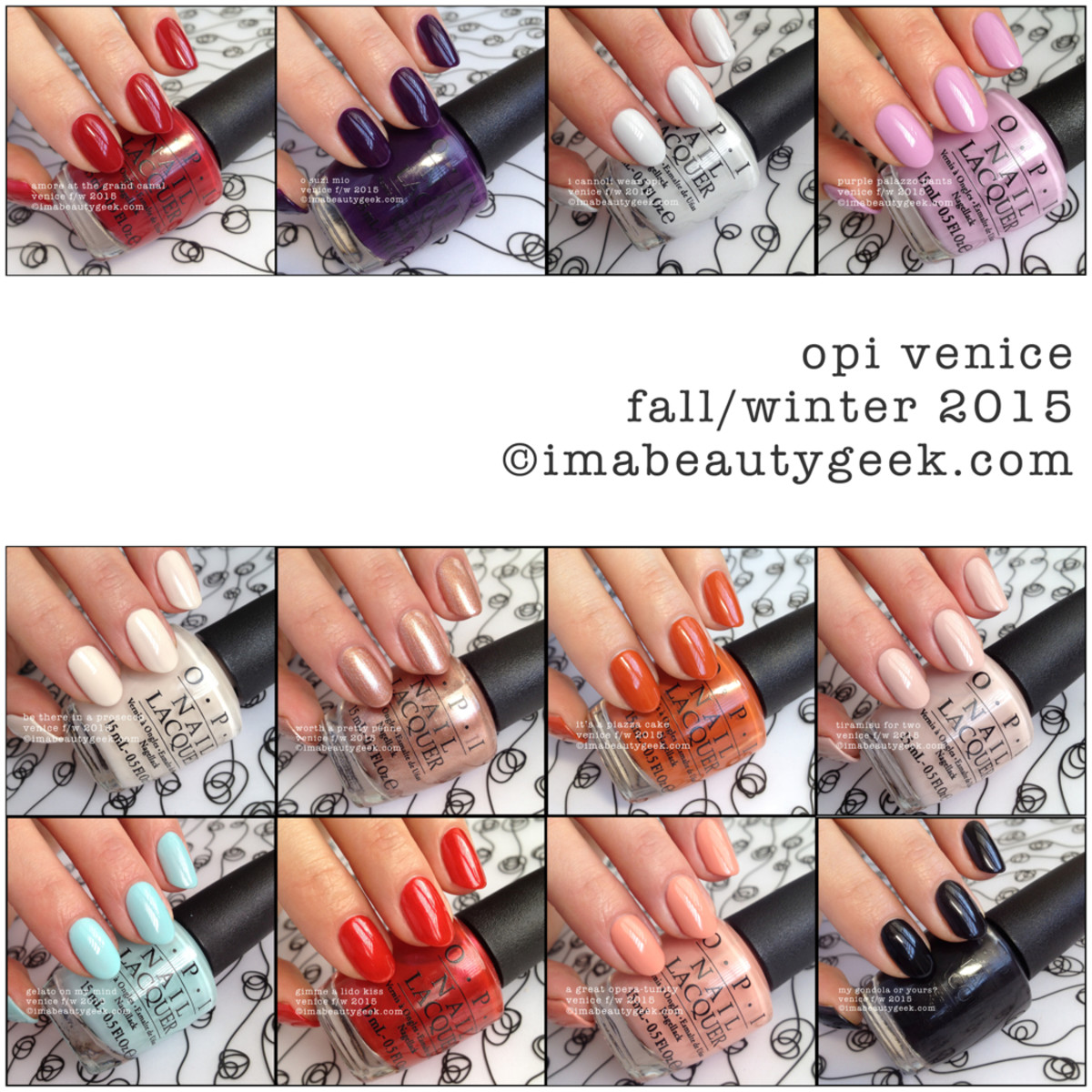 I have zero more news for you on the OPI Venice 2015 Collection. That's it. That's all. If you're lookin' for my other OPI stuff, it's all here:
OPI Starlight Sneak Peek
OPI Infinite Shine Summer 2015 Shades
OPI LE Coca-Cola Anniversary Shades
Brights 2015
Soft Shades 2015
OPI Hawaii
OPI Designer Series 2015 Sneak Peek
Wow, that's alotta stuff! For everything else, I direct you to OPI.com. Questions or comments? You know I'm game! 
Manicures & photographs Karen Falcon (workin').
©2015BEAUTYGEEKS
www.imabeautygeek.com