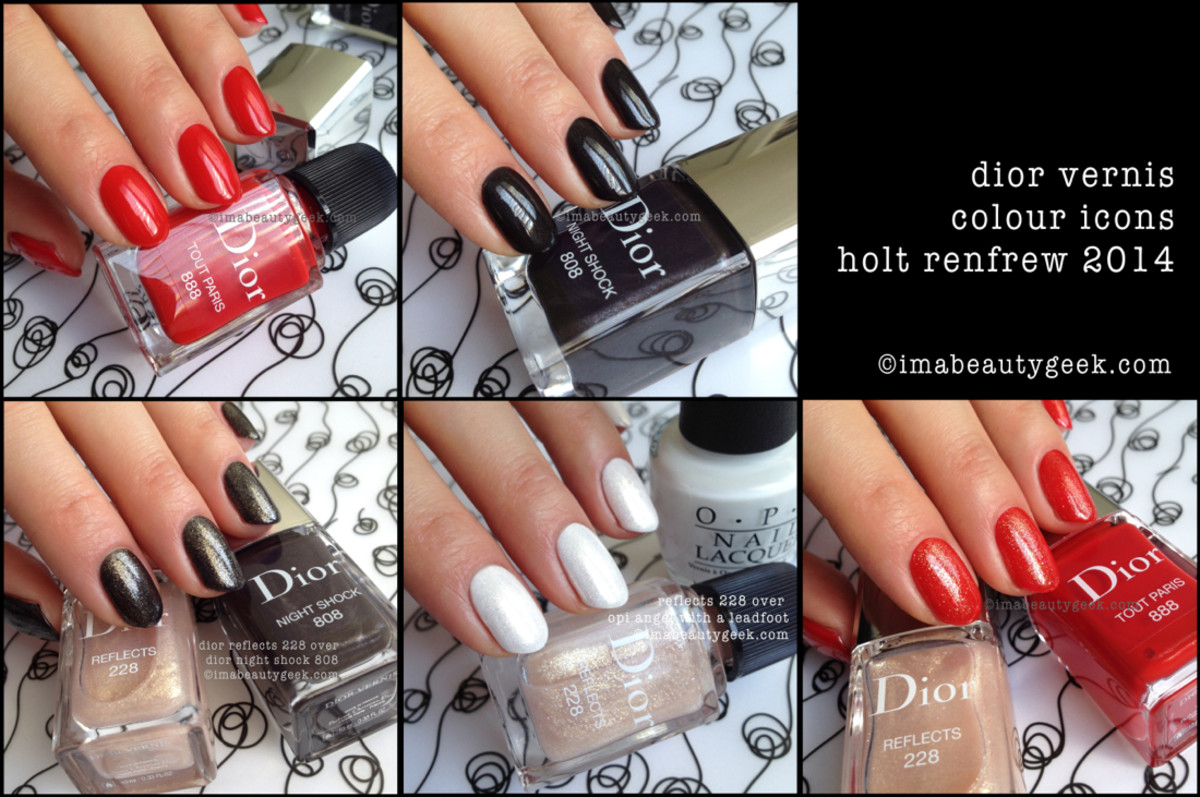 Pre-Fall -- that's what Dior Colour Icons is. There's never been a Dior pre-fall collection before and I admit it's weird. But I don't care how weird it is, because there's polish! Dior Couture Colour Gel Shine Polish! You know how much love I have for this stuff, right?
dior colour icons pre-fall: dior vernis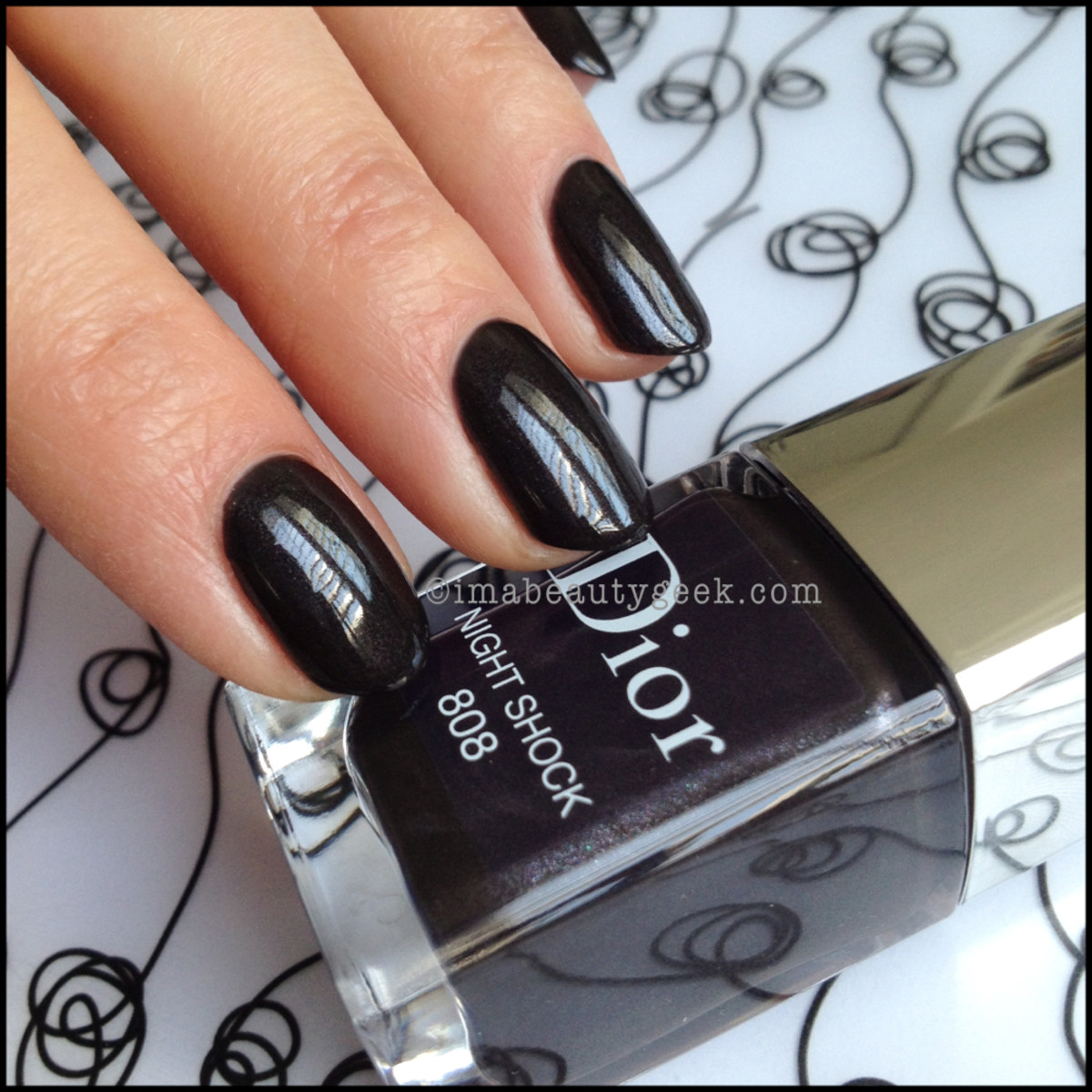 Dior Colour Icons: dior vernis night shock 808 Is it black? Is it dark, dark brown? Is it charcoal grey? Yes. It's all – depending on the light. Know what else it is? That's right – awesome. You remember how I fell hard for the new Gel Shine brush over here? Well it's the same brush and with it, I can do each nail in three strokes. Three. Yep. With zero cleanup.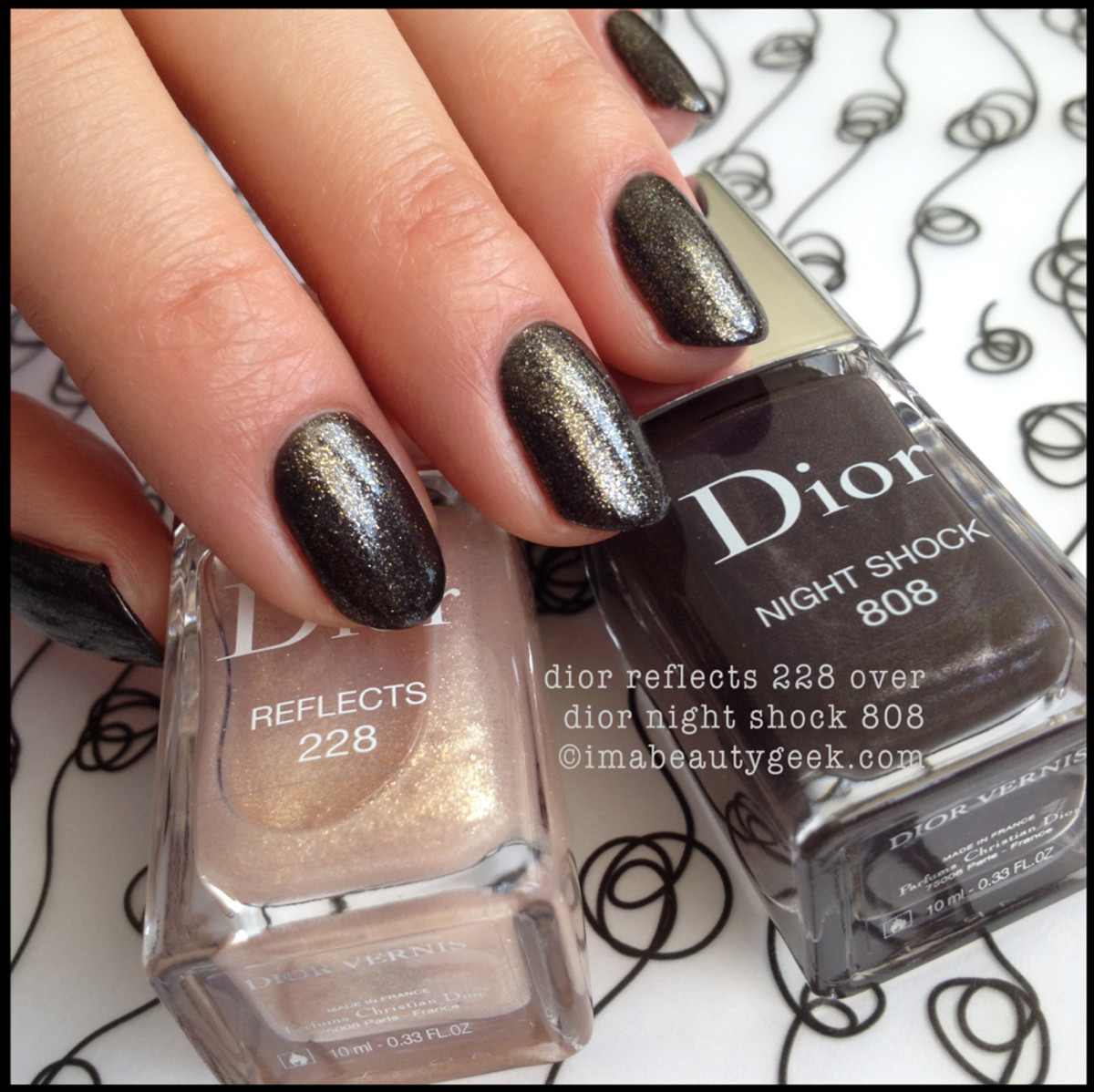 Dior Colour Icons: dior vernis reflects 228 over dior vernis night shock 808  Yay for Dior top coats! I'm such a fan of this subtle shimmery golden light-reflecting top coat. One coat and that's whatcha get. Pretty, right?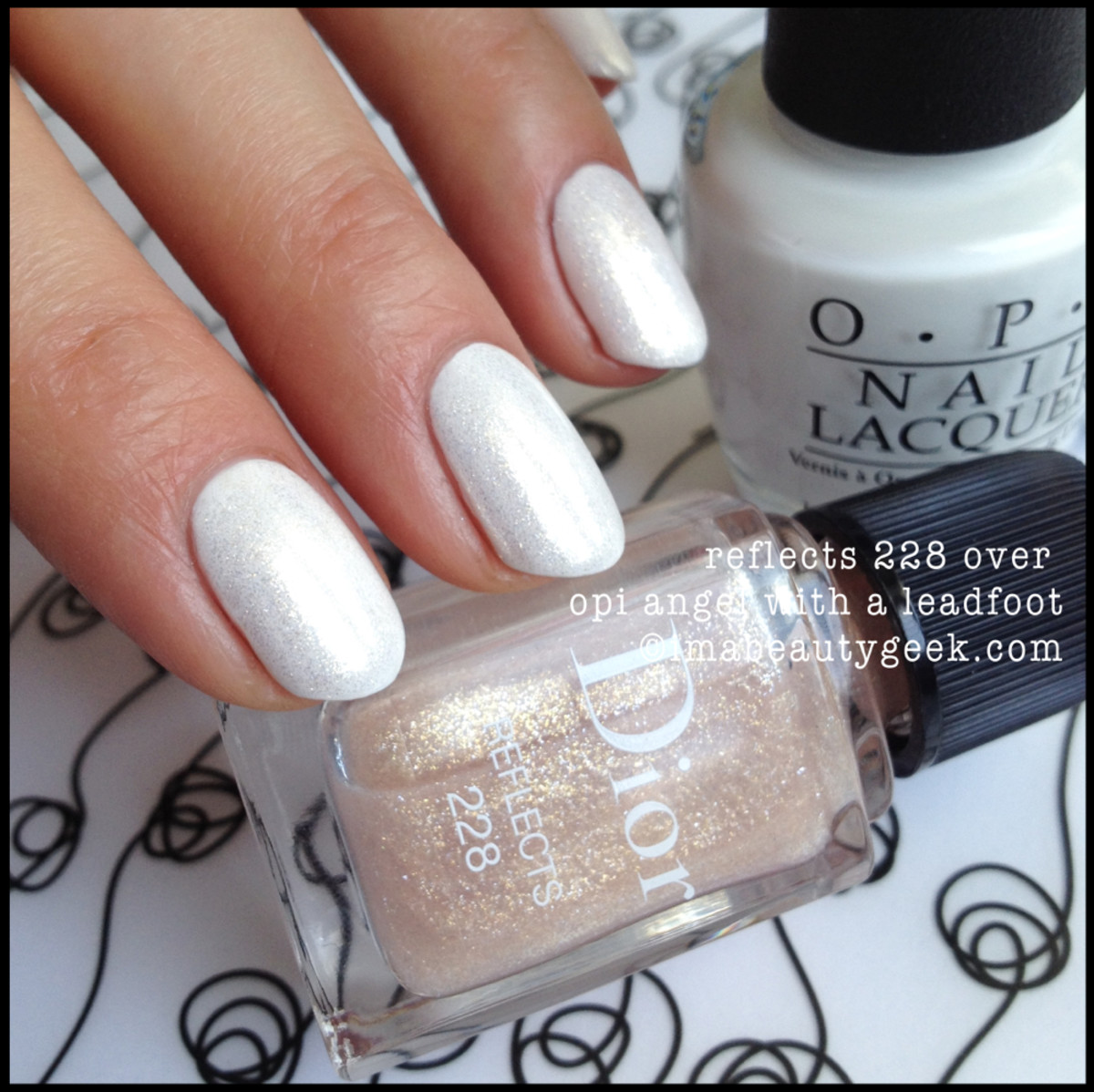 Dior Colour Icons: dior vernis reflects 228 over opi angel with a leadfoot It's important to me to show you the Reflects 228 top coat over white. Why? Ha! Because I can! Also it's nice because it shows you how clear the polish base that holds the silver 'n' gold bits is. So clear it doesn't mess with the shade underneath at all. All you see on top is the sparkle.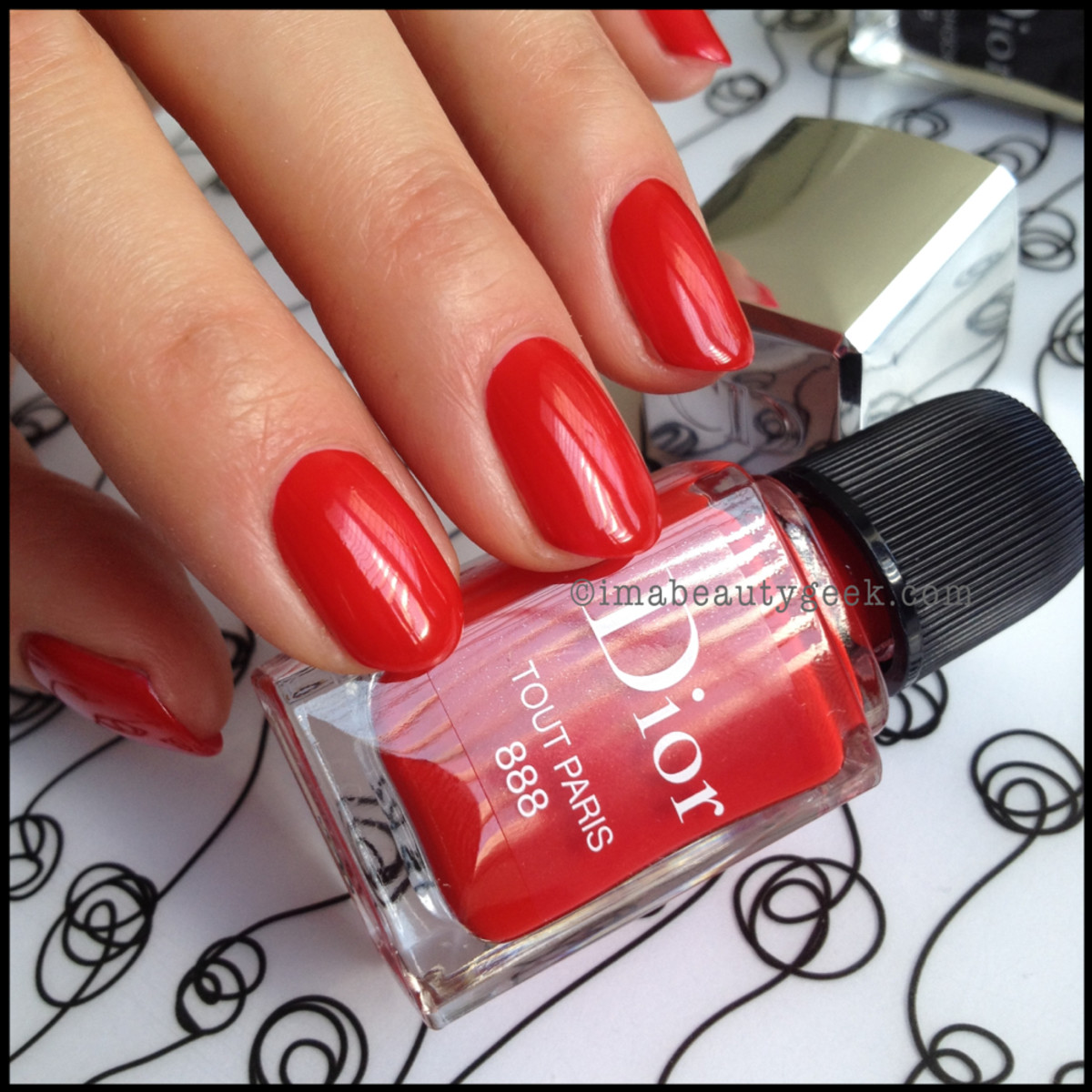 Dior Colour Icons: dior vernis tout paris 888 I used to think Chanel did the best reds. That's still true – they did. But now, Dior does the best reds. Sorry Chanel, I cannot tell a lie. This Dior Tout Paris 888 is very similar to Dior Rouge 999 – so similar I don't know that you need both, especially considering that both are from the new Gel Shine line and both have The Genius Brush. Up to you though – sometimes it's nice to have all the Dior reds. I mean, I do so why shouldn't you?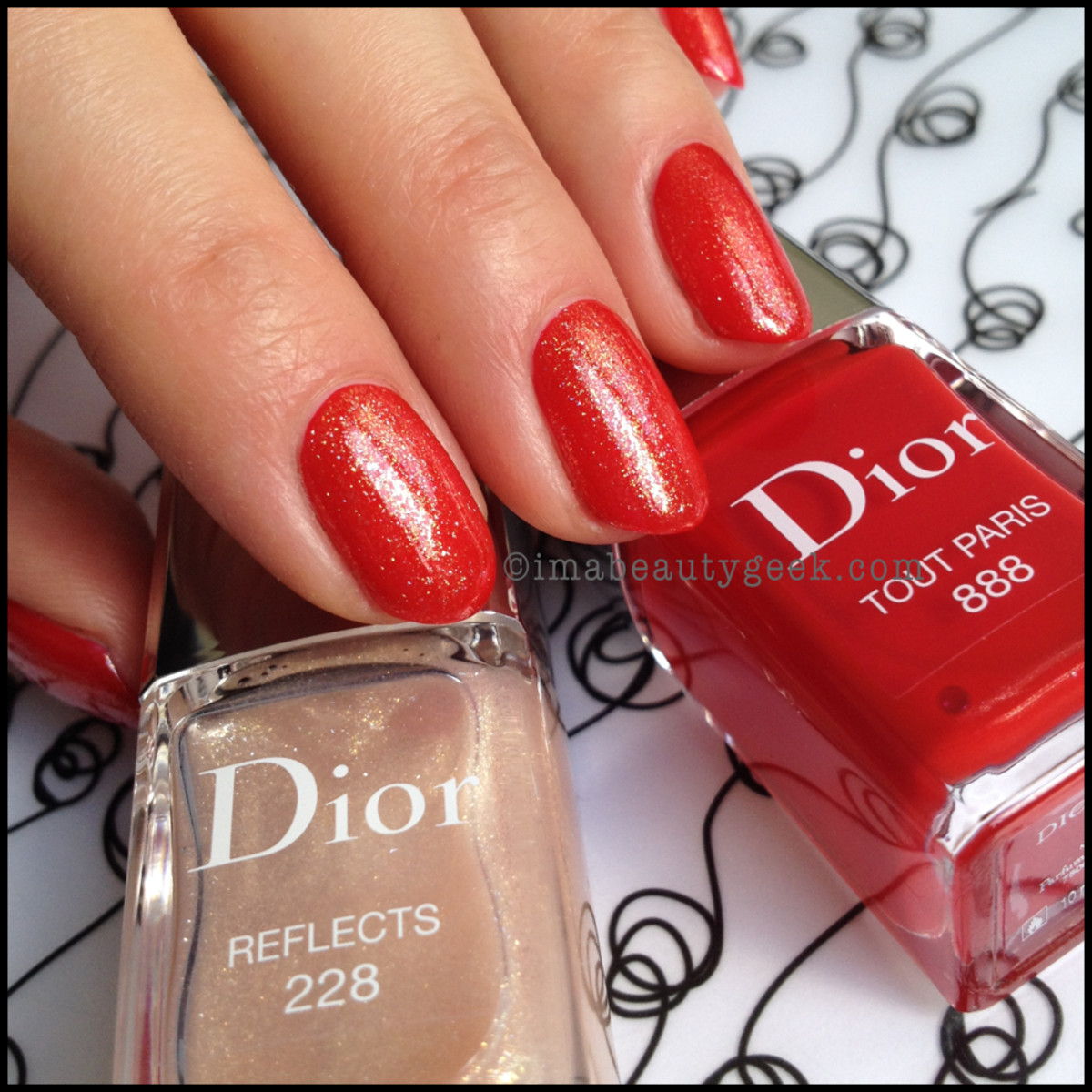 Dior Colour Icons: dior vernis reflects 228 over dior vernis tout paris 888 Oh! Hallo, silver 'n' gold sparkly thing! I think I love you.
A little while ago I showed you a whole whack of the launch collection for this new Dior Vernis Gel Shine line. When I did that, I raved about the brush, the formula, and the shades. I could do exactly the same thing here but I won't. Okay, I will. Ohmahgollygosh this stuff is SO great! I love it! Gimme all of it!
If you think you need all of it too, you're gonna have to get thy butt to Holt Renfrew. These three Dior shades in the Dior Colour Icons Pre-Fall 2014 collection are exclusive to Holts ($26CAD each) and they're on-counter July 2014 (just in time for pre-fall!).
Thanks for stopping in, lovlies! See you soon with other magical things from Dior Vernis.
Manicures and photographs by Karen Falcon (yo, Shayna: 888 = OCW!!!!) ©2014 BEAUTYGEEKS/imabeautygeek.com