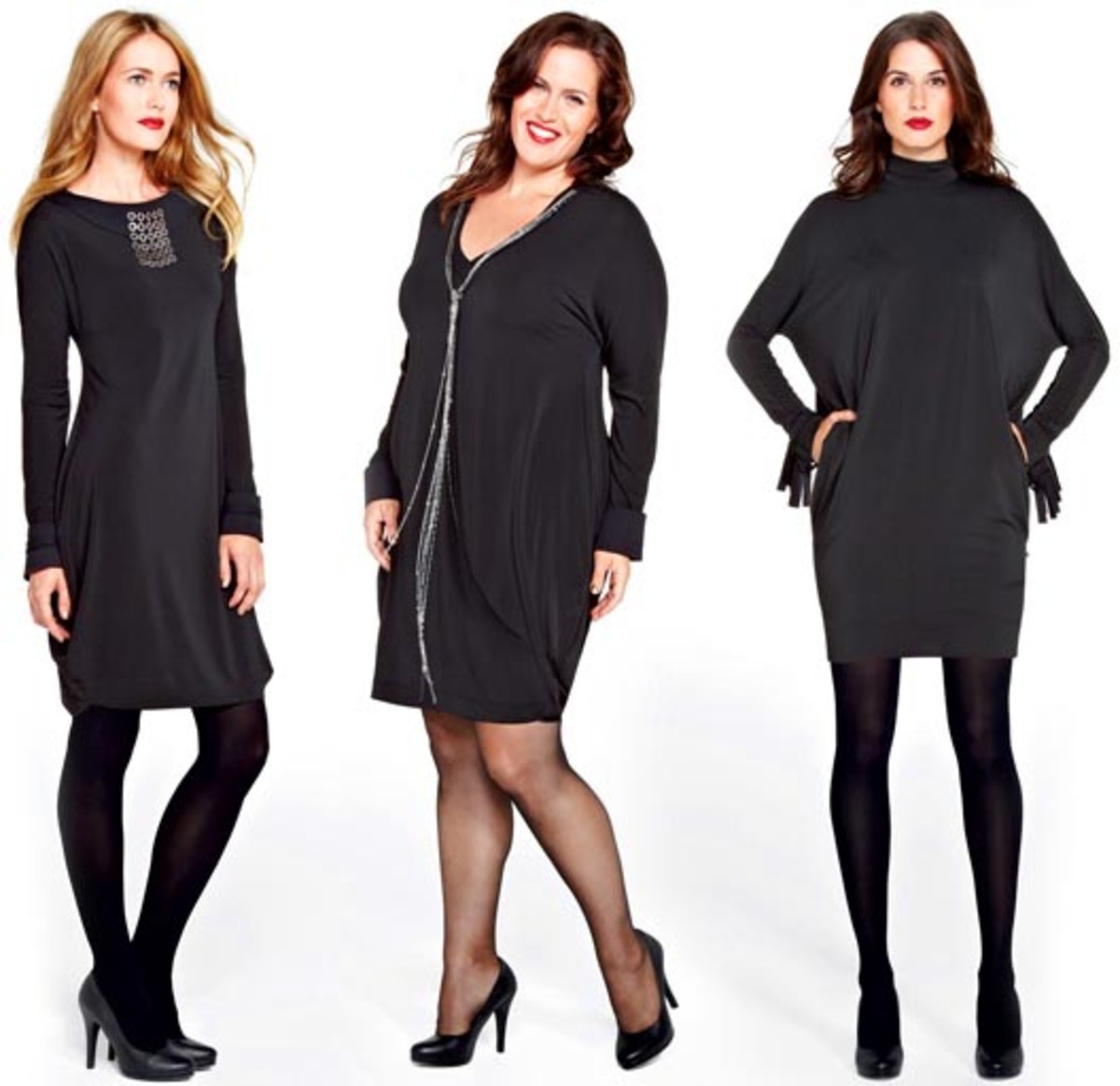 A lot of black jersey has flown out of Reitmans over the last three days. I've helped a little.
There I was at the Yonge-Eglinton Centre, beelining to the Rexall pharmacy to buy a bottle of water when a lovely face caught my attention from some front-of-store signage. Signage in front of a rack of black jersey. Beeline halted.
The face belongs to Montréal-based designer Marie Saint Pierre, whose edgy draping + fitted long sleeves + flowing silhouettes I've long admired. Her 10-dress Marie Saint Pierre for Reitmans collection launched on November 10th. And by the time I spotted the rack at the Yonge-Eglinton Centre today, most of the pieces I liked most (above) were gone in my size.
Lucky for me, the Petite version of my size in the dress on the left and the 1X size of the dress in the middle fit me well. And I found my size in the dress on the right.
Perhaps I should say lucky for Reitmans; I bought all three (pricing ranges from $85 to $95). I had to! The simple-yet-interesting detailing, the so comfortable weighty-but-not-too-weighty jersey, and the throw-on-and-run-out-of-the-house nature of each piece -- it's no-think dressing. I'm a fan of no think. Plus the metallic accents on the first two styles snap off for worry-free dress laundering. I'm also a fan of worry-free.
Check out the Marie Saint Pierre for Reitmans collection on Reitmans.com. To see the dresses in real life, hit the Reitmans Facebook album -- in the photos from the Montréal launch, the designer is wearing the dress on the left in the above image. How it looks on her is kind of how it looks on me (as opposed to how it looks on the model). I may as well admit now that I'll be wearing each of these pieces with leggings and boots.
*LIKE*
According to the manager of the Reitmans shop I was in, the designer collaboration is bringing new customers into the store. I'm not surprised. Are these dresses something you'd expect from Reitmans? Would you wear any of them? Am I the only one who wonders what the fashion guys from the Reitmans commercials might say?