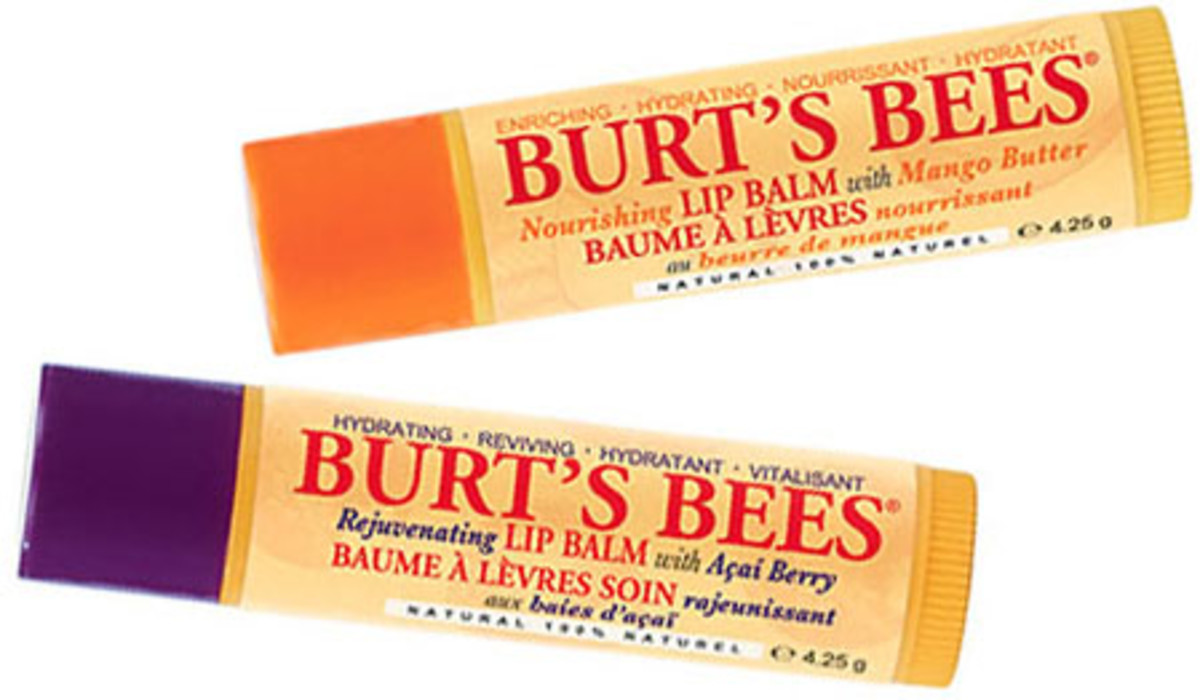 Now I can love a Burt's Bees lip balm. In fact, now I can love two. Until the release of the brand's new Nourishing Lip Balm with Mango Butter and Rejuvenating Lip Balm with Açaí Berry ($4.49 each) this month, I wasn't so much a fan of their stick balms, despite the raves I kept hearing or reading. Too waxy for me. So what's different?
Like all Burt's Bees balms, these both contain fatty-acid rich sunflower seed and coconut oil. They also contain castor seed oil, a humectant -- it draws moisture from the environment. That's important because "lip skin has no oil glands or protective lipid layer," says Burt's Bees VP of R&D Celeste Lutrario. "They get moisture from the air." So castor oil serves as wing man, attracting moisture so the lips can drink it in.
The surprise difference with these two new formulas is that beeswax is out. In the Nourishing formula, beeswax is replaced by mango butter, which brings its own moisturizing properties and a hefty dose of antioxidants to the blend. In the Rejuvenating balm, Açaí berry oil steps in to ramp up the antioxidant content and deliver additional vitamins and Omega fatty acids.
Speaking of Celeste Lutrario, she's a media favourite for her straight-talk approach to healthy skin and her passion for sharing information. Her considerable experience includes 10 years at Elizabeth Arden overseeing the development of colour cosmetics; following that, just before joining Burt's Bees, she was Executive Director of Research & Development at Chanel.
Celeste is going to be on "CityLine" tomorrow. You want to watch, trust me. Then you'll know exactly how we beauty-editor and writer-types feel after chat time with her. You won't believe what you'll learn.
Burt's Bees is available at select grocery and drug stores, mass retailers, well.ca and burtsbees.com.